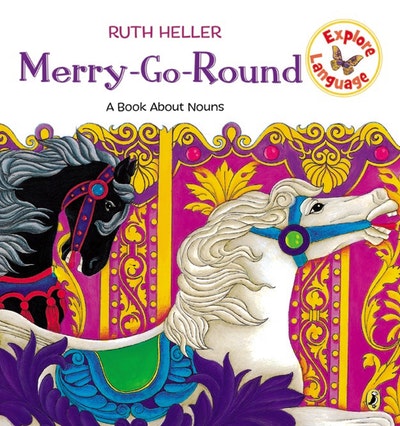 Published:

23 February 1998

ISBN:

9780698116429

Imprint:

Puffin

Format:

Paperback

Pages:

48

RRP:

$14.99
Merry-Go-Round
A Book About Nouns
---
---
Perfect for introductory grammar lessons! What is a noun?
Explore language and discover the uses of nouns and their many grammatical forms from proper nouns to common nouns to abstract nouns.
"Heller explores types of nouns: common, proper, abstract, concrete, compound, collective, singular, plural, and possessive... Its lush, exuberant full-color artwork will grab kids' attention."—Booklist
"With humor, style, and succinct, admirable precision, Heller summarizes everything most people will ever need to know about this particular area of grammar. ... A treasure."—Kirkus Reviews
"To say that Heller has a way with words is to understate a multifaceted talent... The rhymed text of this book is as witty and smooth as its predecessors ... Rarely does a book offer children so much to look at, listen to and learn."—Publishers Weekly
"Striking graphic design with large clear objects in bold colors overflowing each double-page spread make the book a visual treat. The use of bold type for all the nouns is particularly pleasing and will make for easy reading aloud... Those who have found the others in the series successful will want this one."—School Library Journal
About the Explore! series:
Dedicated to helping children learn a variety of nonfiction subjects, the Explore series uses pitch-perfect rhyming text and brilliantly illustrated images to make learning fun.
Books in the series:
Explore Language!
1. Behind the Mask: A Book About Prepositions
2. Cache of Jewels: And Other Collective Nouns
3. Fantastic! Wow! and Unreal!: A Book About Interjections and Conjunctions
4. Kites Sail High: A Book About Verbs
5. Many Luscious Lollipops: A Book About Adjectives
6. Mine, All Mine!: A Book About Pronouns
7. Merry-Go-Round: A Book About Nouns
8. Up, Up and Away: A Book About Adverbs
Explore Nature!
1. Animals Born Alive and Well: A Book About Mammals and Their Young
2. Chickens Aren't the Only Ones: A Book About Animals Who Lay Eggs
3. The Reason for a Flower: A Book About Flowers, Pollen, and Seeds
4. Plants that Never Ever Bloom: A Book About Fungi, Ferns, and Other Plants Without Flowers
Published:

23 February 1998

ISBN:

9780698116429

Imprint:

Puffin

Format:

Paperback

Pages:

48

RRP:

$14.99
Praise for Merry-Go-Round
"Heller explores types of nouns: common, proper, abstract, concrete, compound, collective, singular, plural, and possessive. ... Its lush, exuberant full-color artwork will grab kids' attention." —Booklist "With humor, style, and succinct, admirable precision, Heller summarizes everything most people will ever need to know about this particular area of grammar. ... A treasure." —Kirkus Reviews "To say that Heller has a way with words is to understate a multifaceted talent. ... The rhymed text of this book is as witty and smooth as its predecessors. ... Rarely does a book offer children so much to look at, listen to and learn." —Publisher's Weekly "Striking graphic design with large clear objects in bold colors overflowing each double-page spread make the book a visual treat. The use of bold type for all the nouns is particularly pleasing and will make for easy reading aloud. ... Those who have found the others in the series successful will want this one." —School Library Journal