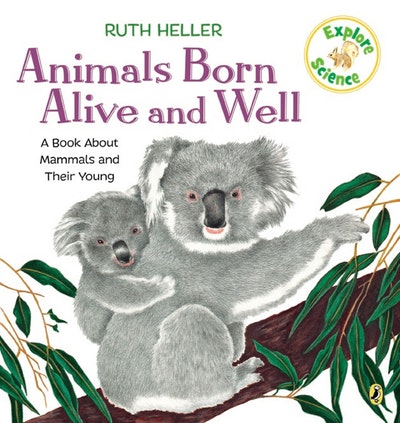 Published:

24 May 1999

ISBN:

9780698117778

Imprint:

Puffin

Format:

Paperback

Pages:

48

RRP:

$14.99
Animals Born Alive and Well
A Book About Mammals
---
---
Perfect for introductory science and biology lessons!
What do mammals have in common?
They have fur. They nurse their young. They breathe fresh air. But what else?
Explore nature and discover a variety of mammals—also known as viviparous animals—and the many ways that they are unique from one another.
"Here are twenty double-page spreads all bright with mammals. Large, tiny, prehistoric, unusual—they are all here in repeatable rhymes, and a million-dollar word (viviparous) is tossed in for good measure."
—The Provident Bookfinder
"Both simple and surprising, Heller's sprightly picture books use verse and unusually harmonious pictures to introduce the animal kingdom. Chickens lists some of the many good things that come in egg packages, while Animals mentions all manner of mammals."
—Publishers Weekly
About the Explore! series:
Dedicated to helping children learn a variety of nonfiction subjects, the Explore series uses pitch-perfect rhyming text and brilliantly illustrated images to make learning fun.
Books in the series:
Explore Language
1. Behind the Mask: A Book About Prepositions
2. Cache of Jewels: And Other Collective Nouns
3. Fantastic! Wow! and Unreal!: A Book About Interjections and Conjunctions
4. Kites Sail High: A Book About Verbs
5. Many Luscious Lollipops: A Book About Adjectives
6. Mine, All Mine!: A Book About Pronouns
7. Merry-Go-Round: A Book About Nouns
8. Up, Up and Away: A Book About Adverbs
Explore Nature
1. Animals Born Alive and Well: A Book About Mammals and Their Young
2. Chickens Aren't the Only Ones: A Book About Animals Who Lay Eggs
3. The Reason for a Flower: A Book About Flowers, Pollen, and Seeds
4. Plants that Never Ever Bloom: A Book About Fungi, Ferns, and Other Plants Without Flowers
Published:

24 May 1999

ISBN:

9780698117778

Imprint:

Puffin

Format:

Paperback

Pages:

48

RRP:

$14.99
Praise for Animals Born Alive and Well
"Here are twenty double-page spreads all bright with mammals. Large, tiny, prehistoric, unusual—they are all here in repeatable rhymes, and a million-dollar word (viviparous) is tossed in for good measure."—The Provident Bookfinder "Both simple and surprising, Heller's sprightly picture books use verse and unusually harmonious pictures to introduce the animal kingdom. Chickens lists some of the many good things that come in egg packages, while Animals mentions all manner of mammals." —Publishers Weekly