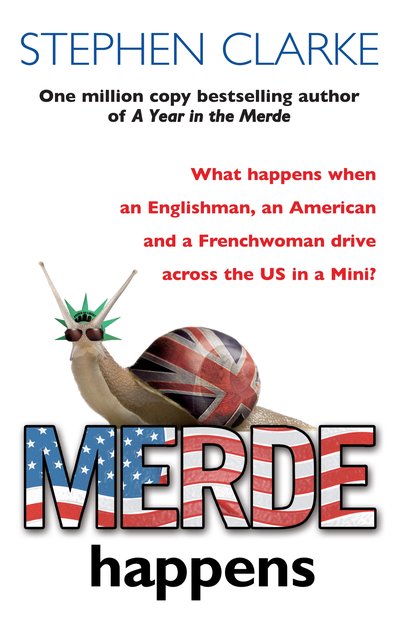 Published:

1 August 2007

ISBN:

9781741664805

Imprint:

Random House Australia

Format:

Paperback

Pages:

384

RRP:

$25.00
Merde Happens
---
---
---
Q: What happens when an Englishman, an American, and a French woman drive across America in a Mini? A: Merde Happens ...
Merde hits the US!
In the third volume of his escapades, Paul West is driving across the USA in a Mini, and feeling just as foreign as he ever did in France. He has accepted a job promoting the UK as a tourist destination. His tiny car is supposed to symbolise Britain's image – self-deprecating, fun, stylish but not snobbish. But to Americans it looks plain cramped.
The car feels even more cramped than normal because Paul is sharing it with his French girlfriend Alexa, who has come along to make an on-the-road documentary about American cultural colonialism and similar French preconceptions. The Mini will get even more overloaded when Paul and Alexa are joined by Paul's American friend Jake (whose English has now become so gallicised that only the Cajuns can understand him), and a waitress on the way to Las Vegas to begin her MA in cheerleading.
Paul has to drive coast-to-coast to a tight deadline, putting on "typically British" publicity stunts in certain key cities. Finally, he is to deliver the plucky little car to Hollywood as the centrepiece of Britain's bid to be voted Tourist Destination of the Year and host the next World Tourism Fair. With France, China and the USA also in the running, national pride is at stake, as is Paul's bonus.
Merde Happens is an Anglo-Franco-American melange of such classic travel romps as The Italian Job (with only one Mini but several more cities), Fear and Loathing in Las Vegas (with fewer drugs and no actual loathing) and On the Road (without all that tedious free jazz). More importantly, it has a unique extra ingredient that none of the above could offer – lashings of Paul West's merde.
Published:

1 August 2007

ISBN:

9781741664805

Imprint:

Random House Australia

Format:

Paperback

Pages:

384

RRP:

$25.00