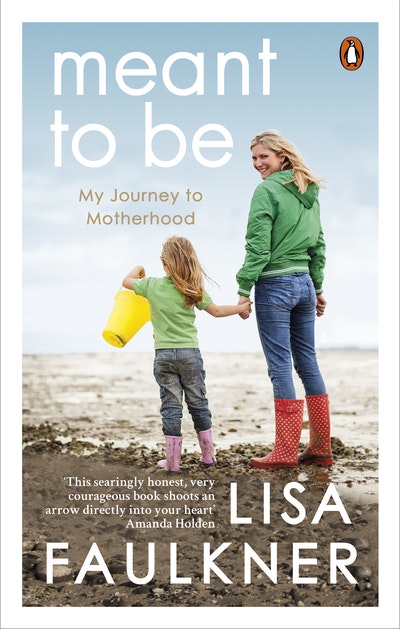 Published:

5 March 2020

ISBN:

9781529104158

Imprint:

Ebury Press

Format:

Paperback

Pages:

256

RRP:

$19.99
Meant to Be
---
---
---
An uplifting memoir of finding family in unexpected places, and learning to embrace the unpredictable in life, by bestselling author and actress Lisa Faulkner.
What happens when life doesn't turn out as you expect?
When Lisa Faulkner learned that she wouldn't have biological children, her plans and expectations for her life were derailed. But, in the months and years that followed, she discovered that there was more than one way to build a family - and that there is a lot of joy to be found in life's unexpected detours.
In a raw and inspiring story of one woman's journey through motherhood, family life and self-discovery, Lisa explores the many forms that family can take, and discovers the power of embracing your Plan B. For anyone who has ever found themselves facing the unexpected in life - whether that's infertility, adoption, grief or any other personal challenge - this is an uplifting and honest account of finding love in unexpected places, and building your life on your own terms.
Published:

5 March 2020

ISBN:

9781529104158

Imprint:

Ebury Press

Format:

Paperback

Pages:

256

RRP:

$19.99
Scott Galloway is honest, outrageous and provocative. This book will trigger your flight-or-fight nervous system like no other and in doing so challenge you to truly think differently.

Calvin McDonald, CEO of Sephora
As the power of technology's biggest companies comes under more scrutiny, NYU business professor Galloway reveals how Amazon, Apple, Facebook, and Google built massive empires

Publishers Weekly, "The Top 10 Business Books of Fall 2017"
If there is a blunter, more opinionated, faster-talking expert on the Internet than Scott Galloway, I haven't come across him. Or her.

Phillip Elmer-DeWitt, Fortune
Scott is a genius at engaging an audience in an intelligent, thoughtful, sometimes snarky and often humorous manner

Joanne Tombrakos, Huffington Post
This is that rare book that not only informs but entertains. You'll never look at these four companies in the same way again

Jonah Berger, author of Contagious and Invisible Influence
Well argued and accessible... refreshingly clear-eyed

Brad Stone, author of <i>The Everything Store
Full of sharp insights and unconventional views

Nature
Scott Galloway's The Four is a bareback ride upon the four horses of the economic apocalypse- Apple, Amazon, Facebook and Google. It is a timely exposition of the nature and concentration of power in the world today and, as a result, is much more than just a business book.The book contains more insights and provocative ideas than Amazon has Boeing 767s. My recommendation is to walk down to your local book store and buy this- or more likely, buy it on Amazon.

Tom Upchurch, Wired
The Four is a fantastic, provocative book about where we are now and where we are going.

Phil Simon, Huffington Post
When it comes to the digital age, Scott Galloway is Christopher Hitchens with an MBA, namely a brainy and fearless provocateur

James Warren, Vanity Fair
A big help in understanding how so many of us have come to completely rely on these tech giants - and what the future holds for other, less powerful companies.

Business Insider, Best Business Books of 2017
This analysis of the rise of Amazon, Apple, Faceboook and Google stands out because it adds significantly to the tide of criticism currently sweeping over Silicon Valley

Tristan Quinn, Times Literary Supplement