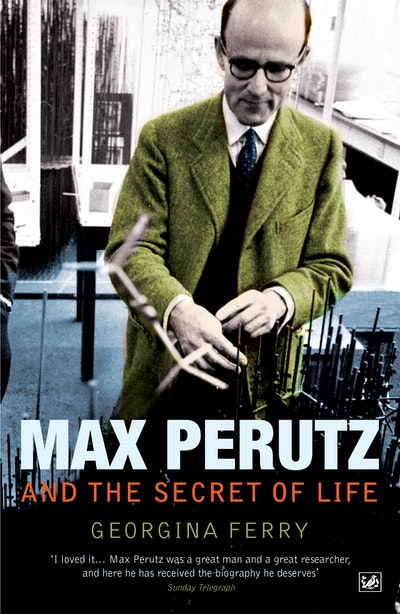 Published:

1 February 2011

ISBN:

9781446402658

Imprint:

Vintage Digital

Format:

EBook

Pages:

368
Max Perutz And The Secret Of Life
---
---
---
The extraordinary story of the father of molecular biology, whose famous research team uncovered the structure of DNA.
Few scientists have thought more deeply about their calling and its impact on humanity than Max Perutz (1914-2002). In 1947 he founded the small Cambridge research group in which Francis Crick and James Watson discovered the structure of DNA: under his leadership it grew to become the world-famous Laboratory for Molecular Biology. Max himself explored the protein haemoglobin which won him a shared Nobel Prize in 1962, the same year as Crick and Watson. The work of his amazing team launched a new era of medicine, heralding today's astonishing advances in the genetic basis of disease.
Born in Vienna, Jewish by descent, lapsed Catholic by religion, Max came to Cambridge in 1936, to join the lab of the legendary Communist thinker J.D. Bernal. There he began to explore the structures of the protein molecules that hold the secret of life. In 1940 he was interned and deported to Canada as an enemy alien, only to be brought back and set to work on a bizarre top secret war project.
Max Perutz's story brims with life. This biography has the zest of an adventure novel and is full of extraordinary characters. Max was demanding, passionate and driven but also humorous, compassionate and loving. Small in stature, he became a fearless mountain climber; drawing on his own experience as a refugee, he argued fearlessly for human rights; he could be ruthless but had a talent for friendship. An articulate and engaging advocate of science, he found new problems to engage his imagination until weeks before he died aged 88.

Published:

1 February 2011

ISBN:

9781446402658

Imprint:

Vintage Digital

Format:

EBook

Pages:

368
Praise for Max Perutz And The Secret Of Life
Max Perutz, one of science's great ambassadors... has been given a meaty biography by former New Scientist writer Georgina Ferry

Jewish Quarterly
Ferry has captured her subject's genial, uncompetitive personality well

Brenda Maddox, Literary Review
Elegant, adroit biography...delightful

Observer
Georgina Ferry's biography captures not only the scientific advances made by Perutz but also his curious personal qualities

Economist
[A] marvellous biography of one of the least known of the twentieth century's great scientists...Ferry has mined gold into the lives of two of the founders of structural biology; I can't wait to see who she tackles next

Nature
I loved it. As a scientist, reading this well-written biography of a great researcher was a treat.... Max Perutz was a great man and a great researcher, and here he has received the biography he deserves

Sunday Telegraph
Georgina Ferry has produced a first rate account of his life... there is no difficult physics and the story will appeal to anyone who wants to know how science works and how exciting scientific research can be

Royal College of Pathologists magazine
The story of how he (Perutz) found it (the scientific enlightenment) is the substance of this engrossing biography by Georgina Ferry, who is rapidly turning into the most interesting science writer going... At a time when British citizenship is being debated, we would do well to remember the case of Max Perutz along with the many other immigrants who transfused the intellectual life-blood of this country in the postwar years

Giles Foden, Guardian