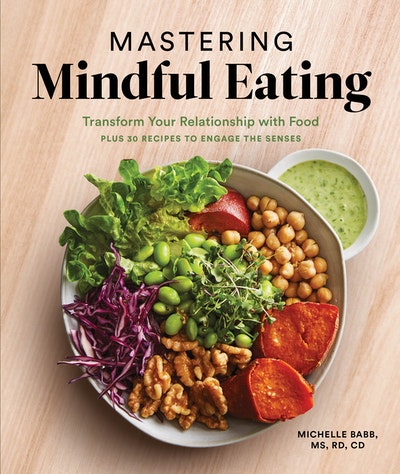 Published:

2 February 2021

ISBN:

9781632172945

Imprint:

Sasquatch

Format:

Paperback

Pages:

208

RRP:

$39.99
Mastering Mindful Eating
Transform Your Relationship with Food, Plus 30 Recipes to Engage the Senses
---
---
A nutritionist explains how to practice mindful eating for improved health, calm, and reaching your healthiest weight. Forget counting calories, strict portion control, and restrictive diet plans. Say goodbye to yo-yo dieting forever.
Transform your relationship with food and develop healthy eating habits through mindfulness in this cookbook and guide from a renowned nutritionist.  
Whether you are trying to lose weight, recover from an eating disorder, or improve your overall state of calm and wellness, this book helps you change your relationship with food and cultivate a positive eating mindset. Eating a sandwich while running from a bear isn't good for digestion or nutrition. That's exactly what we're doing when eating a meal on the run or being distracted by computers, TVs, and newspapers. Rather than nourishing our bodies, we are feeding anxiety and poor habits that prevent our systems from functioning well.
Author and registered dietitian Michelle Babb shows you how to practice mindful eating that lets your body access the nutrients from food and turn on its self-regulating system. It's the sustainable way to shed pounds, maintain your healthiest weight, and ensure optimal digestion. When you build a positive relationship with food, you reduce binge and emotional eating. Included in the book are 30 vegetarian recipes designed to enhance your introduction to mindful eating by engaging all the senses.
Learn how to:
* Bring your attention to eating
* Engage the senses (tune into smell, taste, texture, thoughts) while eating
* Identify your habits and patterns around food
* Eat when you're hungry (and know when you're full) 
* Discover foods that taste good (and make you feel good)
Published:

2 February 2021

ISBN:

9781632172945

Imprint:

Sasquatch

Format:

Paperback

Pages:

208

RRP:

$39.99