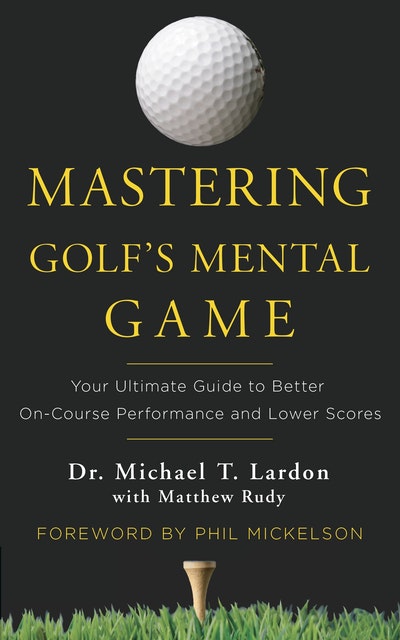 Published:

15 September 2014

ISBN:

9780553417913

Imprint:

Crown

Format:

Hardback

Pages:

224

RRP:

$42.99
Mastering Golf's Mental Game
---
---
Dr. Michael Lardon is golf's hottest psychologist, having devised a mental approach to the game that helped Phil Mickelson win the British Open in 2013. That plan is detailed here, with a book that can follow in the footsteps of Harvey Penick's Little Red Book and Bob Rotella's Golf Is Not a Game of Perfect.
Golfers are forever tinkering with their game, from the basic components of their serving, to their putting, to their mental approach to the game. Almost every professional now uses a golf psychologist, like Bob Rotella, whose books have sold nearly 500,000 copies. Michael Lardon is the new breed in golf psychology. While many golf strategies try to get players to eliminate thinking from their approach, Lardon believes that the entire mind, body, and spirit must be embraced. He perfected a multi-step kind of checklist that he believes golfers should employ as a means to eliminating overthinking and succumbing to pressure. This simple step was used by Lardon's star client Phil Mickelson when he won the British Open in 2013. Mickelson, who called the process Golf's Mental Scorecard, will write the foreword for this book.
Mastering Golf's Mental Game will be filled with stories of golfers gone awry and golfers who have gained confidence through this process, as well as other great "rules" that Lardon shares with his clients. A must-have for all weekend golfers, this is the kind of information that can sell forever.
Published:

15 September 2014

ISBN:

9780553417913

Imprint:

Crown

Format:

Hardback

Pages:

224

RRP:

$42.99