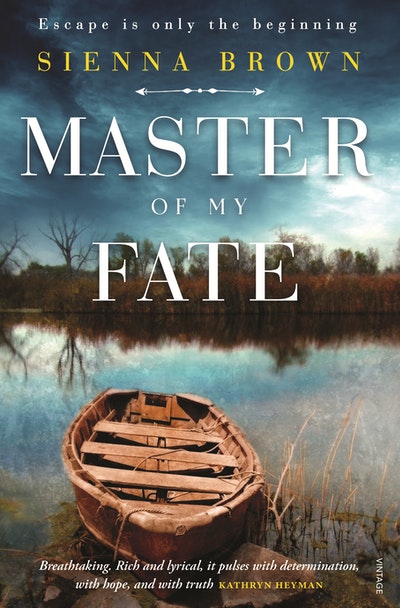 Published:

7 May 2019

ISBN:

9780143787532

Imprint:

Vintage Australia

Format:

Trade Paperback

Pages:

320

RRP:

$32.99
Master Of My Fate
---
---
---
Winner of the MUD Literary Prize for the best debut literary novel by an Australian writer.
A novel about one man's journey to become his own master, from slavery in Jamaica, through to eventual freedom in colonial New South Wales. Based on a true story.
William Buchanan lived an extraordinary life. Born a slave on a plantation in Jamaica, he escaped the gallows more than once. His part in the slave uprisings of the 1830s led to his transportation across the world as one of the convicts sent to New South Wales.
This is a story not only about a boy who fought against all odds in search of freedom, but also about a world not so long ago, when the violence of colonisation was in full force. It is a story of Jamaica, and Australia, but at its heart, it is a story about how one lives a life, whether slave or free man.
Steeped in history but full of lessons that resonate for us today, William Buchanan's coming-of-age tale of survival and fate is a thrilling tale told in a singular voice, from a startling new talent in Australian writing.
Published:

7 May 2019

ISBN:

9780143787532

Imprint:

Vintage Australia

Format:

Trade Paperback

Pages:

320

RRP:

$32.99
Praise for Master Of My Fate
An extraordinary achievement, mirroring an exceptional life, Sienna Brown's debut is breathtaking. Rich and lyrical, it pulses with determination, with hope, and with truth.

Kathryn Heyman
What gives one man the right to own another is the question at the heart of this beautiful meditation on love, loss and liberty through the voice of one who lived it, William Buchanan, lifelong Jamaican rebel forced to become Australian settler. In Sienna Brown's compelling first novel, Will's voice is so true, his personality so engaging, his wonder at both the evil and beauty of the world so compelling, his lifelong adventures so heroic, we want to cheer him at every turn. Master of my Fate is a brave and historically grounded addition to the growing body of works examining history through the consciousness of the enslaved.

Olive Senior
Sienna Brown's Master of My Fate is a confident and ambitious debut.

Maxine Beneba Clarke
Based on a true story and written by Brown with compassion and creativity, this tale of William Buchanon's life from slavery to freedom is at once heartbreaking and inspiring. His dawning understanding of being a "chattel" to another man and his rise against this leads him to face his demons and find a hard-won freedom. Powerful and affecting.

Sylvia, Better Read Than Dead
Stripping someone of their humanity because of the colour of their skin, because they have a criminal record, because they were born into the wrong family – as much as Master of My Fate is a book about the past, its themes are disturbingly relevant. So, too, is fighting back.

Elizabeth Flux, The Guardian
Superbly written and well researched historical fiction, built around a unique and fascinating sliver of overlooked Australian convict history. The story rolls along at an absorbing pace through its three locations – Jamaica, London and New South Wales – and it's a vividly drawn tale that would lend itself easily to a screen adaptation.

MUD prize for First Fiction
ARA Historical Novel Prize
Shortlisted • 2020 • ARA Historical Novel Prize
Article
Master Of My Fate book club notes
This novel about one man's journey to become his own master, from slavery in Jamaica, through to eventual freedom in colonial New South Wales, is perfect for book clubs.
Article
Sienna Brown Q&A
The author discusses the research and inspiration behind her historical fiction novel, Master Of My Fate.