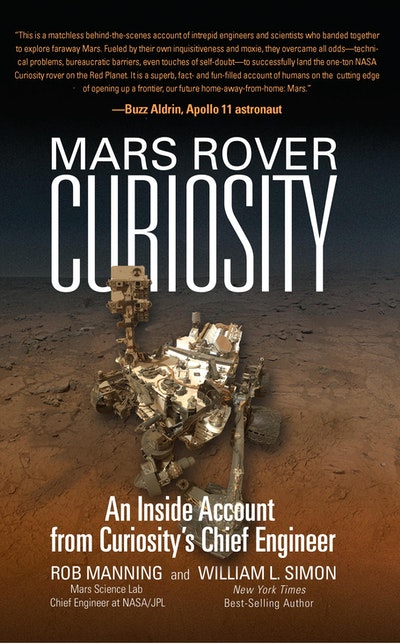 Published:

15 February 2017

ISBN:

9781588344038

Imprint:

Smithsonian Books

Format:

Trade Paperback

Pages:

240

RRP:

$29.99
Mars Rover Curiosity
An Inside Account From Curiosity's Chief Engineer
---
---
The firsthand account of the trials and tribulations of engineering one of the most complex pieces of space technology, the Mars Rover Curiosity, by its chief engineer Rob Manning
In the course of our enduring quest for knowledge about ourselves and our universe, we haven't found answers to one of our most fundamental questions: Does life exist anywhere else in the universe? Ten years and billions of dollars in the making, the Mars Rover Curiosity is poised to answer this all-important question.
In Mars Rover Curiosity: An Inside Account from Curiosity's Chief Engineer, Rob Manning, the project's chief engineer, tells of bringing the groundbreaking spacecraft to life. Manning and his team at NASA's Jet Propulsion Laboratory, tasked with designing a lander many times larger and more complex than any before, faced technical setbacks, fights over inadequate resources, and the challenges of leading an army of brilliant, passionate, and often frustrated experts.
Manning's fascinating personal account--which includes information from his exclusive interviews with leading Curiosity scientists--is packed with tales of revolutionary feats of science, technology, and engineering. Readers experience firsthand the disappointment at encountering persistent technical problems, the agony of near defeat, the sense of victory at finding innovative solutions to these problems, the sheer terror of staking careers and reputations on a lander that couldn't be tested on Earth, and the rush of triumph at its successful touchdown on Mars on August 5, 2012. This is the story of persistence, dedication, and unrelenting curiosity.
Published:

15 February 2017

ISBN:

9781588344038

Imprint:

Smithsonian Books

Format:

Trade Paperback

Pages:

240

RRP:

$29.99
Praise for Mars Rover Curiosity
This is a matchless behind-the-scenes account of intrepid engineers and scientists that banded together to explore far-away Mars. Fueled by their own inquisitiveness and moxie they overcame all odds – technical problems, bureaucratic barriers, even touches of self-doubt – to successfully land the NASA one-ton Curiosity rover on the Red Planet. It is a superb, fact and fun-filled account of humans on the cutting-edge of opening up a frontier – one that is our future home-away-from-home, Mars. Buzz Aldrin, Apollo 11 astronaut This is a captivating story of hurling machines of exploration to Mars told by a top flight engineer that's leading the charge in planting the first human footprints on the Red Planet. Leonard David, Space.com's Space Insider Columnist Rob Manning has produced a personal history of "Mars Rover Curiosity" that records for all time the complex personnal and engineering interactions required to successfully navigate the design, management and flight complexities of a mission at the frontiers of planetary exploration. We now have an outstanding record of the this process and the lessons learned along the way. This work, ably assisted by William Simon, joins the library of the best of personal stories, progressively documenting humankind's migration away from Earth. Senator Harrison "Jack" Schmitt There's nothing harder in planetary exploration than landing on the surface of a planet, and Rob Manning has given us a revealing and insightful behind-the-scenes story of the world's most famous rover, Curiosity. Reading this account feels as if you are standing beside this engineer's engineer as he and the rest of the Curiosity team  found solutions to one nail biting technical challenge after another.  This is an insightful testament about extraordinary dedication, passion, creativity and perseverance – all required to dare such a mighty thing. Charles Elachi, PhD, Director, Jet Propulsion Laboratory KIRKUS REVIEWS Although lacking the glamour of manned space flight, unmanned probes have accomplished great things, and this book delivers a thoroughly satisfying description of one of the greatest. Aided by journalist Simon (co-author, with Kevin Mitnick: Ghost in the Wires: My Adventures as the World's Most Wanted Hacker, 2011, etc.), Manning, NASA's chief of engineering for the Mars P rogram Office, recounts Curiosity's tortuous development, from the rover's 2004 proposal to the Aug. 5, 2012, landing and subsequent triumph that "revolutionized the art of planetary exploration." No one took success for granted, aware that more than half of the probes sent to Mars have failed. The eight-month voyage presented few problems; not so the critical EDL, or entry-descent-landing, process, which required a Rube Goldberg-esque series of parachutes, rockets and thrusters that carefully deposited the rover and then flew away. Compared to previous rovers (the tiny 1997 Sojourner, modest 2003 Spirit and Opportunity), Curiosity is massive: five times heavier and 10 times more complex than its predecessor. Comparable to the Manhattan project, the development took longer and faced problems unknown to those who built the atom bomb. Many features couldn't be tested, and budgetary limitations meant that defects were often left in place if they were unlikely to affect the miss ion. Most readers know how it turned out. The engineers were not so lucky, and the authors deliver a nail-biting, nuts-and-bolts chronicle of seemingly endless technical and political problems overcome by brilliant, obsessive engineers who worked day and night and continue to do so. Readers yearning for stories of human space travel must follow developments in China, the only nation with an active manned space program. Those who appreciate the purely scientific results of planetary exploration will love this lively, intelligent account of a dazzling achievement. THE WASHINGTON POST "In Mars Rover Curiosity: An Inside Account From Curiosity's Chief Engineer, he (Rob Manning) and science writer William L. Simon describe a committed, collegial bunch of guys doing some pretty amazing science." SCIENCE NEWS "In Mars Rover Curiosity, Manning and coauthor Simon offer a firsthand account of designing the most complex piece of machinery ever to land on another planet. Starting with a harebrained scheme and ending with a drive across the red dust of Gale Crater, the book deftly guides readers through the many setbacks, victories and difficult decisions that came with planning an interplanetary mission." THE SPACE REVIEW "...the book offers a detailed, compelling tale of the rover's development from someone who was at the center of the effort. For those who want to know how the spacecraft sausage is made, this is the book for you." FORBES.COM "Manning's just published account of years at NASA's venerable Jet Propulsion Laboratory (JPL), co-written with best-selling non-fiction author William L. Simon, will resonate most with those who want an excellent inside take on the rigorous and often arduous task of designing interplanetary landers and the eureka moments that affords. Manning deserves credit for bringing his own sense of candor and humility to the prose."