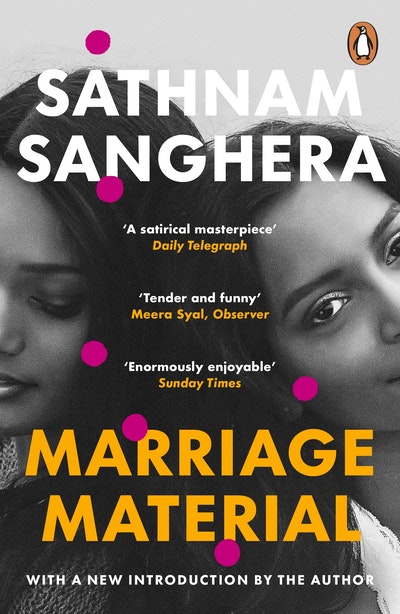 Published:

26 September 2013

ISBN:

9781448134052

Imprint:

Cornerstone Digital

Format:

EBook

Pages:

320
Marriage Material
---
---
---
An epic tale of family, love, and politics spanning the twentieth century, told with humour, tenderness and insight by one of Britain's most promising young writers.
SHORTLISTED FOR THE COSTA FIRST NOVEL AWARD AND LONGLISTED FOR THE DESMOND ELLIOTT PRIZE
To Arjan Banga, who has returned to the Black Country after the unexpected death of his father, his family's corner shop represents everything he has tried to leave behind - a lethargic pace of life, insular rituals and ways of thinking. But when his mother insists on keeping it open, he is dragged back, forced into big decisions about his imminent marriage back in London and thrown into the family betrayals and loyalties, loves and regrets that have played out in the shop over more than fifty years.
Taking inspiration from Arnold Bennett's classic novel The Old Wives' Tale, Marriage Material tells the story of a family's three generations through the prism of a Wolverhampton corner shop: a symbol of South Asian independence and integration, but also of darker realities. Told with humour, tenderness and insight, this is a unique and urgent survey of modern Britain by one of the country's most promising young writers, and an ingenious reimagining of a classic work of fiction.
Published:

26 September 2013

ISBN:

9781448134052

Imprint:

Cornerstone Digital

Format:

EBook

Pages:

320
Praise for Marriage Material
Having grown up in a corner shop in the West Midlands, I hoped that Sathnam Sanghera's Marriage Material would resonate. I was expecting acerbic wit, unsentimental tenderness and a Black Country setting - and it lived up to my stupid expectations. I really wanted to like it and I loved it - which never seems to happen. I usually damn things with high hopes. It was a lot of things I expected - funny and tender and scathing - but it's insanely gripping as well. So much of the newsagent detailing was completely spot on - there was plenty of my Dad in the character of Tanvir, plenty of all of my family in there really. A great achievement.

Catherine O'Flynn, author of What Was Lost
A stunning novel ... touching and funny and feels so fresh ... it just leaps off the page. I adored it.

Deborah Moggach
Marriage Material is a comic feast, full of delectable matter. It does what only the best comic fiction can do: it robes important social subjects in laughter. Then, too, by the end, I felt I knew Sathnam Sanghera's characters intimately and felt so warmly about them, I didn't want them to go: no mean feat, given that I've never been into a Wolverhampton corner shop, either in Enoch Powell's scurrilous heyday or more recently. This is a splendid debut.

Lisa Appignanesi
Marriage Material is a wonderfully engaging book, full of heart and wit. Its exploration of what it means to feel torn is rich and subtle. Its characters stay with you. Its jokes make you laugh in the night.

Susie Boyt
Smart, funny and melancholy, Sanghera's debut novel goes straight to the heart of family life.

Marie Claire
A funny and touching read ... Brilliant . A superbly updated version of Arnold Bennett's The Old Wives' Tale. At its heart, this is a simple story of family . yet, all this is handled throughout with the lightest of touches, so that on reaching the end, you want to begin again to pick up the subtle nuances of this book

Psychologies
It will take virtually no pages for you to be hooked

Harper's Bazaar - 5 Books for the Autumn
Enormously enjoyable.Marriage Material isn't simply an ingenious exercise in updating.Sanghera's central subject, as in his much-praised memoir, The Boy with the Topknot, is prejudice.One of the novel's achievements is to keep you in mind of all this while maintaining a tone of shrewdly humorous tolerance. Sanghera's forte is wry comedy tinged with pathos.There is a concluding twist that has all the poisonous horror of finding a cobra coiled around boxes of confectionary in a corner shop.[A] warm, keenly observant and immensely appealing novel.

Peter Kemp, Sunday Times
A novel that ingeniously 'shoplifts' (his word) characters and elements of plot from Arnold Bennett's The Old Wives' Tale.This dangerous material is handled with a darkly comic lightness of touch, and an impassively detached ironic tone that may owe something to Bennett - like Bennett, Sanghera makes good use of local newspaper cuttings, letters to the editor, and contemporary fashion magazine material, which gives an unobtrusively authentic period flavour to each passing phase. This book is so well researched you hardly notice the work that's gone into it.The mix of comedy, satire, realism and optimism is nicely judged.

Margaret Drabble, Spectator
His poignant memoir of growing up in 1980s Wolverhampton won Sathnam Sanghera an army of admirers as well as a clutch of nominations and awards. Five years on, he has turned his literary talents in the direction of fiction, with this funny and insightful first novel the result . A thoughtful examination of the complexities of modern Britain . An engrossing, entertaining and rewarding read.

Daily Mail
A satirical masterpiece . A razor-sharp disquisition on the trials of being an Asian newsagent.Handled with a poignancy that makes it hurt to read. But those tears are soon replaced by ones of laughter . As past and present collide in a violent, twisty finale, it is clear that the caste system of the old country is alive and dangerous. Sanghera is such an engaging and versatile writer that the pages fly by in a flurry of pathos, politics and paratha with extra butter. Not many readers will recognise this satirical mini-masterpiece as a reworking of the 1908 Arnold Bennett novel The Old Wives' Tale, but everyone will feel richer for its uncompromising take on race relations in the Black Country.

Sunday Telegraph
Subtle and often very funny prose . What lifts this novel far above cliché is Sanghera's deft sense of irony and self-awareness regarding his subject matter . The family's unfolding history is beautifully counterpointed by real-life events in the local political landscape . Sanghera's tender and funny book is a cracking and pacy read.

Meera Syal, Observer
Sathnam Sanghera's entertaining story is a "remix" of Arnold Bennett's classic novel The Old Wives' Tale . Playful wit infuses the novel . But behind the humour and the plot twists, is an important novel that explores an often overlooked part of this country's history . That the story of the Victorian mercantile class told in Bennett's novel is so easily transposed onto the community Sanghera grew up in nearly a century later is absolutely fascinating, and by recognizing and exploiting this with excellent effect, he examines the nationwide story of British immigration through the prism of the Punjabi Sikh experience.

Independent
It is very good and has many of the qualities found in Bennett's masterpiece: acute observation of society and societal change, thoroughly imagined and well depicted characters, mastery of naturalistic detail, and generosity of tone. It is very enjoyable . It does what the novel can still do better than any other art-form: showing you that other people think and act in a manner very different from your own, but one which is equally valid . It is [a novel] which celebrates that most necessary of qualities, kindness . It is acute about human frailty, but also understanding of this. It is often funny and its great merit is its humanity. It's worthy homage to Arnold Bennett.

Scotsman
Sanghera's Marriage Material has humour [and] cultural relevance.Anyone who's grown up as a second generation immigrant can relate to the themes seen here . I'd heartily recommend Marriage Material to anyone who needs a little push to reconnect to where they've come from, be it Copenhagen or Punjab.

Stylist
Sanghera's story captures a time of extraordinary changes in Wolverhampton [.] Discrimination, mixed-race marriages and the changing face of Britain appear in both Sanghera's timelines. As the novel progresses, the stories collide and there are startling revelations, humour and mystery. It is smartly crafted, weaving in droll observations about immigrant life and the defensiveness of south Asians living away from home, while also providing a thoughtful commentary on the casual racism of Britain, the tedium of always being out of place and the complexities of belonging in an increasingly heterogeneous world.

Financial Times
Sanghera ... tells a larger story about the big political and economic struggles of the past half-century. He examines changing attitudes to immigration, the rise of big-box stores and the hollowing out of Britain's industrial centres ... Sanghera, who grew up in Wolverhampton himself, does a good job of capturing the complications of progress.

The Economist