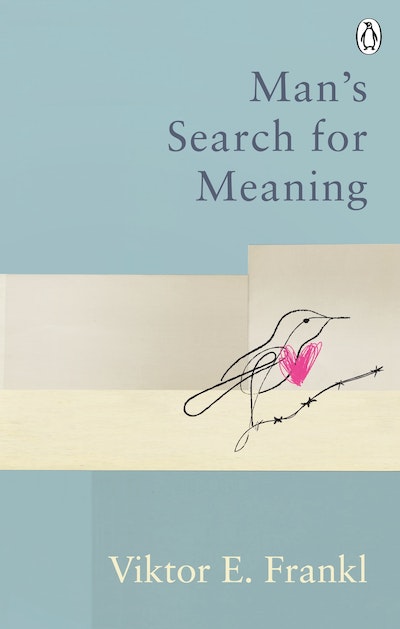 Published:

2 March 2021

ISBN:

9781846046384

Imprint:

Rider

Format:

Paperback

Pages:

240

RRP:

$22.99
Man's Search For Meaning
The classic tribute to hope from the Holocaust
---
---
---
The classic tribute to hope from the Holocaust.
Over 16 million copies sold worldwide
'Every human being should read this book' Simon Sinek
One of the outstanding classics to emerge from the Holocaust, Man's Search for Meaning is Viktor Frankl's story of his struggle for survival in Auschwitz and other Nazi concentration camps. Today, this remarkable tribute to hope offers us an avenue to finding greater meaning and purpose in our own lives.
Published:

2 March 2021

ISBN:

9781846046384

Imprint:

Rider

Format:

Paperback

Pages:

240

RRP:

$22.99
Praise for Man's Search For Meaning
Remarkable...It changed my life and became a part of all that I live and all that I teach.

Susan Jeffers, author of Feel The Fear And Do It Anyway and Embracing Uncertainty
Remarkable...It changed my life and became a part of all that I live and all that I teach.

Susan Jeffers, author of Feel The Fear And Do It Anyway and Embracing Uncertainty
Remarkable...It changed my life and became a part of all that I live and all that I teach.

Susan Jeffers, author of Feel The Fear And Do It Anyway and Embracing Uncertainty
Remarkable...It changed my life and became a part of all that I live and all that I teach.

Susan Jeffers, author of Feel The Fear And Do It Anyway and Embracing Uncertainty
Viktor Frankl...one of the moral heroes of the 20th century. His insights into human freedom, dignity and the search for meaning are deeply humanizing, and have the power to transform lives. His works are essential reading for those who seek to understand the human condition.

Chief Rabbi Dr Jonathan Sacks
Viktor Frankl...one of the moral heroes of the 20th century. His insights into human freedom, dignity and the search for meaning are deeply humanizing, and have the power to transform lives. His works are essential reading for those who seek to understand the human condition.

Chief Rabbi Dr Jonathan Sacks
Viktor Frankl...one of the moral heroes of the 20th century. His insights into human freedom, dignity and the search for meaning are deeply humanizing, and have the power to transform lives. His works are essential reading for those who seek to understand the human condition.

Chief Rabbi Dr Jonathan Sacks
Viktor Frankl...one of the moral heroes of the 20th century. His insights into human freedom, dignity and the search for meaning are deeply humanizing, and have the power to transform lives. His works are essential reading for those who seek to understand the human condition.

Chief Rabbi Dr Jonathan Sacks
An enduring work of survival literature.

New York Times
An enduring work of survival literature.

New York Times
An enduring work of survival literature.

New York Times
An enduring work of survival literature.

New York Times
If you read but one book this year, Dr Frankl's book should be that one.

Los Angeles Times
If you read but one book this year, Dr Frankl's book should be that one.

Los Angeles Times
If you read but one book this year, Dr Frankl's book should be that one.

Los Angeles Times
If you read but one book this year, Dr Frankl's book should be that one.

Los Angeles Times
a great book...if you need to be reminded that there is value to be discovered in experiences when they seem nothing but pointless and painful, and choices to be made when you think you have none, I'd recommend it

Lauren Laverne
a great book...if you need to be reminded that there is value to be discovered in experiences when they seem nothing but pointless and painful, and choices to be made when you think you have none, I'd recommend it

Lauren Laverne
a great book...if you need to be reminded that there is value to be discovered in experiences when they seem nothing but pointless and painful, and choices to be made when you think you have none, I'd recommend it

Lauren Laverne
a great book...if you need to be reminded that there is value to be discovered in experiences when they seem nothing but pointless and painful, and choices to be made when you think you have none, I'd recommend it

Lauren Laverne
Influential and eloquent.

Jewish Chronicle
Influential and eloquent.

Jewish Chronicle
Influential and eloquent.

Jewish Chronicle
Influential and eloquent.

Jewish Chronicle
Perhaps the most significant thinking since Freud and Adler.

The American Journal of Psychiatry
Perhaps the most significant thinking since Freud and Adler.

The American Journal of Psychiatry
Perhaps the most significant thinking since Freud and Adler.

The American Journal of Psychiatry
Perhaps the most significant thinking since Freud and Adler.

The American Journal of Psychiatry
I have loved this book for so many years, and I think every human being should read it.

Simon Sinek
I have loved this book for so many years, and I think every human being should read it.

Simon Sinek
I have loved this book for so many years, and I think every human being should read it.

Simon Sinek
I have loved this book for so many years, and I think every human being should read it.

Simon Sinek
A book to read, to cherish, to debate, and one that will ultimately keep the memories of the victims alive

John Boyne, author of The Boy in the Striped Pyjamas
A book to read, to cherish, to debate, and one that will ultimately keep the memories of the victims alive

John Boyne, author of The Boy in the Striped Pyjamas
A book to read, to cherish, to debate, and one that will ultimately keep the memories of the victims alive

John Boyne, author of The Boy in the Striped Pyjamas
A book to read, to cherish, to debate, and one that will ultimately keep the memories of the victims alive

John Boyne, author of The Boy in the Striped Pyjamas