Try this delicious home-style Italian recipe from Mangia! Mangia!.
A large pot of minestrone is often found simmering away on our stoves once the weather turns cold. The addition of meat and pasta make it a hearty meal; traditionally maltagliate, the off-cuts from making pasta, were used. The vegetables would often vary according to what was in the garden. So in late autumn the minestrone would include zucchini and, in winter, silver beet and beans.
Allowing the vegetables to cook slowly with the meat is the key to achieving the best result with this soup. You can use 2 cups (400 g) dried beans if fresh are not available; just remember to soak them overnight in water, then drain and rinse before adding them to the pot.
MINESTRONE
Serves 4–6
Ingredients 
¼ cup (60 ml) extra virgin olive oil, plus extra for drizzling
1 large onion, chopped
3 sticks celery, finely diced
2 carrots, finely diced
1 potato, finely diced
2 cups shelled fresh borlotti beans (from 1 kg whole pods)
2 zucchini (courgettes), finely chopped
6 tomatoes, peeled and chopped or 400 g Pomodoro Pelati
4–5 pieces (about 500 g) veal osso buco
3–4 silver beet leaves
200 g maltagliate (off-cuts from making fresh pasta) or small dried pasta (such as ditali)
grated parmigiano reggiano, to serve
METHOD
Heat the olive oil in a large saucepan over medium heat and add the onion and celery, then cook for 2–3 minutes or until the onion is translucent. Add the carrot, potato, beans, zucchini, tomato and veal, stirring to combine. Add enough water to cover the meat and vegetables by at least 4–5 cm. Cover and cook over low heat for 1–1½ hours; by this time the beans will be tender and the meat will be falling off the bone.
Add the silver beet and pasta and cook for a further 10 minutes.
Serve in bowls with plenty of grated parmigiano and a drizzle of olive oil over the top.
---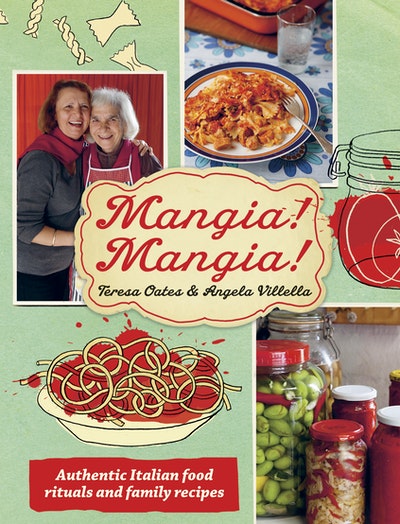 Mangia! Mangia! celebrates home-style Southern Italian food, based on traditional recipes and methods.
Buy now
Buy now
---