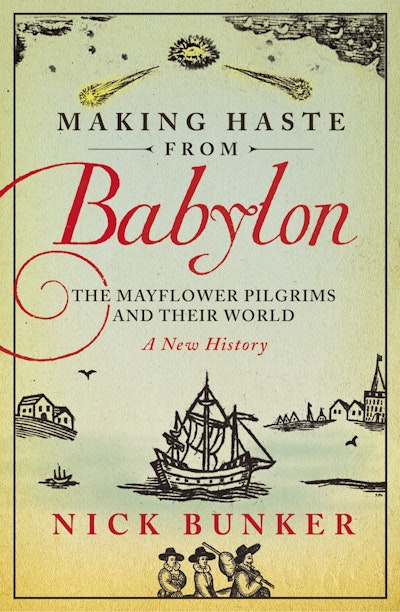 Published:

15 April 2011

ISBN:

9781446426470

Imprint:

Vintage Digital

Format:

EBook

Pages:

512
Making Haste From Babylon
The Mayflower Pilgrims and Their World: A New History
---
---
---
A vivid and strikingly original account of the Mayflower project as well as the Pilgrims' first decade in the New Plymouth colony.
At the end of 1618, a blazing green star soared across the night sky over the Northern Hemisphere. From the Philippines to the Great Lakes, the comet became a sensation and a symbol, a warning of doom or a promise of salvation.
Two years later, as the Pilgrims prepared to sail across the Atlantic on board the Mayflower, the atmosphere remained charged with fear and expectation. Men and women readied themselves for war, pestilence or divine retribution. Against this background, and amid deep economic depression, the Pilgrims conceived their enterprise of exile.
Within a decade, despite crisis and catastrophe, they built a thriving settlement at New Plymouth, based on beaver fur, corn and cattle. In doing so, they laid the foundations for Massachusetts, New England and a new nation.
Using a wealth of new evidence - from landscape, archaeology and hundreds of overlooked or neglected documents - Nick Bunker gives a vivid and strikingly original account of the Mayflower project and the first decade of the Plymouth Colony. Making Haste from Babylon tells the story of the early pilgrim settlers in unrivalled depth, from their roots in religious conflict and village strife at home to their final creation of a permanent foothold in America.
Published:

15 April 2011

ISBN:

9781446426470

Imprint:

Vintage Digital

Format:

EBook

Pages:

512
Praise for Making Haste From Babylon
Making Haste from Babylon is essential reading for those who think they know the story of the Pilgrims. It will be pure pleasure for those who are new to the subject.

Simon Middleton, BBC History Magazine
His spirit, zeal and flair put most historians of his subject to shame

Felipe Fernandez-Armesto, The Times
[Nick Bunker's] vivid style and bold analysis infuse this book with colour and pace, and the result is an indispensible contribution to understanding how it all began

Raymond Seitz, Literary Review
Even beyond its indefatigable scholarship and fine style, this book's sensitivity to the meaning of landscape should influence travel writers and historians for years to come

James McConnachie, The Sunday Times
This new history has made those supposedly dull Puritans crackle with narrative energy and fizz with vibrant colour as never before

Christopher Silvester, Daily Express
An honest, intensive attempt to reconstruct the nemal world of the first Pilgrims, and the topography of the new lands in which they settled

Times Literary Supplement
The mythologised vision of the Pilgrim Fathers we have today - their black hats, their lace collars, the landing on Plymouth Rock - is largely a sentimental Victorian fabrication, says this rewriting of one of America's most sacred fables

Financial Times, Christmas round up
This history of the Mayflower pilgrims is loamily rich and awesomely researched, both in archives and on the ground'. 'With its scholarship and fine style, this book's sensitivity to the meaning of landscape should influence travel writers and historians for years to come

Sunday Times
Timely... Nick Bunker has re-told an old story with aplomb, using a wealth of sources to capture the febrile mood of the time

Sally Cousins, Daily Telegraph