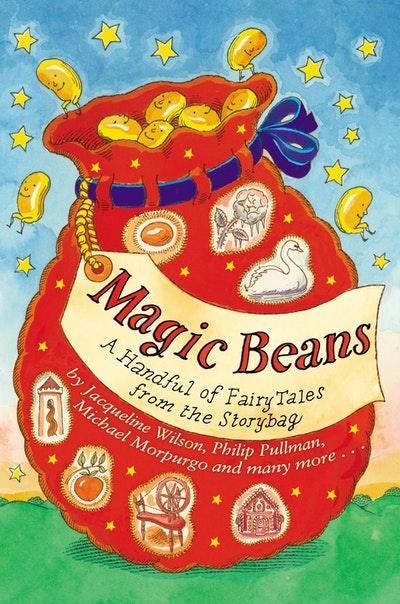 Published:

10 November 2011

ISBN:

9781448119653

Imprint:

Penguin eBooks

Format:

EBook

Pages:

448
Magic Beans: A Handful of Fairytales from the Storybag
---
---
Beautiful retellings of favourite fairytales by the best-loved writers for children.
Magic beans. Sow them. Plant them. Watch children grow.
'If you are a dreamer, come in. If you are a dreamer, a wisher, a liar, a hoper, a prayer, a magic-bean-buyer. If you're a pretender, come sit by my fire, for we have some flax-golden tales to spin. Come in! Come in!' - Shel Silverstein, Poet
Each and every one of the stories in this anthology is a magic bean: a wondrous tale that will capture your imagination. Prepare to be dazzled by Rapunzel's golden tresses. Prepare to be moved by the suffering of the Little Mermaid. Prepare to laugh yourself silly as 'Mr Sultana' struggles to get the better of a little red rooster!
Lovingly crafted by the finest authors and illustrators, these 'magic beans' will delight, thrill and thoroughly entertain.
Published:

10 November 2011

ISBN:

9781448119653

Imprint:

Penguin eBooks

Format:

EBook

Pages:

448
Praise for Magic Beans: A Handful of Fairytales from the Storybag
An entrancing collection of classic fairtyales retold by leading storytellers such as Philip Pullman, Adele Geras, and Malorie Blackman. Elegant line drawings [...] add to the magic.

Amanda Craig, The Times
Magic Beans is a wonderfully entertaining sampler of 14 great storytellers, who include Anne Fine, Phillip Pullman and Jacqueline Wilson. It's rich retellings range from Aesops Fables to the Little Mermaid.

Nicolette Jones, The Sunday Times
Magic Beans is an anthology of fairy-tales, some more and some less familiar, each one retold by a contemporary writer. Each is perfect for reading aloud over a few bedtimes, and with wonderfully told stories by brilliant writers including Alan Garner, Linda Newbery, Anne Fine, Gillian Cross, Berlie Doherty and Philip Pullman, parents will love it every bit as much as their kids.

Daniel Hahn, The Independent
If you don't have a collection, then Magic Beans: A Handful of Fairytales From the Storybag (David Fickling Books, £9.99, 8.99) is as good a place to start as any. It has classic tales (Hansel & Gretel, Rapunzel, etc) and less well-known ones such as Mossy Coat, The Seal Hunter, Cockadoodledo and Mr Sultana, as told by a selection of some of the best children's writers, including Anne Fine, Jacqueline Wilson, Malorie Blackman, Philip Pullman, Alan Garner and Michael Morpurgo. Even bought as a reference guide to fantastic writers for your kids to explore, it'll be money well spent.

The Mail on Sunday
With comfortable print and decorative embellishments by well-known illustrators, this rich kaleidoscope of stories is a book for keeps

Mary Arrigan, The Irish Examiner
A book ripe for plucking as a Christmas or birthday present. Much nicer and more accessible than a traditional keepsake edition, this anthology will actually be read and enjoyed rather than resting on the shelf. The whole clutch of stories is beautifully, clearly written, and adults will relish reading them aloud to children. In a modern world where singing a traditional nursery rhyme evokes puzzled looks and little fingers poke at amazing, sophisticated screens, I say hooray for the simple bedtime story.

Sue, The Bookbag
A collection fairy tale re-tellings by some of our finest writers including Adèle Geras, Jacqueline Wilson, Philip Pullman and Michael Morpurgo, that was also included in last week's round-up of books for seven to 12-year-olds, brims with elegant prose, enchantment, comedy and mischief. Malorie Blackman's re-telling of Aesop's Fables is particularly delicious, rich in humour and irony. So begins the tale of the fox and grapes: "Foxy was walking along the dusty road one day, minding his own business and thinking foxy thoughts ...." It's the perfect gift but also a book to squirrel away for yourself and enjoy on a rainy afternoon.

The Independent
Smartly written, the tales can be enjoyed afresh, imbued with a love of words that will no doubt excite and delight your child. The new hardback collection is printed in large type so should be a good first read. It would also make a lovely gift.

Junior
If you buy one anthology for Christmas, make it a classic that your kids can enjoy in years to come. Each of the stories in thsi anthology is a magic bean: a wondroud take that will capture your imagination,. Lovlingly crafter by some of the finest auhors and illustrators in the business - inluding Jacqueline Wilson, Philip Pullman and Michael Morpurgo- these 'magic beans' will delight and thoroughly entertain. Offering a modern twist on some classic.

Anne Whelton, Maternity Magazine
This is a super selection of fourteen fairy tales, renewed by tremendous storytellers. Adele Geras' strange and spellbinding The Six Swan Brothers, sinisterly illustrated by Ian Beck, opens the selection and the irresistible witch tempts the reader into the tale of a King's spell-struck sons, doomed to be forever swans unless their sister Cora can release them. The machiavellian cruelty still shocks, while Geras' stylish writing enthralls. Anne Fine's Twelve Dancing Princesses, with ribbons of dancing shoes by Debi Gliori edging the pages, is told in a no-nonsense, exasperated-father style as the king tries - with help from various characters - to find out how his daughters can wear out a dozen pairs of shoes every night! All the stories give a fresh and immediate version of the often cruel but funny originals where the darkest sides of human nature are contrasted against innocent honesty; magic intervening first on one side, then the other, until virtue triumphs. Skilful writing from modern storytellers.

Tina Massey, Carousel
A bright cover and good sized print are attractive but the irresistible factor is the list of 13 authors ...Amazing, brilliant and a comparative bargain.

School Librarian journal