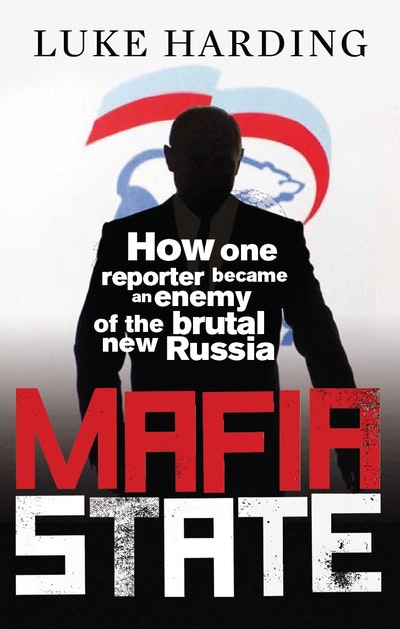 Published:

9 November 2011

ISBN:

9780852652503

Imprint:

Guardian Digital

Format:

EBook

Pages:

320
Mafia State
How one reporter became an enemy of the brutal new Russia
---
---
---
A journalist expelled from Russia in February 2011 tells his story
In 2007 Luke Harding arrived in Moscow to take up a new job as a correspondent for the British newspaper the Guardian. Within months, mysterious agents from Russia's Federal Security Service - the successor to the KGB - had broken into his flat. He found himself tailed by men in cheap leather jackets, bugged, and even summoned to Lefortovo, the KGB's notorious prison.
The break-in was the beginning of an extraordinary psychological war against the journalist and his family. Vladimir Putin's spies used tactics developed by the KGB and perfected in the 1970s by the
Stasi, East Germany's sinister secret police. This clandestine campaign burst into the open in 2011 when the Kremlin expelled Harding from Moscow - the first western reporter to be deported from Russia since the days of the Cold War.
Mafia State: How one reporter became an enemy of the brutal new Russia is a brilliant and haunting account of the insidious methods used by a resurgent Kremlin against its so-called "enemies" -
human rights workers, western diplomats, journalists and opposition activists. It includes unpublished material from confidential US diplomatic cables, released last year by WikiLeaks, which describe Russia as a "virtual mafia state".
Harding gives a unique, personal and compelling portrait of today's Russia, two decades after the end of communism, that reads like a spy thriller.
Published:

9 November 2011

ISBN:

9780852652503

Imprint:

Guardian Digital

Format:

EBook

Pages:

320
A courageous and explosive exposé

Orlando Figes
An entertaining and alarming account of Vladimir Putin's police state

Observer
Russia laid bare in an absorbing account of four years spent as head of the Guardian's Moscow bureau ... an essential read

David Clark, New Statesman
Uncertainty, fear and understandable paranoia permeate this book. But this does not cloud the analysis. Harding's description of the rise of Russia's racist right … is deeply troubling

Misha Glenny, Irish Times
Clear, precise and up-to-the minute

Spectator
The importance of Luke Harding's book lies in its first-hand account of a relatively mild but telling bout of statement sponsored harassment, of a kind that, like much else in Russia, is intentionally opaque and deniable

AD Miller, Guardian
Both intriguing and highly pertinent to understanding current issues ... Harding is relentless in his pursuit of the truth and delineates sharply the social conditions and attitudes in Russia ... [his] style is informed but informal and yet brings into focus contemporary Russia

bookbag.co.uk
Extensive and often insightful … [it] does bring to light many important events that might otherwise have been hushed up

Russia Profile
Very moving

The Oldie
The author, an award-winning foreign correspondent with the Guardian, worked in Moscow from 2007 to 2011, and was the first reporter to be kicked out of Russia since the end of the Cold War. This fascinating book charts his experiences … what makes this book come alive and read more like a thriller is the thread of personal intimidation that Harding and his family endured during their stay

Oxford Times
Mafia State is a probing, sobering view of a powerful – and dysfunctional – nation

Financial Times
What is different about Mafia State is the personal and family history at its core. Instead of attempting a conventional sketch of Kremlin politics, Harding focuses on the harassment he encountered in Russia – and the result is a gripping tale … his enthralling denunciation, written as autobiography, is as informative as anything Malcolm Muggeridge produced

Robert Service, Times Literary Supplement