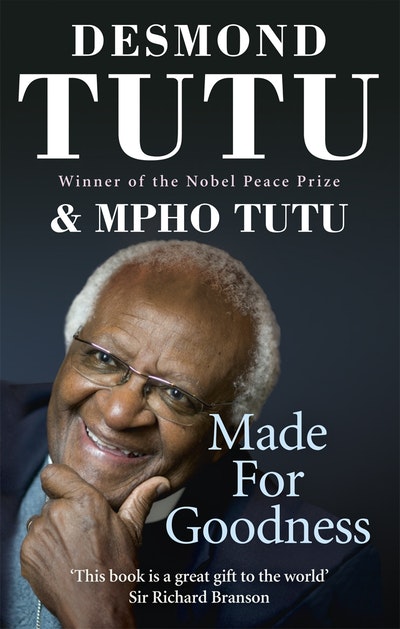 Published:

15 March 2012

ISBN:

9781846042638

Imprint:

Rider

Format:

Paperback

Pages:

224

RRP:

$19.99
Made For Goodness
And why this makes all the difference
---
---
---
Archbishop Desmond Tutu's positive and accessible follow-up to God Has A Dream
As Archbishop of Cape Town at the height of the Apartheid regime in South Africa, Desmond Tutu saw many shocking and violent incidents. Later, as Chair of the Truth and Reconciliation Commission, as well as a leading peace negotiator in many troubled parts of the world, he heard many appalling stories of man's inhumanity to man. Yet he still has a firm conviction that we are 'made by goodness for goodness'. Another way of putting this is: the essential truth about all of us is that we are made in the image and likeness of God.
Tutu explains that, though we sometimes act out of depravity and despair, we do know in our heart of hearts that we are not as we were meant to be, and were created to be so much more. The truth of human goodness can get hidden under the fear that we cannot live up to its demands, or it can get buried under faults or failures, or it can just get forgotten.
In this thoughtful and important book, the Archbishop (with his daughter, Mpho Tutu) shows how we can find our way back to goodness by changing our attitudes, by practising forgiveness, and by prayer. Then we will begin to see the goodness and beauty of others… If our view changes, this in turn makes all the difference to the way we act. And how we act towards each other affects not only ourselves but everything in our world - for the better.
Published:

15 March 2012

ISBN:

9781846042638

Imprint:

Rider

Format:

Paperback

Pages:

224

RRP:

$19.99
Praise for Made For Goodness
Even with the incredible trauma and cruelty Archbishop Tutu endured in South Africa during apartheid and the many atrocities he has witnessed in his life, he still radiates love and happiness. This wonderful new book is a great gift to the world and will help all of us celebrate our goodness and oneness

Sir Richard Branson, founder and chairman of the Virgin Group
As the author so clearly and beautifully says in this book, "anyone can choose to cultivate compassion." Thank you Archbishop Tutu for helping us all come back home to our true nature, which is inherently good and whole, and touch the peace that is always there for us

Thich Nhat Hanh, author of The Miracle of Mindfulness
Desmond Tutu has walked the talk all his adult life. We can all be grateful that, together with his daughter Mpho, he has now shared his secrets for why he has so much hope and joy

Mary Robinson, former president of Ireland