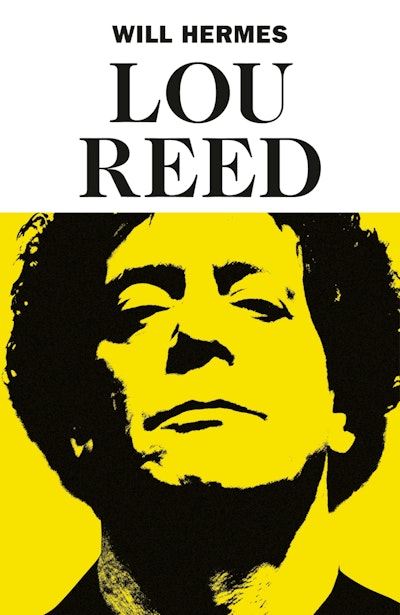 Published:

15 November 2023

ISBN:

9780241296509

Imprint:

Viking

Format:

Hardback

Pages:

560

RRP:

$55.00
Lou Reed
The King of New York
---
---
The most complete and penetrating biography of the rock master Lou Reed.
Since his death ten years ago, Lou Reed's stature and living presence have only grown. The great rock-poet presided over the marriage of Brill Building pop and the European avant-garde, and left American culture transfigured.
In Lou: A New York Life, the critic Will Hermes offers the definitive narrative of Reed's life and legacy, dramatizing his long, brilliant, and contentious dialogue with fellow artists from David Bowie to Andy Warhol. Will explore his craft as a singer and songwriter with the Velvet Underground as well as the gift for self-sabotage he took from his mentor Delmore Schwartz. This is a portrait of a committed artist who pursued beauty and noise with equal fervour and a man who left a lasting emotional imprint the world over.
Published:

15 November 2023

ISBN:

9780241296509

Imprint:

Viking

Format:

Hardback

Pages:

560

RRP:

$55.00
There have been many biographies of Lou Reed, but Will Hermes has written the definitive life. He has probed into every corner, talked to people the others overlooked, dug up every last clipping and tape, but above all he has brought to the assignment a sharp eye, a clear head, a lucid prose style, and a determination to let Lou be Lou, without judgement

Lucy Sante, author of LOW LIFE
There have been many biographies of Lou Reed, but Will Hermes has written the definitive life. He has probed into every corner, talked to people the others overlooked, dug up every last clipping and tape, but above all he has brought to the assignment a sharp eye, a clear head, a lucid prose style, and a determination to let Lou be Lou, without judgement

Lucy Sante, author of LOW LIFE
There have been many biographies of Lou Reed, but Will Hermes has written the definitive life. He has probed into every corner, talked to people the others overlooked, dug up every last clipping and tape, but above all he has brought to the assignment a sharp eye, a clear head, a lucid prose style, and a determination to let Lou be Lou, without judgement

Lucy Sante, author of LOW LIFE
There have been many biographies of Lou Reed, but Will Hermes has written the definitive life. He has probed into every corner, talked to people the others overlooked, dug up every last clipping and tape, but above all he has brought to the assignment a sharp eye, a clear head, a lucid prose style, and a determination to let Lou be Lou, without judgement

Lucy Sante, author of LOW LIFE
Can literature change your life? Yes ... along came Will Hermes, who cost me several hundred pounds on iTunes and ruptured my relationship with guitars

Nick Hornby, Believer magazine
Can literature change your life? Yes ... along came Will Hermes, who cost me several hundred pounds on iTunes and ruptured my relationship with guitars

Nick Hornby, Believer magazine
Can literature change your life? Yes ... along came Will Hermes, who cost me several hundred pounds on iTunes and ruptured my relationship with guitars

Nick Hornby, Believer magazine
Can literature change your life? Yes ... along came Will Hermes, who cost me several hundred pounds on iTunes and ruptured my relationship with guitars

Nick Hornby, Believer magazine
A monumental work filled with first person accounts of the master's life and a dizzying array of never-before-heard details. Through his all-encompassing focus on Lou, Will Hermes serves up a big slice of late 20th-century New York art history. This is an extraordinary achievement.

Michael Imperioli, author of THE PERFUME BURNED HIS EYES
A monumental work filled with first person accounts of the master's life and a dizzying array of never-before-heard details. Through his all-encompassing focus on Lou, Will Hermes serves up a big slice of late 20th-century New York art history. This is an extraordinary achievement.

Michael Imperioli, author of THE PERFUME BURNED HIS EYES
Through his all-encompassing focus on Lou, Will Hermes serves up a big slice of late 20th-century New York art history. This is an extraordinary achievement.

Michael Imperioli, author of THE PERFUME BURNED HIS EYES
Through his all-encompassing focus on Lou, Will Hermes serves up a big slice of late 20th-century New York art history. This is an extraordinary achievement.

Michael Imperioli, author of THE PERFUME BURNED HIS EYES
As in his magisterial Love Goes to Buildings on Fire, Will Hermes again tracks the traces of time in New York City, but now focusing in on one pulse, the scorching light that was Lou Reed. He chronicles the past that made this artist and the future he helped call into being our own, especially the expansive senses of gender and sexuality that Reed longed for and sang about, but never got to benefit from fully. Hermes's empathy for the pain behind his subject's notoriously difficult personality is worthy of the humanity of Reed's songs, and I couldn't offer higher praise

Carl Wilson, author of LET'S TALK ABOUT LOVE
As in his magisterial Love Goes to Buildings on Fire, Will Hermes again tracks the traces of time in New York City, but now focusing in on one pulse, the scorching light that was Lou Reed. He chronicles the past that made this artist and the future he helped call into being our own, especially the expansive senses of gender and sexuality that Reed longed for and sang about, but never got to benefit from fully. Hermes's empathy for the pain behind his subject's notoriously difficult personality is worthy of the humanity of Reed's songs, and I couldn't offer higher praise

Carl Wilson, author of LET'S TALK ABOUT LOVE
As in his magisterial Love Goes to Buildings on Fire, Will Hermes again tracks the traces of time in New York City, but now focusing in on one pulse, the scorching light that was Lou Reed. He chronicles the past that made this artist and the future he helped call into being our own, especially the expansive senses of gender and sexuality that Reed longed for and sang about, but never got to benefit from fully. Hermes's empathy for the pain behind his subject's notoriously difficult personality is worthy of the humanity of Reed's songs, and I couldn't offer higher praise

Carl Wilson, author of LET'S TALK ABOUT LOVE
As in his magisterial Love Goes to Buildings on Fire, Will Hermes again tracks the traces of time in New York City, but now focusing in on one pulse, the scorching light that was Lou Reed. He chronicles the past that made this artist and the future he helped call into being our own, especially the expansive senses of gender and sexuality that Reed longed for and sang about, but never got to benefit from fully. Hermes's empathy for the pain behind his subject's notoriously difficult personality is worthy of the humanity of Reed's songs, and I couldn't offer higher praise

Carl Wilson, author of LET'S TALK ABOUT LOVE
Hermes shrewdly probes Reed's complex personal and professional life . . . Hermes' strength is in identifying and articulating the transformational brilliance of Reed's songwriting and performances within the context of the 1960s and '70s music scene. Reverent about his artistry, he's also discerningly cognizant of Reed's temperamental shortcomings . . . An engrossing, fully dimensional portrait of an influential yet elusive performer

Kirkus Reviews, Starred Review
Hermes shrewdly probes Reed's complex personal and professional life . . . Hermes' strength is in identifying and articulating the transformational brilliance of Reed's songwriting and performances within the context of the 1960s and '70s music scene. Reverent about his artistry, he's also discerningly cognizant of Reed's temperamental shortcomings . . . An engrossing, fully dimensional portrait of an influential yet elusive performer

Kirkus Reviews, Starred Review
Hermes shrewdly probes Reed's complex personal and professional life . . . Hermes' strength is in identifying and articulating the transformational brilliance of Reed's songwriting and performances within the context of the 1960s and '70s music scene. Reverent about his artistry, he's also discerningly cognizant of Reed's temperamental shortcomings . . . An engrossing, fully dimensional portrait of an influential yet elusive performer

Kirkus Reviews, Starred Review
Hermes shrewdly probes Reed's complex personal and professional life . . . Hermes' strength is in identifying and articulating the transformational brilliance of Reed's songwriting and performances within the context of the 1960s and '70s music scene. Reverent about his artistry, he's also discerningly cognizant of Reed's temperamental shortcomings . . . An engrossing, fully dimensional portrait of an influential yet elusive performer

Kirkus Reviews, Starred Review
The great virtue of Lou Reed: The King of New York, the new and very fine biography by Will Hermes, is that it's really two biographies . . . Hermes is masterful, recounting the various unlikely elements that came together [to form The Velvet Underground] . . . To Reed, Hermes brings his same unique blend of rhapsody and scholarly dispassion, of love and skepticism that defines the very best criticism. Plenty has been written about Reed, but only Hermes, to my mind, has gotten Reed's peculiar balance, of person and poseur, exactly right . . . This biography is as beautifully researched as it is written; thorough, smart, conscientious and an absolute delight to simmer in

The Washington Post
The great virtue of Lou Reed: The King of New York, the new and very fine biography by Will Hermes, is that it's really two biographies . . . Hermes is masterful, recounting the various unlikely elements that came together [to form The Velvet Underground] . . . To Reed, Hermes brings his same unique blend of rhapsody and scholarly dispassion, of love and skepticism that defines the very best criticism. Plenty has been written about Reed, but only Hermes, to my mind, has gotten Reed's peculiar balance, of person and poseur, exactly right . . . This biography is as beautifully researched as it is written; thorough, smart, conscientious and an absolute delight to simmer in

The Washington Post
Plenty has been written about Reed, but only Hermes, to my mind, has gotten Reed's peculiar balance, of person and poseur, exactly right . . . This biography is as beautifully researched as it is written

The Washington Post
Plenty has been written about Reed, but only Hermes, to my mind, has gotten Reed's peculiar balance, of person and poseur, exactly right . . . This biography is as beautifully researched as it is written

The Washington Post
No matter how well you know the man and his music, there's so much more to him that's never been revealed until now. This book has the menace and allure of Reed's finest work ? a fascinating, addictive, head-expanding rush into the unknown

Rolling Stone
No matter how well you know the man and his music, there's so much more to him that's never been revealed until now. This book has the menace and allure of Reed's finest work ? a fascinating, addictive, head-expanding rush into the unknown

Rolling Stone
No matter how well you know the man and his music, there's so much more to him that's never been revealed until now. This book has the menace and allure of Reed's finest work

Rolling Stone
No matter how well you know the man and his music, there's so much more to him that's never been revealed until now. This book has the menace and allure of Reed's finest work

Rolling Stone
A layered, nuanced biography . . . Like Reed as a songwriter, Hermes is savvy, empathetic, and, crucially, not afraid to deliver occasional indictments . . . Fans will likely devour many of these stories and want to live inside of them . . . A doorstop book that doesn't feel like homework . . . Reed's final years, marked by his marriage to Laurie Anderson, are among the most moving parts of the story, a model for how to age gracefully after growing up torrentially

The Atlantic
A layered, nuanced biography . . . Like Reed as a songwriter, Hermes is savvy, empathetic, and, crucially, not afraid to deliver occasional indictments . . . Fans will likely devour many of these stories and want to live inside of them . . . A doorstop book that doesn't feel like homework . . . Reed's final years, marked by his marriage to Laurie Anderson, are among the most moving parts of the story, a model for how to age gracefully after growing up torrentially

The Atlantic
Fans will likely devour many of these stories and want to live inside of them

The Atlantic
Fans will likely devour many of these stories and want to live inside of them

The Atlantic
A sympathetic portrait of a vastly talented but difficult man

Mojo
A sympathetic portrait of a vastly talented but difficult man

Mojo
A sympathetic portrait of a vastly talented but difficult man

Mojo
A sympathetic portrait of a vastly talented but difficult man

Mojo
Can literature change your life? Yes ... along came Will Hermes, who cost me several hundred pounds on iTunes and ruptured my relationship with guitars

Nick Hornby, Believer magazine
It was the best of times, it was the best of places: Will Hermes captures the creative incandescence of New York in those five years that changed music

Richard Williams