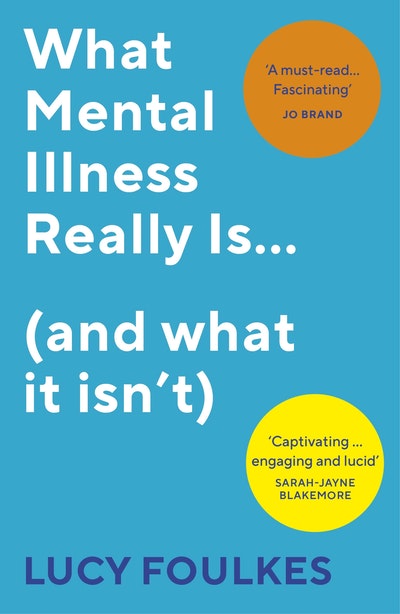 Published:

20 September 2022

ISBN:

9781529113372

Imprint:

Vintage

Format:

Paperback

Pages:

320

RRP:

$24.99
What Mental Illness Really Is… (and what it isn't)
---
---
---
A vital corrective and accessible guide to the science of mental illness
Losing Our Minds provides an accessible distillation and empowering guide to the latest science of mental illness, overturning the notion that we are experiencing an 'epidemic' of mental illness, especially among young people.
Much progress has been made in recent years to promote awareness and openness around mental illness. But academic psychologist Dr Lucy Foulkes argues that a wider understanding of what actually constitutes mental illness is still lacking. As a result, psychiatric terminology is widely overused and misapplied, and the distinction between clinical conditions that require medical treatment - such as depression and anxiety disorders - as opposed to the normal challenges of human experience - such as sadness, stress and anxiety - are being lost. Confusion arises because such distinctions are often hard to make but understanding and preserving them is essential if we are properly to care for those who are ill, equip ourselves to cope with life's unavoidable mental challenges and provide the right kind of support that each demands.
Drawing on her expert understanding of the scientific literature as well as personal experience, Losing Our Minds will present a comprehensive and sympathetic overview of the state of our current knowledge about the causes and nature of the most prevalent mental illnesses, how and when they develop, and the effectiveness of current treatments. It will also make clear what remains unknown, setting the record straight about this often controversial, misunderstood and politicised subject.
Published:

20 September 2022

ISBN:

9781529113372

Imprint:

Vintage

Format:

Paperback

Pages:

320

RRP:

$24.99
Praise for What Mental Illness Really Is… (and what it isn't)
This beautifully written and compassionate account, backed by state-of-the-art scientific evidence, delivers an important message: there is far more variation in the state of our mental health and far more complexity in the diagnosis of mental illness than we tend to believe. This book is needed urgently so that we can examine fears of a tsunami of mental health problems, especially in the light of the current pandemic. Anyone touched by such problems will find much helpful practical advice

Uta Frith, Professor Emeritus of Cognitive Development
Losing Our Minds communicates complex research findings on mental illness with unusual clarity and compassion, and without oversimplifying or shying away from the difficult questions. Everyone who either lives with or knows someone with mental illness should read it. In other words, everyone should read it

Essi Viding, Professor of Developmental Psychopathology
This wonderful book offers an amazingly readable and cutting-edge scientific account of mental illness and its relation to the stresses many young adults experience as well as the language we use to talk about ourselves

Matthew Broome, Professor of Psychiatry and Youth Mental Health
In this captivating book, Lucy Foulkes writes exquisitely well about this complex subject, from societal and cultural norms to common misunderstandings and the most recent evidence about what causes mental illness and how to treat it. Engaging and lucid, her book illuminates a subject relevant to all of us

Sarah-Jayne Blakemore, author of Inventing Ourselves, Professor of Psychology and Cognitive Neuroscience
A must-read for anyone wondering about the state of the nation's mental health, this straightforward and fascinating book is extremely useful at a time when more and more people seem to be suffering mentally but we are still unsure how to define mental illness and what we can do about it

Jo Brand
Thorough, wise, compassionate and methodical, Lucy Foulkes brings a much needed quality to our rather frantic, shallow understanding of mental illness: nuance

Mark Rice-Oxley
A totally counter culture take ... kind and clear-thinking

Helen Rumbelow
A broad and refreshingly non-political survey ... [that] highlight[s] several difficult truths about the reality of mental illness ... Foulkes carefully lays out what we know ... Some of her findings are surprising ... Foulkes is not interested in grand generational diagnoses. She argues that while everyone may suffer from the symptoms of mental distress, only a minority experience mental illness ... Foulkes's message is a cry for nuance and complexity. As she writes, 'all forms of psychological distress are the price we pay for being alive.' While those who are seriously unwell have a right to professional attention, for the rest of us, an awareness of this truth may be just the treatment we need

Nicholas Harris, Prospect
A guide to the state of the art in the science of mental illness ... lucidly written and builds its case with a winning combination of care and concision ... this impressive book is a great starting point for well-informed conversations on the issue. It speaks with calm, rational humanity about why we should hesitate before medicalising our emotions

Professor Thomas Dixon, History of Emotions blog
Clear-headed, compassionate and, ultimately, optimistic. It also happens to be a hugely enjoyable read

Mark Haddon, author of The Curious Incident of the Dog in the Night-time