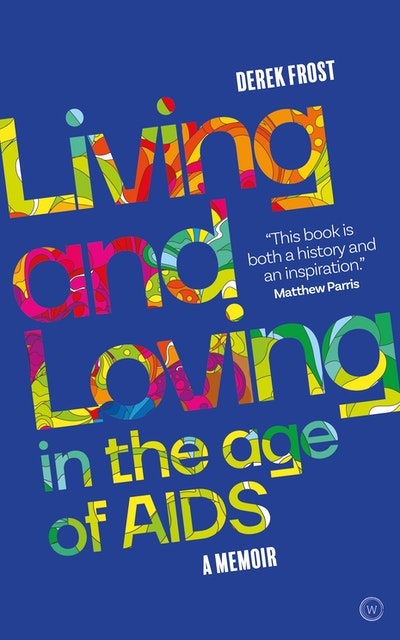 Published:

2 July 2021

ISBN:

9781786784964

Imprint:

Watkins

Format:

Paperback

Pages:

288

RRP:

$27.99
Living and Loving in the Age of AIDS
A memoir
---
---
A compelling, heart-rending and uplifting memoir about one couple's love story through the AIDS epidemic.
This is the tale of a devastating pandemic, of lives cut painfully short; it's also a love letter.
Derek, a distinguished designer and J, his husband, a pioneering entrepreneur and creator of both The Embassy Club, London's answer to Studio 54, and iconic Heaven, Europe's largest gay discotheque, met and fell in love more than 40 years ago.
Their lives were high-octane, full of adventure, fun and fearless creativity. Suddenly their friends began to get sick and die – AIDS had arrived in their lives. When they got tested, J received what was then a death sentence: he was HIV Positive. While the onset of AIDS strengthened stigma and fear globally, they confronted their personal crisis with courage, humour and an indomitable resolve to survive. J's battle lasted six long years. Turning to spiritual reflection, yoga, nature – and always to love – Derek describes a transformation of the spirit, how compassion and empathy rose phoenix-like from the flames of sickness and death. Out of this transformation also came Aids Ark, the charity they founded, which helped to save, amongst the world's most marginalised people, more than 1,000 HIV Positive lives.
This is a story of joy and triumph; about facing universal challenges; about the great rewards that come from giving back. Derek speaks for a generation who lived through a global health crisis that many in society refused even to acknowledge. His is a powerful story chronicling this extraordinary time.
Published:

2 July 2021

ISBN:

9781786784964

Imprint:

Watkins

Format:

Paperback

Pages:

288

RRP:

$27.99
Praise for Living and Loving in the Age of AIDS
"This book is both a history and an inspiration." - Matthew Parris "Incredibly vivid, moving, and compelling." - Lord Chris Smith "This is a powerful book, at once a love letter, a well-informed history of the AIDS epidemic, and the life-story of a beautiful young man in London, moving happily through the early days of gay liberation into a time of widespread anguish and despair." - Del Kolve, Professor of English Literature UCLA, CA, USA "Poignant and heart-touching." - Linda-Gail Bekker, Professor of Medicine, President International AIDS Society 2016–2018, Co-Founder of the Desmond Tutu HIV Centre and Health Foundation, Cape Town, South Africa.
"This book is both a history and an inspiration." - Matthew Parris "Incredibly vivid, moving, and compelling." - Lord Chris Smith "This is a powerful book, at once a love letter, a well-informed history of the AIDS epidemic, and the life-story of a beautiful young man in London, moving happily through the early days of gay liberation into a time of widespread anguish and despair." - Del Kolve, Professor of English Literature UCLA, CA, USA "Poignant and heart-touching." - Linda-Gail Bekker, Professor of Medicine, President International AIDS Society 2016–2018, Co-Founder of the Desmond Tutu HIV Centre and Health Foundation, Cape Town, South Africa. "Tells a story of living life to the full and giving back so much. Derek's passion for life comes through on every page." - Iain Anderson, Executive Chairman of Cicero/amo & Stonewall Ambassador