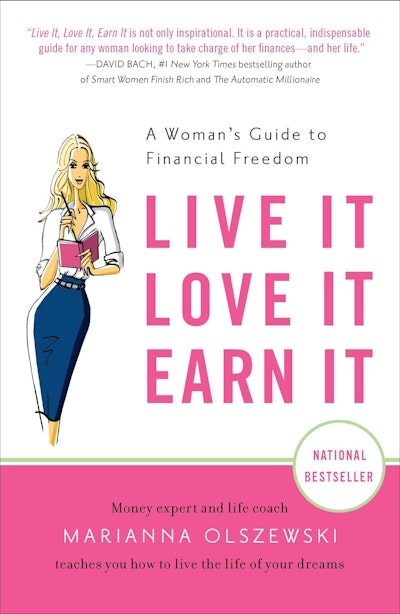 Published:

27 December 2011

ISBN:

9781591844310

Imprint:

Portfolio

Format:

Paperback

Pages:

272

RRP:

$26.99
Live It, Love It, Earn It
A Woman's Guide to Financial Freedom
---
---
"Part motivational, part personal finance...Olszewski seeks to first inspire before she walks you down the path to prosperity."
-The Washington Post Marianna Olszewski didn't start out rich, happy, and fabulous. Strapped-for-cash beginnings motivated her to strive for abundance and financial independence-goals she exceeded by age thirty as the founder of a multimillion-dollar business.
Now she reveals the lessons she learned and the savvy strategies of other amazing women like designer Diane von Furstenberg and Congresswoman Marsha Blackburn. She shows how to:
Say Yes to Yourself: Turn toward people and situations that enhance your well-being, and away from those that don't. Fall in Love with Your Money: When you treat your money with respect, keep track of it, and spend and save wisely, your money will always love you back. Act as If: Start your transformation by acting as if you already are as successful, intelligent, and prosperous as you want to be.

Published:

27 December 2011

ISBN:

9781591844310

Imprint:

Portfolio

Format:

Paperback

Pages:

272

RRP:

$26.99
Praise for Live It, Love It, Earn It
From BookPage: To get you inspired to take charge of your wealth (start with positive thinking!) in 2010, pick up Live It, Love It, Earn It: A Woman's Guide to Financial Freedom. Marianna Olszewski, a popular money and lifestyle coach with years of Wall Street experience, writes in an engaging style that educates without being overwhelming. Olszewski focuses first on maximizing your potential to achieve financial independence by finding balance in all areas of life (diet, sleep, exercise) by adding more fun into the everyday. It feels a bit like you've wondered into a "best life" episode of "Oprah", but it succeeds in energizing and opening your mind to new possibilities. Whether you do it on your own, inspired by the personal stories form powerful women in the book, or start a group to work on the exercises together, Live It, Love It, Earn It will energize how you think about - and act on - money. -Stephanie Gerber From BookList: Former broker-dealer and now money-and-lifestyle coach, Olszewski selects nine strategies for readers to pursue for financial freedom, in the process presenting a mix of spiritual, psychological, financial, and practical tenets. The requisite "proofs of success" are featured, including interviews with famous women (such as fashion icons Diane von Furstenburg, Tory Burch, and Tamara Mellon), tips and tricks (for instance, create a vision board), and nine items to remember for maintaining a positive self-affirmation to giving back. Money-wise, the rules are somewhat universal: love and respect the dollar (and sock everything you can into your IRA or 401(k)). Best takeaways are found in her success secrets and "try this" sidebars: "No means nothing to me," "red flags are red for a reason" (such as, don't force happiness), and "see the good all around you." Somewhat platitude-laden yet worthwhile reinforcement. -Barbara Jacobs From LearnVest: In this perfect read for the new year, Live It, Love It, Earn It, veteran Wall Streeter and self-made multimillionaire Marianna Olszewski tackles the topics of personal finance and wealth creation in a tone that is light and fun (something we can relate to!) and sprinkles in self-help advice, too. The book offers solid action tips like scheduling a weekly "money date," living a cash-only lifestyle, and creating a "fun spending plan." The advice about analyzing your money history will make you think critically about the underlying reasons behind your financial concerns. For the more inspiration-minded, the book includes success stories of regular women accomplishing feats such as landing their first jobs, as well as more famous figures, such as designers Tory Burch and Diane Von Furstenberg, talking about how they became successful. If you're looking to make 2010 the year you finally change your relationship with money, consider reading this book for the proverbial "kick in the butt" to get you going. -Andrea Morabito "Live It, Love It, Earn It is not only inspirational. It is a practical, indispensable guide for any woman looking to take charge of her finances -- and her life." -David Back, #1 New York Times bestselling author of Smart Women Finish Rich and The Automatic Millionaire "Live It, Love It, Earn It illuminates how acquiring wealth is not only within your grasp, it can also be fun. Follow Marianna's advice and you'll be well on your way to living a rich life in all ways." -Lois P. Frankel, Ph.D., author of Nice Girls Don't Get Rich and Nice Girls Don't Get the Corner Office "Let this be your passport to financial and life freedom now!" -Mark Victor Hansen, bestselling author of The One Minute Millionaire and coauthor of Chicken Soup for the Soul "Let's face it, in life and in business, when it comes to money there's nothing sexier than having your own. Marianna Ol