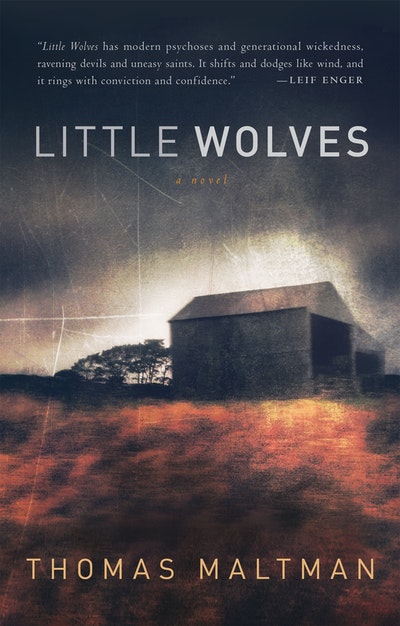 Published:

15 November 2013

ISBN:

9781616953430

Imprint:

Soho Press

Format:

Trade Paperback

Pages:

352

RRP:

$29.99
Little Wolves
---
---
A tragic act of violence echoes through a small Minnesota town
Set on the Minnesota prairie in the late 1980s during a drought season that's pushing family farms to the brink, Little Wolves features the intertwining stories of a father searching for answers after his son commits a heinous murder, and a pastor's wife (and washed-out scholar of early Anglo-Saxon literature) who has returned to the town for mysterious reasons of her own. A penetrating look at small-town America from the award-winning author of The Night Birds, Little Wolves weaves together elements of folklore and Norse mythology while being driven by a powerful murder mystery; a page-turning literary triumph.
Published:

15 November 2013

ISBN:

9781616953430

Imprint:

Soho Press

Format:

Trade Paperback

Pages:

352

RRP:

$29.99
Selected as an "INDIE NEXT"

Praise for Little Wolves

"Here's one I'll recommend—Tom Maltman's written an ambitious mythic thriller that hums with energy and portent. Set under brooding prairie skies, Little Wolves has modern psychoses and generational wickedness, ravening devils and uneasy saints. It shifts and dodges like wind, and it rings with conviction and confidence. What more can a reader ask?"
—Leif Enger, author of Peace Like a River and So Brave, Young, and Handsome

"At its heart, Little Wolves is a powerful mystery....Maltman combines mythology and small-town claustrophobia to show how the roots of the violence [are] planted."
—Christian Science Monitor

"A work of nuance, craft, and tightly plotted narrative....Little Wolves is a portrait of two individuals seeking solace through religion and the law, and finding every opportunity thwarted by that most central tenet of Americana: nostalgia."
—Rain Taxi

"Took my breath away...as rich in myth and metaphors as Cormac McCarthy's The Road."
—Milwaukee Journal-Sentinel

"Part allegory, part mystery and pure poetry, layered with Norse mythology and Anglo Saxon narratives, Maltman's second novel is dark, redemptive and very beautiful."
—Minneapolis Star-Tribune

"A masterwork of fiction. Not just a good book that's interesting on multiple levels, but a great book that will stand the test of time...I was completely spellbound. Add to this the mysteries surrounding the town and characters, and I felt, often, as though I were reading some contemporary version of Dostoyevsky."
—Peter Geye, author of Safe From The Sea

"A complicated portrait of a prairie town, a meditation on violence, a fantasia of myth and folklore, and a knockout murder mystery, Little Wolves is haunting, at times terrifying, a gothic cousin to Kent Haruf's Plainsong. I loved this book."
—Benjamin Percy, author of Red Moon, The Wilding and Refresh, Refresh

"Little Wolves weaves the lives of a father, a son, a pastor's wife, and a community in this compelling mystery of murder and secrets. His brilliant use of historical and mythical elements are combined with everyday life in ways that are hair-raising and true. Maltman has a gift for framing unforgettable characters. Everything about this book asks us to examine life more closely."
—Elizabeth Cox, Author of The Slow Moon

"This novel churns with the tension of a building prairie thunderstorm. Tom Maltman knows that dark truths can be hidden under open skies, and he knows the secrets of the bloodstained ax in the barn."
—John Reimringer, author of Vestments

"The poetry of this prose and the suspense of the plot, along with the intensity of characterization will have many readers comparing Thomas Maltman to Cormac McCarthy—that greatest of compliments—for very good reason. This novel is a work of high art by the real thing."
—Laura Kasischke, author of Space, in Chains and The Life Before Her Eyes

"Absolutely fantastic. Unnerving, gorgeously written.... The writing is haunting."
—Caroline Leavitt, author of Pictures of You

"A powerful mix of tragedy, myth, psychological thriller, and discovery told in a style so engaging that the reader might easily get caught up in the beauty of the words if the story itself were not so stunning."
—Library Journal STARRED REVIEW

"Powerful...skillfully evoked"
—Publishers Weekly
 
 "Maltman makes his leading characters so sensitive that you may shudder at the same revelations that so appall them."
—Kirkus

"Layered with literary and mythic allusions.... A satisfying and unforgettable read."
—School Library Journal

"So good, you'll forget about icy sidewalks and a dead battery...Magical story, magical writing."
—Saint Paul Pioneer Press

"Little Wolves is beautifully written, both in the style of prose and pacing of the narrative."
—Grand Rapids Herald-Review
  
"Maltman expertly weaves a narrow thread of mysticism into the story...Thomas Maltman is a master wordsmith and storyteller. He seasons this story with the perfect amount of every ingredient. There is literally never a dull moment in this book."
—Coastal Breeze News

"In gorgeous prose, Maltman conjures both the irrational suspicion and the heartwarming connections forged in a small town during times of trauma."
—Booklist

"Little Wolves is reminiscent of Kent Haruf's Plainsong, but grittier...a great read with loads of literary merit."
—BookSquawk

"Thomas Maltman combines Norse mythology, fairy tales, and other elements of folklore to create a dark tale of hatred and deceit."
—Ted Hertel, Deadly Pleasures

"Saturated with violence, Anglo-Saxon mythology and parochial pettiness, Maltman's novel is an unsettling work of first-rate fiction."
—Shelf-Awareness

"[Maltman] hit the ground running with Night Birds and has now given us another award-worthy novel... You will be drawn into the intriguing murder plot, of course, but you will also be captivated by Maltman's lyrical prose, adept storytelling, and artistic rendering of the moody Midwestern prairie of the 1980s. Maltman has done for the Midwest what Steinbeck did for the Salinas Valley."
—Bev Denor, LaDeDa Book

"Maltman's prose is vivid and evocative, rendering place and event in striking images.... This is a novel to be shared and savored, fiction at its finest, infused with tragedy and truth."
—Curled Up with a Good Book (blog)

"Little Wolves was a wonderful listen, perfect for these cold moody winter days."
—The Guilded Earlobe (blog)

"With Little Wolves, Maltman weaves a beautiful, bewildering cloth....We care enough to circle these stranded questions hours, days, even weeks after we have closed the book."
—Flyway (blog)

Praise for The Night Birds

Alex Award Winner
 
"We all set our sights on the Great American Novel. . . . [Thomas Maltman] comes impressively close to laying his hands on the grail."
—Madison Smartt Bell, Boston Globe
 
"Thomas Maltman's debut novel, The Night Birds, soars and sings like a feathered angel."
—Chicago Sun-Times


From the Hardcover edition.