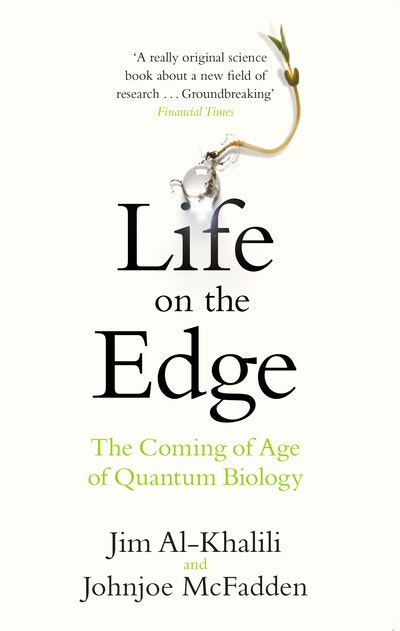 Published:

1 December 2015

ISBN:

9780552778077

Imprint:

Black Swan

Format:

Paperback

Pages:

464

RRP:

$19.99
Life on the Edge
The Coming of Age of Quantum Biology
---
---
---
The startling discovery that the weirdness of quantum mechanics provides the vital spark that ignites life
Life is the most extraordinary phenomenon in the known universe; but how does it work? Even in this age of cloning and synthetic biology, the remarkable truth remains: nobody has ever made anything living entirely out of dead material. Life remains the only way to make life. Are we missing a vital ingredient in its creation?
Like Richard Dawkins' The Selfish Gene, which provided a new perspective on evolution, Life on the Edge alters our understanding of life's dynamics as Jim Al-Khalili and Johnjoe Macfadden reveal the hitherto missing ingredient to be quantum mechanics. Drawing on recent ground-breaking experiments around the world, they show how photosynthesis relies on subatomic particles existing in many places at once, while inside enzymes, those workhorses of life that make every molecule within our cells, particles vanish from one point in space and instantly materialize in another.
Each chapter in Life on the Edge opens with an engaging example that illustrates one of life's puzzles - How do migrating birds know where to go? How do we really smell the scent of a rose? How do our genes manage to copy themselves with such precision? - and then reveals how quantum mechanics delivers its answer. Guiding the reader through the maze of rapidly unfolding discovery, Al-Khalili and McFadden communicate vividly the excitement of this explosive new field of quantum biology, with its potentially revolutionary applications, and also offer insights into the biggest puzzle of all: what is life?
Published:

1 December 2015

ISBN:

9780552778077

Imprint:

Black Swan

Format:

Paperback

Pages:

464

RRP:

$19.99
Praise for Life on the Edge
This illuminating account of an important new field is a wonderfully educative read.

A C Grayling
Physicist Jim Al-Khalili and molecular biologist Johnjoe McFadden explore this extraordinary realm with cogency and wit.

Nature Magazine
'Life on the Edge' gives the clearest account I've ever read of the possible ways in which the very small events of the quantum world can affect the world of middle-sized living creatures like us. With great vividness and clarity it shows how our world is tinged, even saturated, with the weirdness of the quantum.

Philip Pullman
A really original science book about a new field of research ... Groundbreaking.

Clive Cookson, Financial Times
This thrilling book is an overview of a field that barely exists ... Al-Khalili has a genius for illustrating complex ideas via imaginative sidetracks.

The Sunday Telegraph
The great virtue of this book is its thesis - it sets out a clear and enthusiastic argument for the importance of quantum biology.

New Scientist
Coherence is just one of the complex phenomena that Jim Al-Khalili and Johnjoe McFadden set out to teach the reader. They succeed by using delightfully revealing analogies and similes, some borrowed from their prior work, that make slippery concepts sit still for study.

The Economist
Hugely ambitious ... the skill of the writing provides the uplift to keep us aloft as we fly through the strange and spectacular terra incognita of genuinely new science.

Tom Whipple, The Times
The book elegantly opens up a new way of looking at nature.

The Independent - ''Books of the Year"
The volume is clearly written, showcases cutting-edge research and provides ample basic science background on topics like genetic inheritance, the origin of life and the fundamental principles of quantum mechanics ... Al-Khalili and McFadden's book provides a valuable service by giving us a fascinating look at what is undoubtedly one of the central philosophical mysteries of science - the emergence of complex properties such as life and consciousness from the reductionist world of atoms and molecules.

Nature Chemistry
Fascinating... The breadth of the science and scholarship presented in the book is outstanding. Most readers will be yearning for a sequel in a few years.

Nature Chemistry
Life on the Edge is a fascinating and thought-provoking book that combines solid science, reasonable extrapolation from the known into the unknown, and plausible speculation to give an accessible overview of a revolutionary transformation in our understanding of the living world . The authors have an easily accessible style, free from jargon, that can make complex issues clear even to the non-scientist.

Wall Street Journal
Physicist Al-Khalili is joined by the geneticist McFadden to describe quantum biology: an explosive field that barely exists yet. As this trhilling overview explains, it is the study of the spark of life itself.

Daily Telegraph
Life on the Edge takes us on a tour of ideas spanning quantum physics, biology and biochemistry ... surprising and intriguing ... an important book and one I found hard to put down.

BBC Focus