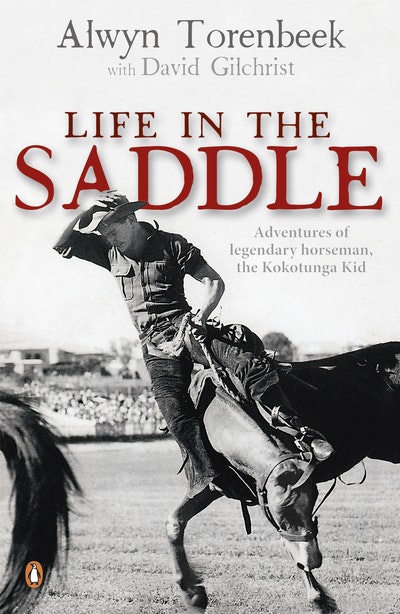 Published:

25 February 2015

ISBN:

9780143572565

Imprint:

Penguin

Format:

Paperback

Pages:

288

RRP:

$22.99
Life in the Saddle
Adventures of Legendary Horseman, the Kokotunga Kid
---
---
---
A riveting tale of adventure, romance, tradegy and mateship, Alwyn's story is also a tribute to the outback and the characters who make it special. From Winton to Wanganui, this is the ride of a lifetime.
'It doesn't matter if there are four thousand people watching or just four – you're a horseman, roughrider, entertainer. At that moment, rodeo has you bitten and it doesn't let you go. You just want another ride. I remember them all and how it all started.'
Alwyn Torenbeek – the Kokotunga Kid – left his outback hometown at fourteen, looking for adventure. He took with him a bushman's spirit, an uncanny natural ability for horseriding and a determination to succeed. By the time he was 21, he was a national and international rodeo champion.
When fate put an end to his roughriding career, Alwyn went on to be a stockman, drover and station manager. A devoted family man, he was encouraged to take up endurance riding by his great friend, the legendary R.M. Williams, and is still competing more than four decades later.
A riveting tale of adventure, romance, tradegy and mateship, Alwyn's story is also a tribute to the outback and the characters who make it special. From Winton to Wanganui, this is the ride of a lifetime. 'I could not put it down - the A Fortunate Life for this decade.'  Pip Courtney, ABC Landline
Published:

25 February 2015

ISBN:

9780143572565

Imprint:

Penguin

Format:

Paperback

Pages:

288

RRP:

$22.99