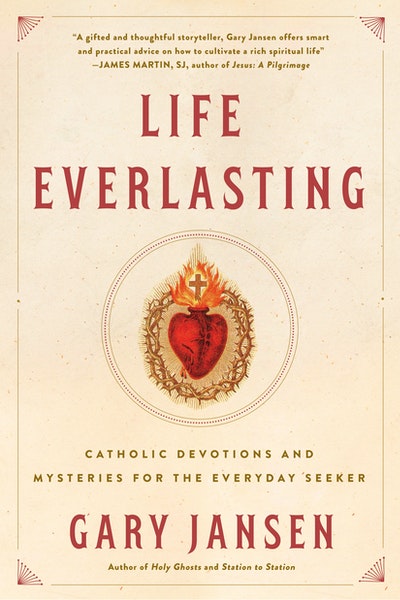 Published:

15 March 2018

ISBN:

9780399162220

Imprint:

Tarcher

Format:

Paperback

Pages:

304

RRP:

$29.99
Life Everlasting
Catholic Devotions and Mysteries for the Everyday Seeker
---
---
St. Jude. Devotional candles. Petitionary prayer. These things work. Here is a practical guide for readers of all faiths to discover the lifesaving power of Catholic devotions.
Unfulfilled at work? Confused in a relationship? Short on money? Trying to sell your home? Or are you suffering from an illness or from loneliness and have exhausted every human option? Well, there's one thing to do: Drop to your knees and pray. But don't do it alone. Ask Jesus, the saints, and the angels for help.
Life Everlasting is about Catholic devotions: prayers, meditations, and small actions you can take right now to direct your life toward the greater good. Devotions are reminders that you are never, ever alone.
Before rolling your eyes, consider: Pope John Paul II had a longtime devotion to Our Lady of Fatima, and credited her intercession with saving his life during an assassination attempt in 1981 (coincidence that the attempt took place on the feast day of Our Lady of Fatima?). Actor Danny Thomas's devotion to St. Jude led to the founding of the prestigious St. Jude's Children's Research Hospital, which provides free medical care to children with cancer. Martin Sheen prays the Rosary. Comedian Jim Gaffigan and entertainer and actor Harry Connick, Jr., both have a special devotion to the Divine Mercy of Jesus. And late-night TV host Stephen Colbert's favorite saint is Peter, Jesus's flawed friend who regardless of all his thick-headedness still became the first pope.
Lost causes can be won through prayers to St. Jude, healings can occur by using the Miraculous Medal, and the Novena to St. Matthew (a tax-collector and apostle of Jesus) can aid you during financial difficulties. These practices and others can help you experience miracles, those moments when heaven and earth intersect in unsuspected and meaningful ways. All it takes is your decision to do one simple thing: Embrace a devotion with enthusiasm and faith.
Published:

15 March 2018

ISBN:

9780399162220

Imprint:

Tarcher

Format:

Paperback

Pages:

304

RRP:

$29.99
Praise for Life Everlasting
Praise for Gary Jansen "Wonderful." –Paulo Coelho, international bestselling author of The Alchemist. "A fine writer." –Kenneth L. Woodward, Former Religion Editor of Newsweek and award-winning author of Getting Religion "A gifted and thoughtful storyteller, Gary Jansen offers smart and practical advice on how to cultivate a rich spiritual life." –James Martin, New York Times bestselling author of Jesus: A Pilgrimage "With compassion, wisdom, humility, and practical simplicity, Gary Jansen shows that by making a small space in your life each day for prayer and contemplation, your entire life will become filled with the presence of God." –Michael Singer, New York Times bestselling author of The Untethered Soul and The Surrender Experiment "Gary Jansen helps us take our faith from a dry intellectual exercise to a powerful personal encounter." –Jennifer Fulwiler, radio host and author of Something Other Than God "Gary Jansen does two things extraordinarily well. He brings the rich history of Catholic devotional practices to life through words, and he shows readers how to apply this tradition to their own lives, especially when they feel distracted by the apparent meaningless conveyed through the screens of the computer, phone, and television. He connects our 'holy longing' for meaning to prayerful practice, with rich results. As he writes, 'When I prayed… questions were answered.'   "This is a how-to book about prayer and devotions, and a history book that includes anecdotes and examples from the lives of the most interesting holy men and women from the Christian tradition. Jansen writes like a scholar, an entertainer, and a believer. The reader is simultaneously edified, helped, and fascinated." –Diana Pasulka, Professor and Chair of the Department of Philosophy and Religion, University of North Carolina Wilmington and author of Heaven Can Wait