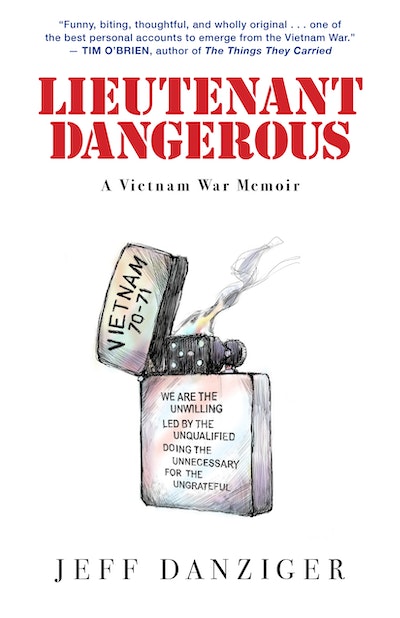 Published:

14 September 2021

ISBN:

9781586422738

Imprint:

Steerforth Press

Format:

Paperback

Pages:

208

RRP:

$27.99
Lieutenant Dangerous
A Vietnam War Memoir
---
---
"A must-read war memoir… with zero punches pulled, related by one of the most incisive observers of the American political scene." —KIRKUS (starred review)
"Funny, biting, thoughtful and wholly original." —Tim O'Brien, author of The Things They Carried

Jeff Danziger, one of the leading political cartoonists of his generation, captures the fear, sorrow, absurdity, and unintended but inevitable consequences of war with dark humor and penetrating moral clarity.

If there is any discipline at the start of wars it dissipates as the soldiers themselves become aware of the pointlessness of what they are being told to do.
A conversation with a group of today's military age men and women about America's involvement in Vietnam inspired Jeff Danziger to write about his own wartime experiences: "War is interesting," he reveals, "if you can avoid getting killed, and don't mind loud noises."
Fans of his cartooning will recognize his mordant humor applied to his own wartime training and combat experiences: "I learned, and I think most veterans learn, that making people or nations do something by bombing or sending in armed troops usually fails."
Near the end of his telling, Danziger invites his audience—in particular the young friends who inspired him to write this informative and rollicking memoir—to ponder: "What would you do? . . . Could you summon the bravery—or the internal resistance—to simply refuse to be part of the whole idiotic theater of the war? . . . Or would you be like me?"
Published:

14 September 2021

ISBN:

9781586422738

Imprint:

Steerforth Press

Format:

Paperback

Pages:

208

RRP:

$27.99
Praise for Lieutenant Dangerous
"A must-read war memoir . . . with zero punches pulled, related by one of the most incisive observers of the American political scene." -- KIRKUS (starred review)