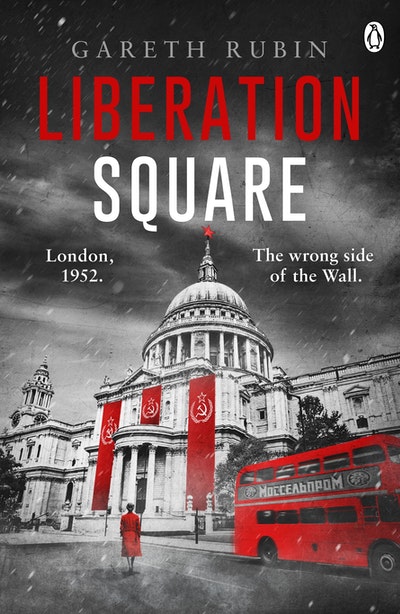 Published:

3 December 2019

ISBN:

9781405930611

Imprint:

Michael Joseph

Format:

Paperback

Pages:

400

RRP:

$19.99
Liberation Square
---
---
---
A bold fictional re-imagining of 1950s Britain as a Soviet police state, as a wife tries desperately to clear her husband's name
1952. Soviet troops control British streets
After the disastrous failure of D-Day, Britain is occupied by Nazi Germany, and only rescued by Russian soldiers arriving from the east and Americans from the west. The two superpowers divide the nation between them, a wall running through London like a scar.
When Jane Cawson calls into her husband's medical practice and detects the perfume worn by his former wife, Lorelei, star of propaganda films for the new Marxist regime, she fears what is between them. But when Jane rushes to confront them, she finds herself instead caught up in the glamorous actress's death.
Nick is soon arrested for murder. Desperate to clear his name, Jane must risk the attention of the brutal secret police as she follows a trail of corruption right to the highest levels of the state.
And she might find she never really knew her husband at all.
Published:

3 December 2019

ISBN:

9781405930611

Imprint:

Michael Joseph

Format:

Paperback

Pages:

400

RRP:

$19.99
Praise for Liberation Square
Rubin constructs a tantalising alternative world with 1950s Britain riven apart by its own version of the Berlin Wall - and all because the D-Day landings failed. Against this dystopian nightmare, the author overlays a murder mystery that's sure to appeal to fans of SS-GB, The Man in the High Castle, and Fatherland

David Young, CWA Dagger-winning author of Stasi Child
A gripping murder mystery set in an alternative 1950s Britain. Rubin's London, split between American and Soviet zones after a disastrous World War Two, is vividly realised and his story is elegantly constructed. One not to miss

William Ryan, author of The Constant Soldier
In the great tradition of SS-GB and Fatherland, Rubin's alternative-1950s murder mystery takes an ingenious premise - the Americans and the Soviets have carved up Britain between them after rescuing the country from the Nazis - and makes it come alive through sheer storytelling skill

Jake Kerridge
A twisting murder mystery combined with a chillingly plausible alternative history of a divided Cold War London. Brilliant.

Mason Cross, Richard and Judy bestselling author of The Samaritan
Liberation Square is a superb and intelligent piece of alternate history. By turns gripping, terrifying and trenchant, it is a remarkably assured debut making Rubin's name one to watch out for in the crowded crime landscape

Stav Sherez, Gold Dagger-winning author of The Intrusions
A brilliantly researched, shockingly plausible thriller set in an alternative Britain

Claire McGowan
A stunningly plotted debut, that drags you at break-neck-speed through a nightmare alternative world that is eerily realistic. A must read

Angela Clarke
This richly imagined thriller is set in an alternate past . . . Tightly plotted, tense and set in a chillingly plausible world

Sunday Mirror
A tight and compelling thriller

SFX
Far more than an intellectual exercise - it is a gripping story, with heart

Daily Telegraph, Best Thrillers of the Year
Rubin paints a shocking picture of what might have happened had we lost the Second World War and been invaded first by the Nazis and then the Soviet army. It's an edgy ride, a reminder that we should not take our freedom for granted

Peterborough Evening Telegraph
An interesting take on the 'What if we'd lost World War II?' debate. A gripping and well-imagined yarn

Sun
A taut, psychological thriller with a plausible twist, Rubin's debut novel does not disappoint . . . an extraordinary but believable tale of corruption, power play and black-market racketeering . . . Well researched and imaginative, Rubin's alternative history novel creates an eerie landscape full of menace . . . Writing with panache and creative flair, Rubin breathes credibility into a disturbing 'what if' scenario. Chilling and intriguing in equal measures

The Lady
Gripping alternative history . . . Ingeniously plotted, with storytelling that's full of heart

Daily Telegraph
A riveting story of betrayal, corruption and dark secrets, set against the backdrop of a divided Britain

Choice Magazine