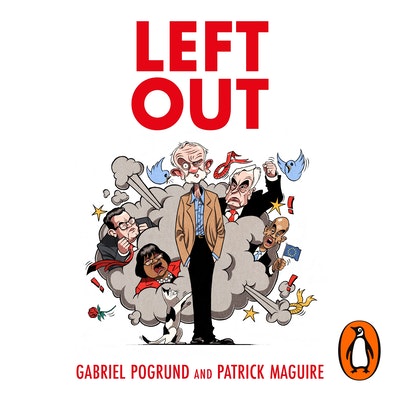 Published:

3 September 2020

ISBN:

9781473589551

Imprint:

Vintage Digital

Format:

Audio Download

RRP:

$35.00
Left Out
The Inside Story of Labour Under Corbyn
---
---
---
'Like an Armando Iannucci rewrite of Andrew Rawnsley ... unquestionably the political book of the year' Tim Shipman, author of All Out War
Left Out is the first full account of Labour's recent transformation and historic defeat.
From the peak of Jeremy Corbyn's popularity and the shock hung parliament of 2017 to Labour's humbling in 2019 and the election of Keir Starmer, Left Out draws on unrivalled access throughout the party and to both leaders' inner circles to provide a blistering narrative exposé of the Labour Party during one of the most tumultuous and significant episodes in its history.
It reveals a party riven by factionalism and at war over ideology, then incapacitated by crisis and indecision. From the plotting of the break-away Independent Group to the inaction and despair over accusations of anti-Semitism, from complaints of sexual harassment and bullying to foiled coups and furious disagreements over Brexit, the reader is in the room as tempers fray and tensions boil over, as sworn enemies forge unlikely alliances and lifelong friendships are tested to breaking-point.
At the heart of the book is Corbyn himself, a man whose like had never been seen at the top of British politics - and is unlikely to ever be seen again. Heroised for his principles by some, derided as an idealist by others, the loyalty and hatred he inspired changed not only the party but the nation.
Intimately drawn and brilliantly told, Left Out is the revelatory inside account of how Labour became the party it is today and of the greatest experiment seen in British politics for a generation.
Published:

3 September 2020

ISBN:

9781473589551

Imprint:

Vintage Digital

Format:

Audio Download

RRP:

$35.00
A stunningly good book with jaw-dropping revelations on every page, Left Out is the ultimate inside story of how Jeremy Corbyn went from the brink of victory to one of the worst defeats in British political history. It is both a breath-taking work of political journalism and a gripping first draft of history that is unlikely ever to be bettered. Unquestionably the political book of the year

TIM SHIPMAN, author of All Out War
A must-read for any Labour supporter who wants to know more about what went on behind the scenes ... whatever your factional allegiance ... its central theme is a truthful one

LabourList
Full of good stories [and] genuine insights ... well told and instructive ... In their excellent epilogue the authors draw back the lens and offer a calm and acute analysis of the Corbyn Project

Philip Collins, Sunday Times
There are many eye popping revelations in Left Out, the definitive post mortem of the Corbyn project

Helen Lewis, Sunday Times
An outstanding, balanced account of the Corbyn leadership from 2017-2019. My one tip? Don't read it late, you won't be able to sleep because of the anger

AARON BASTANI
One of the most absorbing and compulsive reads I have encountered in years ... Only by drawing on a huge range of willing sources could Pogrund and Maguire have produced such a rich narrative. It is to their immense credit that they produced such an amusing one

New European
Meticulous and even-handed ... The book's detailed accounts of tension, fallings-out and the ingrained fondness for factional warfare on all sides of the Labour party often rock along

John Harris, Observer
Excellent

John Rentoul, Independent
Deeply reported ... reads like a thriller ... one of the more riveting stories in modern British political history ... told with panache and pace ... Gossip aside, Left Out delivers a piercing analysis of the pressures on Labour's leadership as the party broke on the rocks of Brexit

Financial Times
It really is every bit as good as people say; superbly written, exceptionally detailed, scrupulously fair, but above all gripping. It's hard to put down

Andrew Sparrow, Guardian
Brimming with such jaw-dropping moments, forensically gleaned from interviews with virtually all the leading characters from this extraordinary political period ... entertaining and immensely readable ... the scars and grudges, captured magnificently by Pogrund and Maguire, are still fresh ... The authors don't attempt to take sides ... instead they give ample space to both sides ... to allow readers to make up their own minds ... as sensational a tale as any TV drama ... one of the most remarkable periods in British political history, and Left Out is an objective, fact-packed and fascinating record of it

Telegraph*****
Highly readable ... meticulously researched

Peter Mandelson, PoliticsHome
Maguire and Pogrund have, I am certain, spoken off the record to almost everyone who mattered on both sides of Labour's civil war ... a huge and detailed trove of revelations

New Statesman
Both a dark thriller and a farce ... admirably objective ... I have not read an account of the immediate past that is as thorough and balanced as that produced by Pogrund and Maguire ... [they] open all the previously sealed doors that were installed to protect the fragile leader

Steve Richards, Literary Review
A detailed account... [Left Out] contain[s] thoughtful observations that prompt wider questions about power and leadership, friendship and loyalty, solidarity and the capacity to engage people beyond your own camp.

Rachel Shabi, Prospect