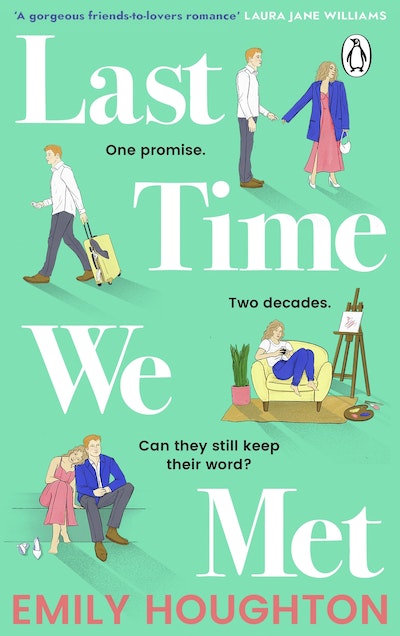 Published:

31 May 2022

ISBN:

9781529176704

Imprint:

Penguin

Format:

Paperback

Pages:

416

RRP:

$22.99
Last Time We Met
A heart-warming and emotional will-they-won't-they friends-to-lovers romance for 2022
---
---
This Time Next Year meets Harry Met Sally in this epic and emotional rom-com that's perfect for fans of Mhairi McFarlane and Beth O'Leary.
ONE PROMISE
Aged thirteen, best friends Eleanor and Fin are inseparable. They are convinced that it will always be this way. But to be sure, they make a pact to always be there for each other. And of course, they'll get married if they're both 35 and single.
TWO DECADES
Eleanor and Fin haven't spoken in fifteen years. They live on different continents, but more than an ocean separates them. Everything has changed since the last time they met.
CAN THEY STILL KEEP THEIR WORD?
So, when newly single Fin reappears, there's no way they can keep their promise. Is there?
Published:

31 May 2022

ISBN:

9781529176704

Imprint:

Penguin

Format:

Paperback

Pages:

416

RRP:

$22.99
Praise for Last Time We Met
The perfect read for fans of Me Before You

Candis
The perfect read for fans of Me Before You

Candis
An emotional and character-led story that is sure to tug at your heartstrings

Woman's Own
An emotional and character-led story that is sure to tug at your heartstrings

Woman's Own
A beautiful, uplifting story with characters that made me smile on every page

Jessica Ryn, author of The Extraordinary Hope of Dawn Brightside
A beautiful, uplifting story with characters that made me smile on every page

Jessica Ryn, author of The Extraordinary Hope of Dawn Brightside
A beautifully-written, emotionally rich story about hope, love and new beginnings

Lynsey James, author of The Single Dad's Handbook
A beautifully-written, emotionally rich story about hope, love and new beginnings

Lynsey James, author of The Single Dad's Handbook
Praise for Emily Houghton

:
Praise for Emily Houghton

:
Romantic, hopeful and uplifting, I loved Last Time We Met and the gorgeous, emotional friendship at its heart. Eleanor and Fin are two characters who I couldn't help but fall in love with, and who will stay with me for some time

Emily Stone, author of Always, in December
Romantic, hopeful and uplifting, I loved Last Time We Met and the gorgeous, emotional friendship at its heart. Eleanor and Fin are two characters who I couldn't help but fall in love with, and who will stay with me for some time

Emily Stone, author of Always, in December
I cried, I laughed, I swooned! A gorgeous friends-to-lovers romance filled with wise explorations of love, loss and self-forgiveness.

Laura Jane Williams, bestselling author of Our Stop
I cried, I laughed, I swooned! A gorgeous friends-to-lovers romance filled with wise explorations of love, loss and self-forgiveness.

Laura Jane Williams, bestselling author of Our Stop
Eleanor and Fin's stories hook you right from the off, making you root for them as individuals as well as for their sizzling, gorgeous romance that builds throughout the book. Funny, heart-wrenching and simply brilliant.

Beth Reekles, bestselling author of The Kissing Booth series
Eleanor and Fin's stories hook you right from the off, making you root for them as individuals as well as for their sizzling, gorgeous romance that builds throughout the book. Funny, heart-wrenching and simply brilliant.

Beth Reekles, bestselling author of The Kissing Booth series
Perfect for a sunny afternoon

Daily Mail
Perfect for a sunny afternoon

Daily Mail