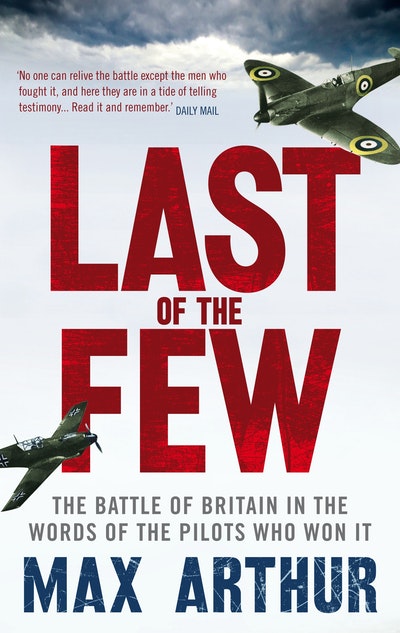 Published:

2 August 2010

ISBN:

9780753534625

Imprint:

Virgin Digital

Format:

EBook

Pages:

304
Last of the Few
The Battle of Britain in the Words of the Pilots Who Won It
---
---
---
Entertaining and moving ... This is a brilliant introduction for anyone seeking to understand the origins and outcomes of the battle. A dramatic tale, well told- The News of the World
After the fall of France to the German army in May 1940, Hitler set his sights on the invasion of Britain. Within weeks he had a vast battle fleet ranged along the French coast. But his biggest obstacle was the small and under-resourced Royal Air Force – Hitler knew that he must gain control of the skies if his fleet was to stand a chance of crossing successfully.
And so began the Battle of Britain: thirteen terrifying weeks which saw 2,500 young RAF pilots pitted against the larger and more experienced German forces of the Luftwaffe high above the English channel.
Despite being vastly outnumbered, by October the multiple daily sorties and vicious dogfights were over, the Germans slunk behind their lines and a British victory was assured.
More than a fifth of the British pilots died during the Battle of Britain. The remaining veterans are all in their eighties and nineties. In Last of the Few: Final Words from the Battle of Britain Pilots, leading oral historian Max Arthur has interviewed more than twenty veterans of that short but hugely significant battle. They tell of their experiences in their own words, their memories undimmed by the passage of time, and their stories as riveting, as vivid and as poignant as they were almost seventy years ago.
Published:

2 August 2010

ISBN:

9780753534625

Imprint:

Virgin Digital

Format:

EBook

Pages:

304
Praise for Last of the Few
Entertaining and moving ... This is a brilliant introduction for anyone seeking to understand the origins and outcomes of the battle. A dramatic tale, well told

The News of the World
No one can relive the battle except the men who fought it, and here they are in a tide of telling testimony...expertly tracked down and anthologised by out foremost oral historian of war, the self0effacing Max Arthur...Read it and remember

The Daily Mail
Vastly outnumbered and often less experienced than their opponents, the 2,500 young men of the Royal Air Force who fought in the Battle of Britain would be lauded by Churchill as The Few. The survivors of that campaign are now in their eighties or nineties, their ranks thinning by the year. In his new book, Last of the Few, Max Arthur brings together the voices of the living and the dead to recreate the events of July-October 1940, when vapour trails against a blue sky marked the battle to save civilisation

Daily Telegraph