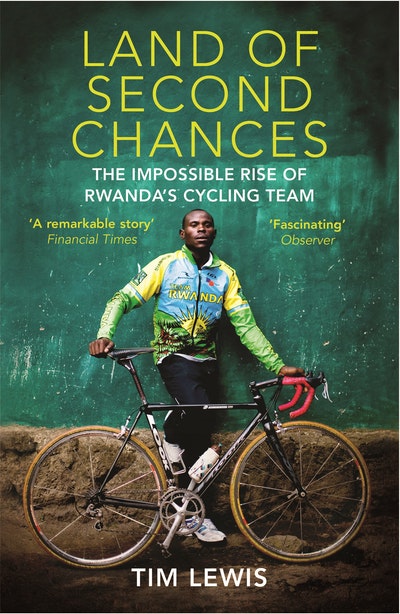 Published:

1 August 2013

ISBN:

9781446485064

Imprint:

Vintage Digital

Format:

EBook

Pages:

304
Land of Second Chances
The Impossible Rise of Rwanda's Cycling Team
---
---
---
** Winner of the British Sports Book Awards 2014 New Writer of the Year **
The astonishing true story of the Rwandan Cycling Team
** Winner of the British Sports Book Awards 2014 New Writer of the Year **
Where there is hope there can be redemption.
Meet Adrien Niyonshuti, a member of the Rwandan cycling team. Adrien was seven years old when he lost his family in the 1994 genocide that tore Rwanda apart. Almost twenty years later he has a shot at representing his country at the Olympics.
Meet Jock Boyer, the coach of Team Rwanda. One of the top American cyclists of all time, Jock recognises the innate talent for endurance that the Rwandans possess. A man with a dark past, Jock is in need of a second chance.
Meet Tom Ritchey, the visionary inventor of the mountain bike and the U.S. money man looking to recover from a profound personal crisis.
In The Land of Second Chances, Tim Lewis charts the incredible true story of the Rwandan cycling team as they overcome impossible odds to inspire a nation.
Published:

1 August 2013

ISBN:

9781446485064

Imprint:

Vintage Digital

Format:

EBook

Pages:

304
Praise for Land of Second Chances
Fascinating... not a typical rags to riches, triumph against adversity tale... Lewis does a fine job of unpicking a tangled narrative

Observer
A remarkable story... attempts to import the Lycra-clad, precision-engineered world of the Tour de France into rural Africa form the heart of this absorbing book...Team Rwanda's story could have been edited into an uplifting tale of unlikely success, with Niynoshuti's Olympic appearance as the rousing finale. Instead this is a more complicated, darker, account.

Financial Times
It's a book that successfully melds many facets and characters. At times deeply shocking, always moving and occasionally very amusing, The Land of Second Chances is ultimately an uplifting story of hope

Wheelsuckers
His meticulously researched work merits a wider audience than appealing to devotees of the biking fraternity - and will surely get one.. A good cycling tale and this one is a cracker

Birmingham Post
An eloquent and compassionate tale by Observer author Tim Lewis. Perfect for: sport lovers after a leftfield underdog story

Sam Dansie, Bike Radar
Lewis presents the reader with a factual account of the genocide and doesn't sugar coat it. But the cycling story is both heart-warming and shows how the Olympic legacy spread beyond the UK, to inspire a team who inspired a nation

Rachel Nicoll, Compass Magazine
Excellent

Jonathan Liew, Telegraph
A century after the Race for Africa ended, a century after Imperial Europe carved up Africa into colonial enclaves, the race is on to find Africa's first black world-class cyclist. Land of Second Chances is an important chronicle of just some of the early stages of that race. It's not just a book about what has happened in the past, it's a book about what is just around the corner for cycling as the long, slow project of mondialisation approaches another milestone. If being a fantastic read isn't enough for you then that ought be a good reason to read Lewis's book

Podium Cafe
Absorbing

Tom Robbins, Financial Times
Lewis is a reporter of rare skill and he writes with wit and verve. It is by turns horrifying, moving and unexpectedly funny. It's also the sports book of the year by a backcountry mile

Alex Bilmes, Esquire
My selection for the cycling book of the year so far. The incredible story of road cycling in Rwanda, it is a tale that quite brilliantly portrays the power of sport to effect change and roots itself in Africa's challenge to what we mean by 'global sport.'. Superb, a must-read

Mark Perryman, Socialist Unity
The unlikely true story of two US ex-pros who travelled to Rwanda with visions of creating Africa's first world-beating professional cycling team

Simon Usborne, Independent
This is not a book solely about cycling. it is a book that combines hope with tragedy and success with failure. But ultimately it's a book that holds a mirror to our western sporting ideals

Washing Machine Post
Tim Lewis' fascinating story of Rwandan cycling isn't a typical rags to riches, triumph against adversity tale

Ben East, Observer