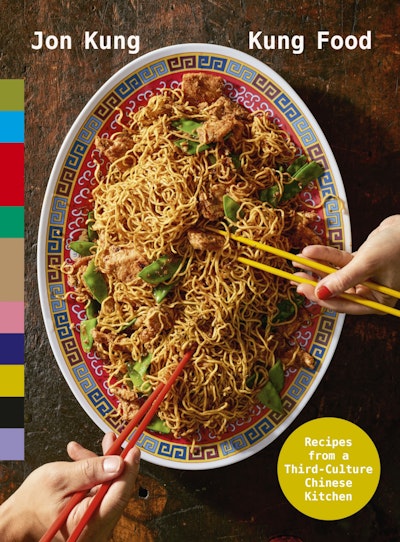 Published:

14 November 2023

ISBN:

9781529919318

Imprint:

Ebury Press

Format:

Hardback

Pages:

288

RRP:

$59.99
Kung Food
Recipes from a Third-Culture Chinese Kitchen
---
---
---
An exciting and unexpected collection of 100 recipes that re-examines Chinese food
An exciting and unexpected collection of 100 recipes that re-examines Chinese food
Jon Kung grew up as a 'third-culture' kid: Born in Los Angeles, raised in Hong Kong and Toronto, and now living in Detroit, Jon learned to embrace his diasporic identity in the kitchen after pivoting his career from law school graduate to being a cook. When the pandemic shut down his immensely popular popup, he turned to social media-not just as a means of creative expression, but as a way to teach and inspire.
Over time, Jon discovered that expressing himself through food not only reflected his complicated identities, it affirmed them. From dumplings to the most decadent curried mac and cheese, Jon inspires millions through his creative recipes and content.
In Kung Food, he breaks the boundaries of flavours in chapters such as:
Snacky Snacks, Bites, and Cravings (Sesame Prawn Toast, Vegan Fried Oyster Mushroom Sandwich)
Noodles & Dumplings (Ginger Spring Onion Noodles, Buffalo Chicken Rangoons)
Rice & Congee ('Clay Pot' Rice Tahdig, Mushroom and Tempeh Fried Rice)
Stir-Fries (Szechuan Paneer with Mexican Chillies, Motor City Orange Chicken)
Kung Foo Means 'with Effort' (Hong Kong Chicken and Waffles, Dan Dan Lasagna)
Through stunning, playful, and high-energy photos and Jon's wit and humility, he brings forward a collection of recipes that blend cultural traditions, ingredients, and flavours with his ultimate goal of redefining what Chinese food can be.
Published:

14 November 2023

ISBN:

9781529919318

Imprint:

Ebury Press

Format:

Hardback

Pages:

288

RRP:

$59.99
Article
Pork and Chive Dumplings
Think of this as a good starter recipe when you're learning how to make dumplings, and especially how to fold them.
Article
Mapo Tofu Curry
I came up with this recipe while creating themed curries based on the gyms in Pokemon Sword and Shield . . . this one was for the Fighting-type gym.
Article
Sesame Shrimp Toast
Though 'toast' (in the sense of something beyond buttered bread) really came into the American culinary zeitgeist with the millennial generation, in Hong Kong it's been a teatime staple for decades, ever since British imperialists introduced bread to the island.