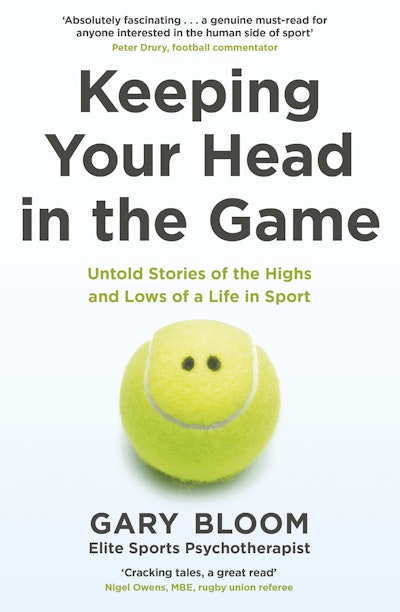 Published:

2 March 2021

ISBN:

9780241451311

Imprint:

Penguin Life

Format:

Trade Paperback

Pages:

368

RRP:

$35.00
Keeping Your Head in the Game
Untold Stories of the Highs and Lows of a Life in Sport
---
---
---
Drawing on his work with elite athletes, the world's first sports psychotherapist on what to do when life throws you a curveball
Elite athletes play out their lives in the most public of arenas. Everything they do is analysed in real time and then picked apart in the pub and in the press afterwards. 'Why did they miss that penalty?', 'What made them fall at the first jump?', 'That press conference was a bit weird.' We can all speculate, but what's really going on?
In Keeping YourHead in the Game we peer into this highly confidential world. We follow the journeys of ten athletes in their therapy sessions with sports psychotherapist Gary Bloom, from a rugby player arrested for a drunken brawl, through a homesick cricketer on tour, to a snooker player struggling with his feelings of inadequacy and low self-esteem.
Structured around the emotions we all experience on a daily basis - shame, anger, fear, jealousy and envy, love -chapter by chapter, the inner traumas that have an impact on the performance of these sports personalities are revealed, explained and resolved. Seeing how they overcome their demons is a powerful way of tackling your own and, as Gary says, happier players play better - in sport and in life.
Published:

2 March 2021

ISBN:

9780241451311

Imprint:

Penguin Life

Format:

Trade Paperback

Pages:

368

RRP:

$35.00
Praise for Keeping Your Head in the Game
The only psychotherapist to work within a professional football club . . . It is not just extremes of behaviour that trouble him. The more he peers inside sport - with up to 40 footballers, plus leading rugby players, cricketers and jockeys among his clients - he sees forbidding cultures . . . This is beyond patching up athletes with an encouraging word to get through a Saturday afternoon, or the odd team talk from a sports psychologist . . . He is selling the best of all worlds; a balanced athlete who is more self-aware and, therefore, more productive . . . "Happier players play better . . ." he concludes. He will find no argument here

Matt Dickinson, The Times
the first book of its kind, which peers into the confidential world of athletes' therapy sessions - and offers insights into boosting or treating mental health

Etan Smallman, inews.co.uk
Love this book. It's about time someone wrote about the emotional life of athletes and Gary really does this justice. These are some cracking tales and it's a great read

Nigel Owens MBE, rugby union referee
Absolutely fascinating . . . a genuine MUST for anyone interested in the human side of sport . . . very readable and accessible . . . It is comforting to realise that everyone - from global superstar to young aspirant - suffers from profound uncertainty of one sort or another . . . This book will promote greater kindness and understanding . . . Heartily recommended for any 'thinking' sports-lover

Peter Drury, football commentator
It's amazing how football clubs invest in repairing the bodies of their players whilst largely ignoring their minds. Elite athletes are just as fragile as the rest of us. Happily change is on the way and this must-read book will only accelerate that

Jon Champion, football commentator
This is a book for anyone interested in competitive sport, what people have to do to get to the top and what that can do to the human psyche

Catherine Jackson, journalist and former editor of Therapy Today