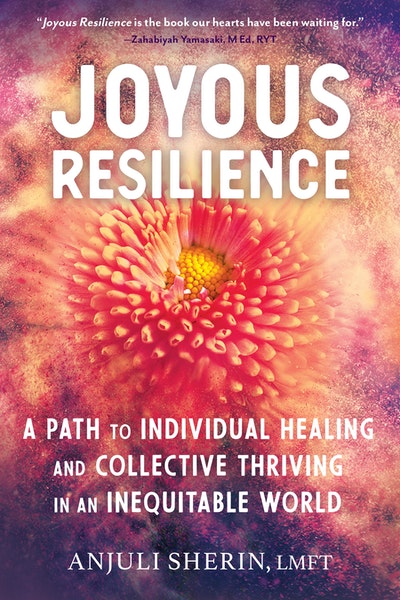 Published:

30 March 2021

ISBN:

9781623174231

Imprint:

North Atlantic

Format:

Trade Paperback

Pages:

336

RRP:

$32.99
Joyous Resilience
A Path to Individual Healing and Collective Thriving in an Inequitable World
---
---
An intersectional guide to building resilience and reclaiming joy.
Building resilience is usually seen as a solo pursuit: face your history, accept your insecurities, and conquer your fears to awaken your best life. As individuals, we each experience negative pressures and stressors--but viewing their effects through an individualistic lens obscures the fact that resilience is a community effort, and that inner resilience powers wide-scale transformation.
Oppression, stress, and trauma disproportionately affect members of marginalized communities, like people of color, women, religious minorities, and LGBTQ+ populations. But the self-help remedies offered up by mainstream wellness culture don't quite make space for the ways in which race, class, gender, sexual orientation, and environment intersect to prevent resilience-building--and they don't address the systemic and structural issues that produce trauma and oppression in the first place. The way we frame resilience and center the experiences of the individual prohibits it from being truly accessible to everyone and can unintentionally eclipse how your identity (or identities) shape your mental health.
Here, clinical therapist Anjuli Sherin explores empowerment, identity, oppression, and resilience, and explains how they relate to your own resilience practice. Offering guided meditations, reflective prompts, and case examples to help you heal from both individual experiences and collective trauma, this is a culturally-informed and community-centered roadmap to resilience that will help you become your best ally, empower you to thrive under stress, and reconnect to joy.
Published:

30 March 2021

ISBN:

9781623174231

Imprint:

North Atlantic

Format:

Trade Paperback

Pages:

336

RRP:

$32.99