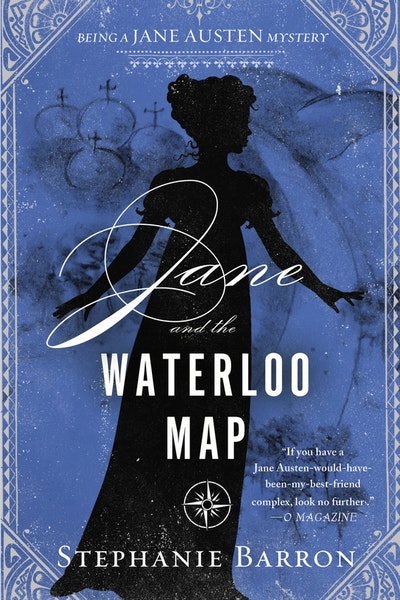 Published:

15 February 2017

ISBN:

9781616957995

Imprint:

Soho Press

Format:

Trade Paperback

Pages:

320

RRP:

$27.99
Jane And The Waterloo Map
---
---
Jane Austen turns sleuth in this delightful Regency-era mystery
November, 1815. The Battle of Waterloo has come and gone, leaving the British economy in shreds; Henry Austen, high-flying banker, is about to declare bankruptcy—dragging several of his brothers down with him. The crisis destroys Henry's health, and Jane flies to his London bedside, believing him to be dying. While she's there, the chaplain to His Royal Highness the Prince Regent invites Jane to tour Carlton House, the Prince's fabulous London home. The chaplain is a fan of Jane's books, and during the tour he suggests she dedicate her next novel—Emma—to HRH, whom she despises.
However, before she can speak to HRH, Jane stumbles upon a body—sprawled on the carpet in the Regent's library. The dying man, Colonel MacFarland, was a cavalry hero and a friend of Wellington's. He utters a single failing phrase: "Waterloo map" . . . and Jane is on the hunt for a treasure of incalculable value and a killer of considerable cunning.
Published:

15 February 2017

ISBN:

9781616957995

Imprint:

Soho Press

Format:

Trade Paperback

Pages:

320

RRP:

$27.99
Praise for Jane And The Waterloo Map
Praise for Jane and the Waterloo Map "With a keen sense of plot—the identity of the villain surprises—perfect pitch for Austen's voice and a cast of new and familiar characters, Barron has again produced a pleasant excursion into literate and historical escapism." —Richmond Times-Dispatch "Absolutely delightful, with just the right balance between likable, captivating characters and the actual history of Jane Austen's life." —Historical Novel Society "Jane and the Waterloo Map is a pleasant excursion into England of the early 1800s. This is a well-told story by an accomplished author." —Reviewing the Evidence "This book is a delight for Jane Austen fans . . . as if you are stepping through the page into Regency England. False trails, misleading information, and suspicious characters keep readers turning the pages." —Gumshoe Review "A well-crafted narrative with multiple subplots drives Barron's splendid 13th Jane Austen mystery. Series fans will be happy to see more of Jane's extended family and friends, and Austenites will enjoy the imaginative power with which Barron spins another riveting mystery around a writer generally assumed to have led a quiet and uneventful life." —Publishers Weekly, Starred Review "Writing in the form of Jane's diaries, Barron has spun a credible tale from a true encounter, enhanced with meticulous research and use of period vocabulary." —Booklist "Barron, who's picked up the pace since Jane and the Twelve Days of Christmas, portrays an even more seasoned and unflinching heroine in the face of nasty death and her own peril."  —Kirkus Reviews  "Barron deftly imitates Austen's voice, wit, and occasional melancholy while spinning a well-researched plot that will please historical mystery readers and Janeites everywhere. Jane Austen died two years after the events of Waterloo; one hopes that Barron conjures a few more adventures for her beloved protagonist before historical fact suspends her fiction." —Library Journal  Praise for Jane and the Twelve Days of Christmas National Bestseller  LibraryReads Top Ten List "A complex murder mystery with the same kind of rapier wit that Austen deployed . . . Great fun for readers who long ago ran out of Jane Austen novels." —The Boston Globe "Witty, immaculately researched." —USA Today "Sings with not just a good plot but courtly language and an engaging group of characters worthy of the famed novelist herself . . . A first-rate mystery." —The Denver Post "Ingenious in plot—Barron plays fair with clues in this intriguing whodunit . . . Add Barron's deft imitation of her subject's prose style, and you have a novel that its subject may well have admired." —Richmond Times-Dispatch "An excellent period mystery for all historical fiction fans . . . Jane Austen devotees will especially appreciate immersing themselves in the many biographical details about Austen that accompany the fictional murder mystery." —Library Journal, Starred Review From the Hardcover edition.