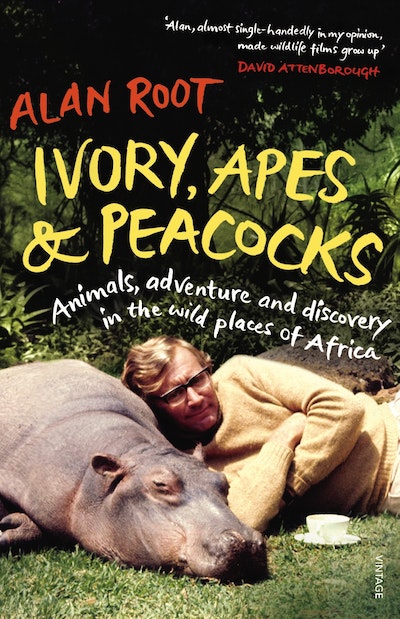 Published:

6 September 2012

ISBN:

9781448161034

Imprint:

Vintage Digital

Format:

EBook

Pages:

352
Ivory, Apes & Peacocks
Animals, adventure and discovery in the wild places of Africa
---
---
---
A breathtaking close-up look at Africa's animals and natural wonders from one of our great wildlife pioneers
Alan Root is one of the great wildlife pioneers. His unmatched experience of East African wildlife and his appetite for risk have made him a world-class naturalist and film-maker.
Ivory, Apes & Peacocks tells the story of his life's work, from his arrival in Kenya as a young boy to the making of his game-changing films. From a hot-air balloon Alan was the first to track the wildebeest migration; then he flew it over Kilimanjaro. He filmed inside a termite mound and dived with hippos and crocodiles.
In this extraordinary memoir we look at Africa's wonders through the eyes of a visionary, live through hair-raising adventure and personal sorrow, and also bear witness to a natural world now largely lost from view.
Published:

6 September 2012

ISBN:

9781448161034

Imprint:

Vintage Digital

Format:

EBook

Pages:

352
Praise for Ivory, Apes & Peacocks
Written by a consummate wordsmith, Alan Root's enthralling memoir is the best true-life adventure story to come out of Africa for years. The final chapter, which describes Root's last moments with Joan, I found almost too painful to read (5 star review)

Brian Jackman, Daily Telegraph
This is an entrancing book. Root is a natural story-teller, roaming East Africa before poachers began to decimate the wildlife. Against the staggering backdrop of East Africa's landscape and wildlife, the darkness of its problems casts a growing shadow over this book... Luckily, Alan Root's wonderful films remain, a testimony to the man of whom David Attenborough once said: 'He made wild-life films grow up'

Daily Mail
In a riveting memoir, Root offers far more than a few well-work anecdotes of cute, hand-reared animals who like to sit down to breakfast with you and curl up on the sofa after dinner...a truly compelling book, savage and sparkling by turns

Kathryn Hughes, Mail on Sunday
Root is aware that his magical life has 'run parallel with a heartbreaking holocaust, as wildlife conservation has proved to be a disastrous failure'. This wonderful book can't put it more honestly than that. Not only are the current generation of wildlife film-makers mere pygmies compared to Root, but soon they will not even be able to attempt matching his documentaries because the world he captured has ceased to exist.

Aidan Hartley, Spectator
If Dame Daphne Sheldrick's touching and romantic Love, Life, and Elephants has been climbing the bestseller lists in Britain and America, Alan Root's Ivory, Apes and Peacocks is by far the deeper and more interesting read. The problems that beset Africa's wildlife - population pressures, poaching, drought and disease - are all part of this story, though balanced here by Mr Root's sense of fun and adventure

The Economist
There is a great sense of life lived to the limit here and great personal tragedy. A pioneer on the environment and in film-making, Alan Root does not have a dull word in him. Nature red in tooth and claw

Bookseller
From English birds to the Cape peacock, from elephants to termites, Alan Root illuminates the lives of animals and the environments they live in with a very special skill. Years of study and observation, however passionately followed, do not always go hand in hand with captivating storytelling. Here they are completely woven together, also revealing his fascinating, touching, and very personal life. And he reminds us at the end that "wild places like the Serengeti will be essential for our spiritual well-being". Yes, indeed

Virginia McKenna
Alan Root has for half a century made superb wildlife films so innovative in their photography and script that they set new high standards. Filmmaker, naturalist, and adventurer, Alan Root has written a delightful memoir with the verve of a true raconteur, whether being bitten by a mountain gorilla or flying over Mt. Kilimanjaro in a balloon. This book is a must-read for anyone interested in nature films, wildlife, and Africa

George Schaller
Brave, crazy, hilarious and lucky - the legendary Root completely changed our understanding of East Africa and its wildlife

Nigel Winser, Executive Vice President, The Earthwatch Institute
I have long been an admirer of Alan's work and of his ground- breaking, outstanding documentaries: and now, in this enthralling, witty, and deeply moving memoir that cannot be put down, he brings back a nostalgia for an early days African wilderness that no longer exists. This book is a must for all who love nature and have vowed to protect, as I have, the few remaining fragments of natural world still untarnished by greed

Kuki Gallmann
Some dream of going to Africa. This book will make you dream of an Africa that was, and a life that cannot be repeated. Alan Root lived (and several times died, it seems) a life that most people can scarcely fantasize. Yet he has the scars and medals to prove it, and he shared with the world the fruits of his adventures in his films. Now, read what's behind those films

Carl Safina, author of 'The View From Lazy Point: A Natural Year in an Unnatural World'
His honesty and integrity are legendary and this shines through in his book... Nothing, nothing was too small or unimportant to escape his attention. They all had their place in the wonderful balance of nature... He didn't just make wildlife films grow up. He made the best there ever was and will ever be and told his stories with a humour and innuendo and so poignantly that it brought the other living creatures that we live with on our planet level with us, and gave them a status and dignity that they'd never had before...a must for, well, everyone

Tony Fitzjohn
Alan, almost single-handedly in my opinion, made wildlife films grow up

David Attenborough
Enthralling, the best true-life adventure story to come out of Africa for years

Brian Jackman, Daily Telegraph
A truly compelling book, savage and sparkling by turns

Kathryn Hughes, Mail on Sunday
Alan Root's overflowing life as a dedicated, adventurous film-maker and naturalist is almost the story of wild East Africa itself in those glorious and tragic years surrounding the advent of political independence…a fresh, honest, often moving (and humorous) account, a terrific contribution to the literature

Peter Matthiessen
Required reading for anyone who wants to experience the joys and sorrows of conservation in today's Africa

Wilbur Smith
Root's enthralling memoir…is the best true-life adventure story to come out of Africa for years

Sunday Telegraph
His is a funny, harrowing, beautifully written love letter to Africa

Christopher Hart, Sunday Times
In this captivating memoir [Root] documents his brushes in the bush and his passion for wildlife

Big Issue in the North
Oscar-nominated filmmaker Root has written the most extraordinary love letter to Africa – packed with drama and knowledge, tragedy and hope... A completely gripping and important study of this complex and disappearing natural environment

Sally Morris, Daily Mail
His is an extraordinary story laced with tragedy

Mail on Sunday
[Root's] life story, vividly related here, is crammed with incident and adventure. Curious, creative and fearless, he has diced with death on numerous occasions and been mauled several times in his efforts to capture the daily lives of everything from silver-back gorillas to leopards in the wild on film. A gripping account of a life well lived

Good Book Guide