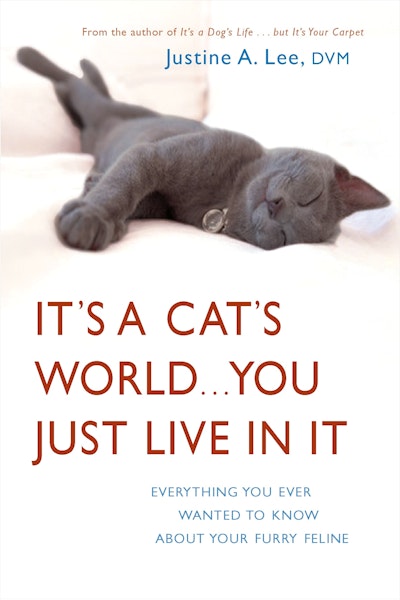 Published:

15 December 2014

ISBN:

9780307393500

Imprint:

Crown

Format:

Trade Paperback

Pages:

272

RRP:

$24.99
It's A Cat's World . . . You Just Live In It
---
---
Finally, the truth about cats is out of the bag!
If cat lovers are from Venus, then cats hail from another planet altogether.
Mischievous and aloof one moment, affectionate the next, the cat is a confounding creature right down to its question mark of a tail. What cat owner hasn't wondered what goes on inside that mysterious kitty brain? In this companion to It's a Dog's Life . . . but It's Your Carpet, veterinary specialist Dr. Justine A. Lee answers your questions about all things feline in this entertaining and enlightening guide. An animal lover with two cats of her own, Dr. Lee combines scientific research with irreverent humor to address questions ranging from the common to the offbeat, including:
• Do cats always land on their feet?
• Can I train my cat to use the toilet?
• Do cats have belly buttons?
• How do I stop my cat from begging for food at 5:45 a.m.?
• Can cats really predict death or cancer?
• How can I make my antisocial cat more social?
Dr. Lee also shares helpful hints on what to look for in a veterinarian. (Helpful Hint No. 1: Find a veterinarian who owns a cat.) She also reveals what every veterinarian wants you to know about being a smart consumer and pet owner.
With tips on dealing with kitty's more irksome behaviors (yes, she has some), advice on looking out for her health and well-being, and plenty of laughs, It's a Cat's World . . . You Just Live in It helps cat owners love and understand their quirky feline companions more than ever.
Published:

15 December 2014

ISBN:

9780307393500

Imprint:

Crown

Format:

Trade Paperback

Pages:

272

RRP:

$24.99