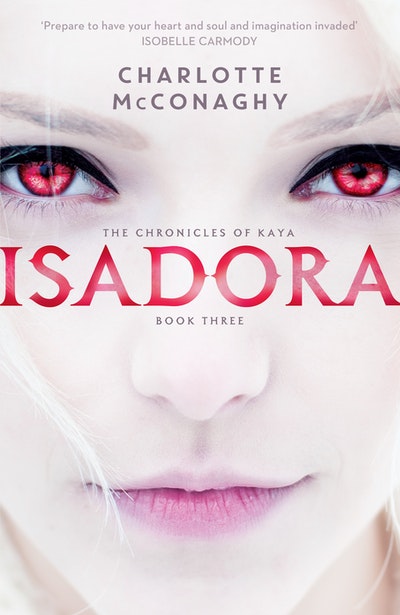 Published:

3 January 2017

ISBN:

9780143784692

Imprint:

Bantam Australia

Format:

Trade Paperback

Pages:

480

RRP:

$32.99
Isadora
---
---
---
What would you do if your sworn enemy was also your soulmate?
'Prepare to have your heart and soul and imagination invaded.' Isobelle Carmody'The Chronicles of Kaya sweep the reader into an unforgettable world.' Sophie MassonThe kingdom of Kaya has been overthrown by a dark power. Trapped inside the dangerous capital, rebel leader Isadora fights the only way she can – by hunting those more monstrous than she.
Falco is the exiled emperor of a nation in tatters. But fate demands he abandon the mask that has long disguised his true nature, and rise to meet his sworn enemy, the deadly Sparrow.
No one is safe from the evil sweeping the lands, not even those in the far north strongholds of Pirenti. Crown Prince Thorne is plagued by ghosts, Lady Roselyn by the past. With his land and loved ones under threat, King Ambrose must find the strength to show his people a new way of life, or allow the nation's legacy of violence to consume them.
As world's end draws near the undeniable power of the bond ties Isadora and Falco together. The death of one means the death of both. But Isadora has never before surrendered to fate. She is determined to break free and choose her own path, no matter the cost. The heart-wrenching final novel in the Chronicles of Kaya fantasy trilogy.Praise for The Chronicles of Kaya:
'I can't recommend this book highly enough. Charlotte McConaghy has created a vibrant magical world full of emotions, fleshed out characters, kick-ass action and a bittersweet love story.' Goodreads'No matter what I say, or how much I try to explain, some of you will just never understand that this isn't just a book. It is an all-encompassing feeling that has stormed into my life and I'm not sure if I'll ever be the same.' Morgana's Book Extravaganza
'That was the craziest ride I've been on for a while – I'm exhausted. Someone fetch me my Valium and a tumbler of gin! Not only is it full of bad-assery, but it's also heartbreakingly sad and full of eloquent expressions of love, suffering and the human condition.' The Urban Book Thief
Published:

3 January 2017

ISBN:

9780143784692

Imprint:

Bantam Australia

Format:

Trade Paperback

Pages:

480

RRP:

$32.99
Charlotte McConaghy is a genius with words! I absolutely love this series and the whole trilogy is a highlight for me. Not just a highlight of this year. No it's a highlight in all the books I've ever read.

Jenny, Goodreads
You. Guys. This series. What in the hell have I even gotten myself into. I just innocently started Avery about a week ago and now here I am, suddenly done with the entirely trilogy. I legitimately feel like I have had part of my heart ripped out and crushed but I'm also feeling so in love. These characters and their journeys have quickly and easily become embedded in my heart and will never leave. I honestly can't wait until I can re-read them all again.

Arielle, Goodreads
McConaghy has created one to the best and most interesting damaged heroes I've ever read

Diana R, Amazon
An exceptional conclusion to the series.

Tamika Maree, Goodreads
This series deserve way more attention than it's been getting. The writing, the characters, the world, everything was so fantastic that I don't know what else to say other than I loved it!! Definitely a new favorite.

Constanza, Goodreads
Such a fantastic conclusion to this wonderful series. Charlotte McConaghy has written another classic. Brilliant!

Cathryn, Goodreads