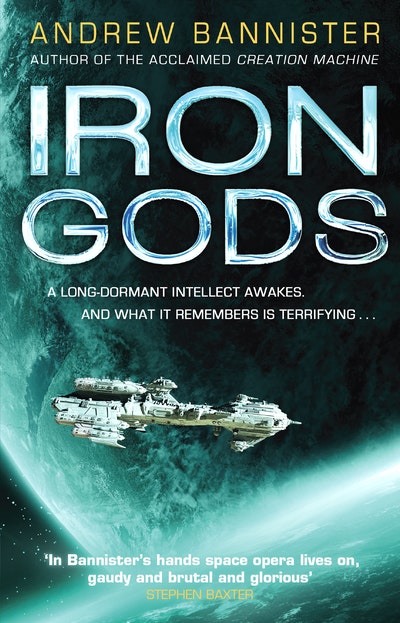 Published:

28 May 2018

ISBN:

9780857503367

Imprint:

Bantam

Format:

Paperback

Pages:

320

RRP:

$19.99
Iron Gods
(The Spin Trilogy 2)
---
---
---
The author of the acclaimed Creation Machine returns to the extraordinary artificial planetary cluster of the Spin with his dazzling new novel - a work of thrilling, heart-in-mouth space opera - a must-read for fans of SF bestsellers such as Iain M. Banks, Peter F. Hamilton and Alastair Reynolds.
The Spin – an ancient artificial cluster of eighty-eight planets and twenty-one suns – is in decline.
For millennia, the people of Three Quarter Circle Harbour have watched the stars from their world, hidden in a forgotten corner of the Spin. Now something in the sky has changed and it will set them on a course to war and destruction.
Seldyan is one of the band of renegades that has broken out of the vast slave colony of the Hive. Hijacking one of the last of the Spin's great legacy warships, they wake its long-dormant intelligence and set a course that promises freedom.
But as the ancient ship's memory returns, with it comes a terrifying knowledge – a dire warning about the future that has been concealed for ten thousand years . . .
Published:

28 May 2018

ISBN:

9780857503367

Imprint:

Bantam

Format:

Paperback

Pages:

320

RRP:

$19.99
Bannister has the knack of making the extraordinary seem normal and the normal seem extraordinary. It all comes together in dazzling, pin-sharp storytelling, where humour. acute social commentary and some terrific aliens jostle together.

Jamie Buxton, DAILY MAIL
Wonderful . . . a worthy successor to the potential realised in Creation Machine. There's some really big ideas here. I suspect I am only just comprehending the true ambition of these books. I really like this series.

Mark Yon, SFFWORLD
Ancient, brooding technologies...Renegade slaves in a stolen starships...In Bannister's hands space opera lives on, gaudy and brutal and glorious. The Spin Doctor is back.

STEPHEN BAXTER
With Bannister's debut novel, Creation Machine, we seemed to have struck a nugget of SF gold. With Iron Gods our luck continues and it seems that with this new author we may well have found a vein of the stuff.

CONCATENATION