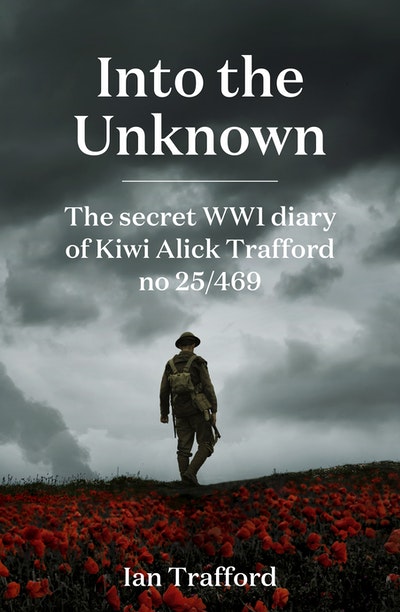 Published:

4 August 2020

ISBN:

9780143775126

Imprint:

Penguin

Format:

Trade Paperback

Pages:

352

RRP:

$32.99
Into the Unknown
The Secret WWI Diary of Kiwi Alick Trafford No. 25/469
---
---
---
World War I (and its aftermath) in the words of a young soldier fresh off a remote New Zealand farm, written with immediacy, emotion and clarity.
A personal account of WWI from the diaries of a Gisborne farm boy, shaped into a gripping narrative by the diarist's grandson 100 years later. Follow Alick as he moves from his last night on the farm in early 1916, through enshipment and training, then off to the battle fields of France and Belgium, occupied Germany and back home. His treasured diaries covered the tedium, the mud, the fear and sorrow, the discomfort, the periods of leave and the letters from those back home. See the war unfold through Alick's eyes and learn about his and his companions' attitudes to the army, to female company, to the enemy soldiers, to the hospitality provided by people under pressure, to the war itself.
And after the drama and tragedy of war, comes the return home and the efforts required to make a living while remaining steadfastly silent about the traumas of those terrible years - an unseen fight that continued and affected the generations that followed.
Published:

4 August 2020

ISBN:

9780143775126

Imprint:

Penguin

Format:

Trade Paperback

Pages:

352

RRP:

$32.99
Praise for Into the Unknown
This is a historical gem of a book... The stories and adventures are exciting, fraught with danger and vividly written. Thank you Alick for writing your secret diaries. Thank you Harvey for not following your father's wishes and for saving these diaries. Thank you Ian for publishing them so Alick's story can be shared.

Gisborne Herald
...a war diary which ranks among the best. The even balance between the horrors of the trenches and the sheer happiness of leave makes an enjoyable narrative which leaves the reader saddened, but not overwhelmed, by the carnage of the Western Front and uplifted by the warmth of the stories about kindness and sympathy which emerge from the journeys away from the battlefield...Trafford was a fine observer of men and situations...

Jim Sullivan, Otago Daily Times
...a first-hand look at life at the front. It's a great read and in places so startling you'll have to reread passages ... Ian has done a great job in turning this into a gripping story - rotting bodies, wet, cold men, interspersed with stories of life in the French countryside where there's a bath and a bed to sleep in. This is as real as it gets, 100 years on.

Linda Thompson, NZME Regionals