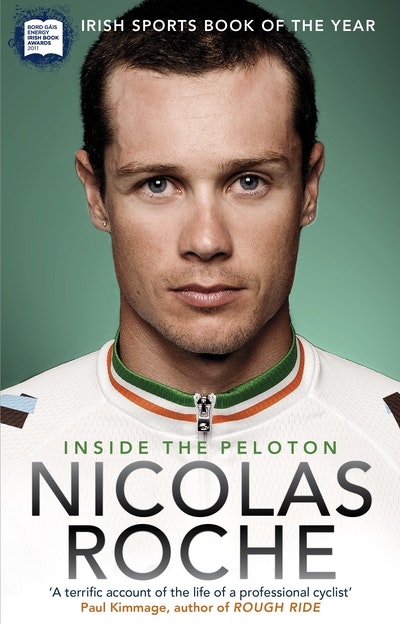 Published:

29 September 2011

ISBN:

9781446463628

Imprint:

Transworld Digital

Format:

EBook

Pages:

528
Inside The Peloton
My Life as a Professional Cyclist
---
---
---
The passionate, truthful story of life on the professional Tour by Ireland's finest cyclist and one of the rising stars of the sport.
Nicolas Roche has a famous surname to all fans of cycling. The son of legendary Irish and World Champion Stephen Roche, Nicolas had to fight to make it as a professional and even harder to make his mark as his own man in this toughest of competitive sports.
His rise up the ranks has been meteoric, with top 15 finishes in both the Tour de France and the Vuelta a España, but his attitude to his chosen profession has remained undimmed. Honest, eloquent and passionate about the cycling world, Nicolas gained acclaim and a devoted fan following for his Tour diaries serialised in the Irish Independent.
Now a major contender for a podium finish in a grand tour, in the award-winning Inside the Peloton Nicolas tells in full the story of life as a professional cyclist and of the remarkable events that have brought him this far. From furious spats with teammates and exhilarating races against the world's best, this is a gripping cycling adventure and tale of a fiercely competitive sportsman.
Published:

29 September 2011

ISBN:

9781446463628

Imprint:

Transworld Digital

Format:

EBook

Pages:

528
Praise for Inside The Peloton
A terrific account of the life of a professional cyclist

Paul Kimmage, The Sunday Times
Roche's writing is conversational and fluid. His frankness, passion and competitive nature makes for great copy. He also wears his heart on his Lycra sleeve. Candid and cliché-free... entertaining and risqué... Roche is a revelation

Richard Oakley, The Sunday Times
It's in his relaying of personal struggles that Roche shines, whether they relate to being at the brink of collapse on tour, to frustration with his teammates and coping with the possibility of a loved one dying. But this primarily a book about cycling, an insight into the need to excel that drives sportsmen and women and makes them different from the nine-to-five jobsworth

Irish Independent
A fascinating picture of the life of someone operating in one of the world's most gruelling sports... a compelling read

Dick O'Brien, Sunday Business Post
Partly because he was the son of Stephen, Nicolas Roche had to fight all the harder to be accepted in his own right in the toughest competitive sport that exists. This book is both that story and his ongoing striving for success, as well as an insight into the sometimes corrupt world of professional cycling. A great read even for those who never watch the Tour

John Spain, Irish Independent, Books of the Year
The fine columns of Nicolas Roche gave a rare insight into life as a professional cyclist. It's a sport that promotes sacrifice above acclaim. Roche's diaries had an immediate attraction that is extremely rare from athletes in any sport. Roche imparts both a big picture of a particular lifestyle that's all-consuming and a small one of daily struggle and pain. We get the blood and guts of the peloton and for cycling fans that inside account of the job is one to slavishly lap up

Irish Times, Books of the Year
Roche delivers a fascinating warts-and-all insight into what it's like riding in a peloton of 200 riders for three weeks on a diet of "plain pasta from a roadside motel with some olive oil". The way he captures the glory, suffering and heroism of the sport make it a must-read this Christmas

Irish Examiner, Books of the Year
Autobiographies released in the middle of sporting careers are often dubious endeavours. How can one evaluate a life when it is still in the throes of being lived? However, Inside the Peloton is an exception. It is a fiercely honest book, which tells the life of a cyclist desperate for success in the present, not a grizzled old pro looking back on a career of success, or a bitter old pro looking back on a career of failure. It tells the story of a man who is skirting the environs of being a great sportsman and for that I commend its release... Fascinating... candid... his honesty is refreshing in an era of public relations sanitization... Inside the Peloton reveals Roche's character immensely clearly. It serves not only as a great book - it also serves as a great marketing tool. Anyone who reads it won't be able to want anything but the best for him. And, they'll be sure to read his Tour de France 2012 diary

Tadgh Peavoy, www.rte.ie
A lively, enjoyable read, which also features some fantastic picture sections... candid, fascinating

Cycle Sport