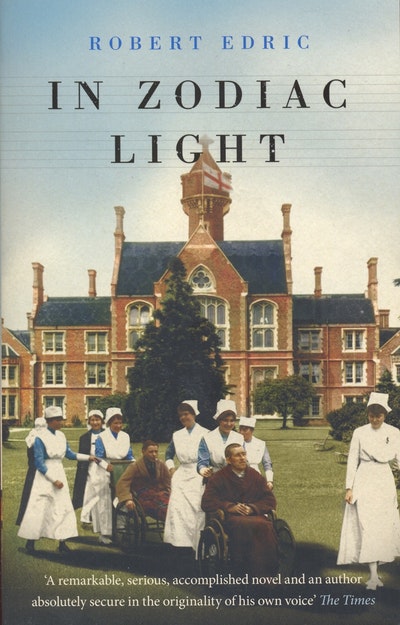 Published:

1 September 2010

ISBN:

9781407033990

Imprint:

Transworld Digital

Format:

EBook

Pages:

368
In Zodiac Light
---
---
---
From one of the UK's finest literary writers
It is December 1922 and the aftershocks of the First World War continue to make themselves felt. Ex-soldier, poet and composer Ivor Gurney, suffering from increasingly frequent and deepening bouts of paranoid schizophrenia, is transferred to the City of London Mental Hospital, Dartford.
Neglected by the military and by his own family, and abandoned by all but a notable handful of his friends, Gurney begins a descent into the madness and oblivion which he believes has long been waiting to claim him.
Yet following his arrival at Dartford, there are still those who continue to believe in Gurney's capabilities – in his 'wayward genius'. For a brief period, it seems that he might find some calm and ease in his life, and thus achieve the status so many consider him capable of.
Published:

1 September 2010

ISBN:

9781407033990

Imprint:

Transworld Digital

Format:

EBook

Pages:

368
Praise for In Zodiac Light
Edric's novel is a beautifully imagined contribution to securing Gurney's posthumous reputation

Telegraph
For more than 20 years now, Robert Edric's inflinching eye for human cruelty has roamed across centuries and continents

Sunday Times Culture Magazine
Subtle, absorbing novel of poetry, madness and post-war trauma

Sunday Times
[Edric's] prose has an impressive emotional weight

Andrew Motion, Poet Laureate, Guardian
A fiction of extraordinary resonance, a text of secret harmonies, upper partials and complex internal logic, executed in prose of beautiful, foreboding plainness. In Zodiac Light is a remarkable, serious, accomplished novel and Edric an author absolutely secure in the originality of his own voice

The Times
Deeply moving...Edric accomplishes much with this thoughtful, subtle and moving novel...Above all, he allows us to understand a little more clearly how fragile are the borders of sanity, and how blurred they can become

Yorkshire Evening Post
The novel's delicate counterpoint of psychiatrist and war-damaged poet invites comparison with Pat Barker's Regeneration...Edric is a virtuoso of atmospheric settings

London Review of Books
His language is precise and compressed, each word invested with a world of meaning. An uneasy, thought-provoking work which stays with you long after you have finished reading it.

Historical Novels Review
With its shifting, subtle light this is a potent exercise in fictional recuperation

Sunday Times
Full...of symbols of oppression and human anonymity, In Zodiac Light is a sound evocation of an artist tragically divorced from his calling

Telegraph
This book reinforces the status of the prolific Edric as one of English fiction's best-kept secrets

Glasgow Herald
Edric succeeds in painting an atmospheric dystopia that is at once unsettling and frightening and laudable for its skilful evocation of the doom and the despair

Irish Examiner
A moving portrait of breakdown, casual brutality and locked-in creativity...A fine portrait of an acutely sensitive man

Independent