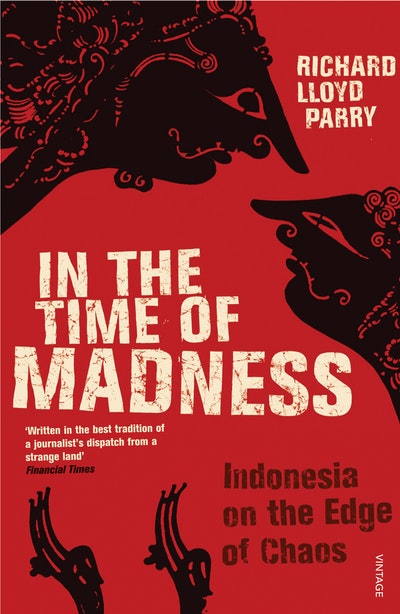 Published:

1 February 2006

ISBN:

9780099481454

Imprint:

Vintage

Format:

Paperback

Pages:

336

RRP:

$22.99
In The Time Of Madness
---
---
A brilliant eyewitness account of the violence that erupted in Indonesia at the end of the nineties.
** Richard Lloyd Parry is the winner of the 2018 Rathbones Folio Prize **
In the last years of the twentieth century, Richard Lloyd Parry found himself in the vast island nation of Indonesia, one of the most alluring, mysterious and violent countries in the world. For thirty-two years it had been paralysed by the grip of the dictator and mystic General Suharto. But now the age of Suharto was reaching its end, giving way to a new era of chaos and superstition - the 'time of madness' predicted centuries before by poets and seers.
On the island of Borneo, tribesmen embarked on a savage war of head-hunting and cannibalism. Vast jungles burned uncontrollably; money lost its value; there were plane crashes and volcanic eruptions. After the tumultuous fall of Suharto came the vote of independence from Indonesia for the tiny occupied country of East Timor. And it was here, trapped in the besieged compound of the United Nations, that Lloyd Parry reached his own painful, personal crisis.
Published:

1 February 2006

ISBN:

9780099481454

Imprint:

Vintage

Format:

Paperback

Pages:

336

RRP:

$22.99
Praise for In The Time Of Madness
A fine book, the best I've read on the implosion of human decency that took place in Indonesia...Lloyd Parry was there for all the great stories. He writes sensitively and well...A great hit...Bold and beautifully written

Literary Review
Mr Lloyd Parry's volume fills a void...Harrowing...Well-written

The Economist
One of the most incisive portraits of moral failure by the so-called 'international community'... In its refreshing modesty of tone and subtlety of message, it beats the more epic accounts of "heroic" journalists such as John Simpson hands down

The Times
Combining sassy reportage with a quiet commentary on his own emotions, he draws indelible portraits of countries where events have revealed how fine a line exists between civilisation and barbarity

Glasgow Herald
Written in the best tradition of journalist's dispatch from a strange land...Lloyd Parry does a worthy job navigating the complexity of Indonesian politics and history

Financial Times