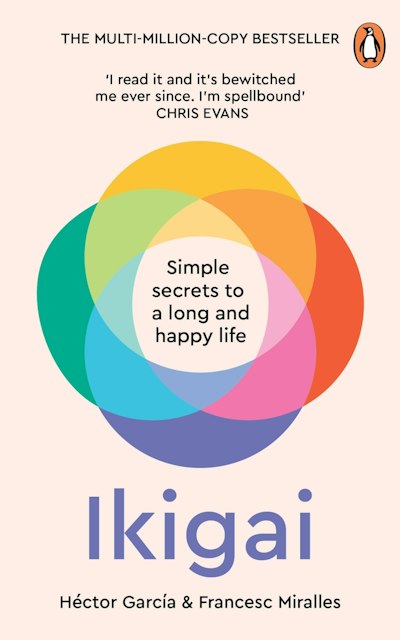 Published:

1 August 2023

ISBN:

9781529902402

Imprint:

Cornerstone Press

Format:

Trade Paperback

Pages:

208

RRP:

$27.99
Ikigai
The Japanese secret to a long and happy life
---
---
---
A new edition of the multi-million bestselling global phenomenon Ikigai for the personal development market
THE MULTI-MILLION-COPY BESTSELLER
Find purpose, meaning and joy in your work and life
We all have an ikigai. It's the Japanese word for 'a reason to live' or 'a reason to jump out of bed in the morning'. The place where your needs, ambitions, skills and satisfaction meet. A place of balance.
This book will help you unlock what your ikigai is and equip you to change your life. There is a passion inside you - a unique talent that gives you purpose and makes you the perfect candidate for something. All you have to do is discover and live it.
Do that, and you can make every single day of your life joyful and meaningful.
'A refreshingly simple recipe for happiness' Stylist
'Ikigai gently unlocks simple secrets we can all use to live long, meaningful, happy lives' Neil Pasricha, bestselling author of The Happiness Equation
Published:

1 August 2023

ISBN:

9781529902402

Imprint:

Cornerstone Press

Format:

Trade Paperback

Pages:

208

RRP:

$27.99
The New "Hygge"

The People's Friend
The New "Hygge"

The People's Friend
The New "Hygge"

The People's Friend
The New "Hygge"

The People's Friend
If you feel you've lost your mojo, Ikigai could be the bedside reading you need to kickstart a more mindful 2018

Vegetarian Living
If you feel you've lost your mojo, Ikigai could be the bedside reading you need to kickstart a more mindful 2018

Vegetarian Living
If you feel you've lost your mojo, Ikigai could be the bedside reading you need to kickstart a more mindful 2018

Vegetarian Living
If you feel you've lost your mojo, Ikigai could be the bedside reading you need to kickstart a more mindful 2018

Vegetarian Living
I love [this] book… I read it and it's bewitched me ever since. I'm spellbound

Chris Evans, Radio 2
I love [this] book… I read it and it's bewitched me ever since. I'm spellbound

Chris Evans, Radio 2
I love [this] book… I read it and it's bewitched me ever since. I'm spellbound

Chris Evans, Radio 2
I love [this] book… I read it and it's bewitched me ever since. I'm spellbound

Chris Evans, Radio 2
This book is beautifully and delicately written. It is perfect for the real world…comforting, easy to read

Nouse
This book is beautifully and delicately written. It is perfect for the real world…comforting, easy to read

Nouse
This book is beautifully and delicately written. It is perfect for the real world…comforting, easy to read

Nouse
This book is beautifully and delicately written. It is perfect for the real world…comforting, easy to read

Nouse
If you're feeling slightly lost with regard to your direction in life, this book is a wonderfully warm, kind and comforting readfor you.

Keisei Magazine
If you're feeling slightly lost with regard to your direction in life, this book is a wonderfully warm, kind and comforting readfor you.

Keisei Magazine
If you're feeling slightly lost with regard to your direction in life, this book is a wonderfully warm, kind and comforting readfor you.

Keisei Magazine
If you're feeling slightly lost with regard to your direction in life, this book is a wonderfully warm, kind and comforting readfor you.

Keisei Magazine
Ikigai urges individuals to simplify their lives by pursuing what sparks joy for them

Marie 'KonMari' Kondo
Ikigai urges individuals to simplify their lives by pursuing what sparks joy for them

Marie 'KonMari' Kondo
Ikigai urges individuals to simplify their lives by pursuing what sparks joy for them

Marie 'KonMari' Kondo
Ikigai urges individuals to simplify their lives by pursuing what sparks joy for them

Marie 'KonMari' Kondo
A refreshingly simple recipe for happiness... According to the Japanese, everyone has an ikigai. It means your purpose – the reason you get up in the morning. The thing that fires you up and keeps you busy. Your raison d'être.

Stylist
A refreshingly simple recipe for happiness... According to the Japanese, everyone has an ikigai. It means your purpose – the reason you get up in the morning. The thing that fires you up and keeps you busy. Your raison d'être.

Stylist
A refreshingly simple recipe for happiness... According to the Japanese, everyone has an ikigai. It means your purpose – the reason you get up in the morning. The thing that fires you up and keeps you busy. Your raison d'être.

Stylist
A refreshingly simple recipe for happiness... According to the Japanese, everyone has an ikigai. It means your purpose – the reason you get up in the morning. The thing that fires you up and keeps you busy. Your raison d'être.

Stylist
Curl up on the sofa with this and enjoy an insight into Japanese culture while picking up some self-care tips you may not have considered before... Ikigai offers an insight into a gentle yet focused way of life built around a sense of purpose.

8 Best Self-Help Books, Independent
Curl up on the sofa with this and enjoy an insight into Japanese culture while picking up some self-care tips you may not have considered before... Ikigai offers an insight into a gentle yet focused way of life built around a sense of purpose.

8 Best Self-Help Books, Independent
Curl up on the sofa with this and enjoy an insight into Japanese culture while picking up some self-care tips you may not have considered before... Ikigai offers an insight into a gentle yet focused way of life built around a sense of purpose.

8 Best Self-Help Books, Independent
Curl up on the sofa with this and enjoy an insight into Japanese culture while picking up some self-care tips you may not have considered before... Ikigai offers an insight into a gentle yet focused way of life built around a sense of purpose.

8 Best Self-Help Books, Independent
You've tried hygge and lagom - but it turns out ikigai is the key to happiness.

Independent
You've tried hygge and lagom - but it turns out ikigai is the key to happiness.

Independent
You've tried hygge and lagom - but it turns out ikigai is the key to happiness.

Independent
You've tried hygge and lagom - but it turns out ikigai is the key to happiness.

Independent
Ikigai is what allows you to look forward to the future... It might just help you live a more fulfilling life.

BBC
Ikigai is what allows you to look forward to the future... It might just help you live a more fulfilling life.

BBC
Ikigai is what allows you to look forward to the future... It might just help you live a more fulfilling life.

BBC
Ikigai is what allows you to look forward to the future... It might just help you live a more fulfilling life.

BBC
Ikigai gently unlocks simple secrets we can all use to live long, meaningful, happy lives. Science-based studies weave beautifully into honest, straight-talking conversation you won't be able to put down. Warm, patient, and kind, this book pulls you gently along your own journey rather than pushing you from behind.

Neil Pasricha, bestselling author of The Book of Awesome and The Happiness Equation
Ikigai gently unlocks simple secrets we can all use to live long, meaningful, happy lives. Science-based studies weave beautifully into honest, straight-talking conversation you won't be able to put down. Warm, patient, and kind, this book pulls you gently along your own journey rather than pushing you from behind.

Neil Pasricha, bestselling author of The Book of Awesome and The Happiness Equation
Ikigai gently unlocks simple secrets we can all use to live long, meaningful, happy lives. Science-based studies weave beautifully into honest, straight-talking conversation you won't be able to put down. Warm, patient, and kind, this book pulls you gently along your own journey rather than pushing you from behind.

Neil Pasricha, bestselling author of The Book of Awesome and The Happiness Equation
Ikigai gently unlocks simple secrets we can all use to live long, meaningful, happy lives. Science-based studies weave beautifully into honest, straight-talking conversation you won't be able to put down. Warm, patient, and kind, this book pulls you gently along your own journey rather than pushing you from behind.

Neil Pasricha, bestselling author of The Book of Awesome and The Happiness Equation
[The] Japanese art of ikigai ... Its basic message is about "authentic living". Practitioners must fill in overlapping circles that cover motivation, fulfilment, what they earn and what improves their life. The answer at the centre will be the key to a happy and long life.

Guardian
[The] Japanese art of ikigai ... Its basic message is about "authentic living". Practitioners must fill in overlapping circles that cover motivation, fulfilment, what they earn and what improves their life. The answer at the centre will be the key to a happy and long life.

Guardian
[The] Japanese art of ikigai ... Its basic message is about "authentic living". Practitioners must fill in overlapping circles that cover motivation, fulfilment, what they earn and what improves their life. The answer at the centre will be the key to a happy and long life.

Guardian
[The] Japanese art of ikigai ... Its basic message is about "authentic living". Practitioners must fill in overlapping circles that cover motivation, fulfilment, what they earn and what improves their life. The answer at the centre will be the key to a happy and long life.

Guardian
If hygge is the art of doing nothing, ikigai is the art of doing something - and doing it with supreme focus and joy.

New York Post
If hygge is the art of doing nothing, ikigai is the art of doing something - and doing it with supreme focus and joy.

New York Post
If hygge is the art of doing nothing, ikigai is the art of doing something - and doing it with supreme focus and joy.

New York Post
If hygge is the art of doing nothing, ikigai is the art of doing something - and doing it with supreme focus and joy.

New York Post
A fascinating read and a practical guide to seeking a long, healthy and happy life

Liz Earle Wellbeing Magazine
A fascinating read and a practical guide to seeking a long, healthy and happy life

Liz Earle Wellbeing Magazine
A fascinating read and a practical guide to seeking a long, healthy and happy life

Liz Earle Wellbeing Magazine
A fascinating read and a practical guide to seeking a long, healthy and happy life

Liz Earle Wellbeing Magazine
The most eye catching autumn lifestyle trend is the Japanese concept of Ikigai, which translates as "reason to live"… An attractive and absorbing book.

Caroline Sanderson, The Bookseller
The most eye catching autumn lifestyle trend is the Japanese concept of Ikigai, which translates as "reason to live"… An attractive and absorbing book.

Caroline Sanderson, The Bookseller
The most eye catching autumn lifestyle trend is the Japanese concept of Ikigai, which translates as "reason to live"… An attractive and absorbing book.

Caroline Sanderson, The Bookseller
The most eye catching autumn lifestyle trend is the Japanese concept of Ikigai, which translates as "reason to live"… An attractive and absorbing book.

Caroline Sanderson, The Bookseller
Persuasively shows that small changes can help readers find more joy and purpose in their lives [with] clear, succinct information . . . skillfully compiled . . . into an engaging, easily accessible format with lists, charts, and illustrations.

Publishers Weekly
Persuasively shows that small changes can help readers find more joy and purpose in their lives [with] clear, succinct information . . . skillfully compiled . . . into an engaging, easily accessible format with lists, charts, and illustrations.

Publishers Weekly
Persuasively shows that small changes can help readers find more joy and purpose in their lives [with] clear, succinct information . . . skillfully compiled . . . into an engaging, easily accessible format with lists, charts, and illustrations.

Publishers Weekly
Persuasively shows that small changes can help readers find more joy and purpose in their lives [with] clear, succinct information . . . skillfully compiled . . . into an engaging, easily accessible format with lists, charts, and illustrations.

Publishers Weekly
The latest trend to take wellbeing bloggers by storm... A welcome reminder that we should all be making happiness a priority, for ourselves and our communities.

Huffington Post
The latest trend to take wellbeing bloggers by storm... A welcome reminder that we should all be making happiness a priority, for ourselves and our communities.

Huffington Post
The latest trend to take wellbeing bloggers by storm... A welcome reminder that we should all be making happiness a priority, for ourselves and our communities.

Huffington Post
The latest trend to take wellbeing bloggers by storm... A welcome reminder that we should all be making happiness a priority, for ourselves and our communities.

Huffington Post