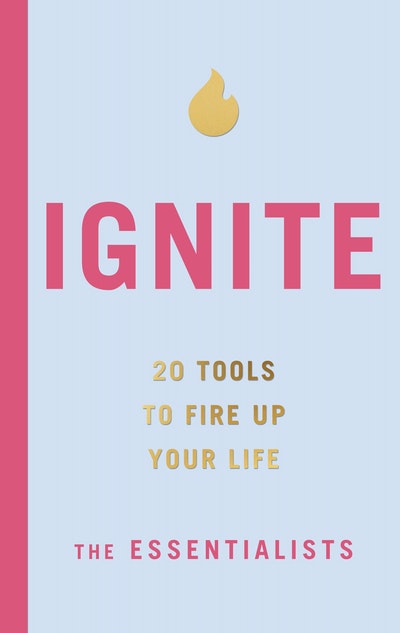 Published:

31 March 2020

ISBN:

9780143796329

Imprint:

Michael Joseph

Format:

Hardback

Pages:

240

RRP:

$22.99
Ignite
20 tools to fire up your life
---
---
The third in the Essentialists' stunning series of gift books – Restore, Shine, IGNITE!
Are you sick of settling for average? Ready to raise the bar? The Essentialists are here to spark you into action.
IGNITE is your vital resource if you want to energise your life and upgrade your game. With twenty powerful, practical skills for those in need of zest and inspiration, you'll learn how to use stress to your advantage, challenge your comfort zone, set hard-hitting goals, find your purpose and much more.
So, if you're ready to empower yourself and optimise your life, it's time to IGNITE!
Published:

31 March 2020

ISBN:

9780143796329

Imprint:

Michael Joseph

Format:

Hardback

Pages:

240

RRP:

$22.99
Yet again, The Essentialists have gifted us a powerful gem in Ignite. True to brand, this one is inspirational, warm and human, yet tactical and easy to implement. Your body, mind and soul will eat it up from cover to cover!

Belinda Wall, founder, Brand Amplified
To stand out today, you need to cut through the clutter and get noticed. To do that you need to focus on what drives you, inspires your passion and separates you from the pack. Ignite is your tool to making that happen.

Jules Lund, founder, TRIBE Group
If you choose to use these twenty Ignite tools you will absolutely fire up and innovate in your life!

Justin Baird, innovationist
Life is too short not to pursue what lights your soul on fire. We get so caught up in the glorification of busy and the achievement conveyer belt, but what is it all for if it doesn't ignite your passion and expand your world? The Essentialists bring these questions to the forefront of our attentions in an age where we need it most.

Sarah Holloway, host of Seize the Yay podcast
Video
Celebrating Mother's Day with The Essentialists
We're celebrating Mother's Day with The Essentialists! To purchase a copy of Ignite, please go to this link https://www.penguin.com.au/books/ignite-9780143796329 Shannah Kennedy Ten successful years in the corporate world – two in the Money Market and eight in high-level sports management and sponsorship – made Shannah Kennedy the very definition of a high achiever. Shannah worked with more than 100 world-class athletes through her management, PR and sponsorship roles, flitting around the globe, in a 24/7 role that never slowed down. Outside of work, Shannah juggled fitness, finances, friends and relationships with her demanding career. And then, her body delivered a devastating reminder that she needed time to 'breathe' – that she was not a machine. Ten years on, Shannah is an Advanced Certified Coach and NLP Practitioner. Her ability to directly empathise with high achievers has Shannah in constant demand with entrepreneurs, executives, managers, celebrities and professional athletes. As a professional coach and author, successful business owner and sought-after corporate speaker, as well as a wife, mother, runner, investor and hobby creator, Shannah has mastered the art of balance. She offers her clients, and now her readers, an opportunity to achieve simplicity, structure and success in life. Lyndall Mitchell Lyndall Mitchell is a coach, wellness expert, and founder of the Aurora Spa Group, Australia's pioneering, award-winning urban spa. She is a leading coach, speaker and consultant with over twenty years' experience and expertise in the health and wellbeing industry. Lyndall is a passionate wellness advocate and a regular contributor on lifestyle, spa and wellness topics for the media. Through her spas, coaching and speaking, Lyndall helps clients achieve their biggest, best and happiest lives by working with them to create a 'big picture' plan and then shows them how to turn that dream into a reality, one puzzle-piece at a time. "I help people bridge the gap between where they are now and where they want to be. Whether its individuals, executives or entire organisations, I believe that with the right tools, motivation and support, we can all achieve our own vision of success."
Article
Master your habits
The Essentialists' tips for changing your habits, and changing your life.