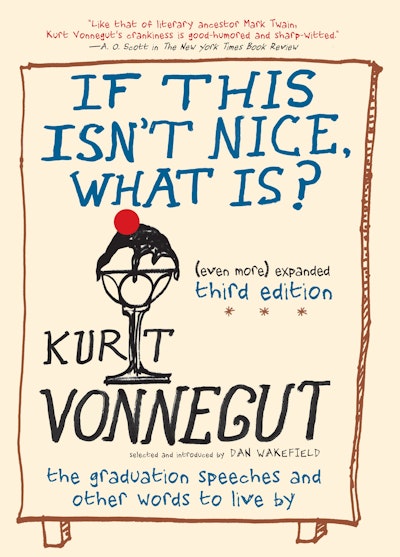 Published:

31 March 2020

ISBN:

9781609806101

Imprint:

Seven Stories Press

Format:

Paperback

Pages:

208

RRP:

$32.99
If This Isn't Nice, What Is? (Even More) Expanded Third Edition
The Graduation Speeches and Other Words to Live By
---
---
Best known as one of our most astonishing and enduring contemporary novelists, Kurt Vonnegut was also a celebrated commencement address giver.
He himself never graduated college, so his words to any class of graduating seniors always carried the delight, and gentle irony, of someone savoring an achievement he himself had not had occasion to savor on his own behalf.
Selected and introduced by fellow novelist and friend Dan Wakefield, the speeches in If This Isn't Nice, What Is? capture this side of Kurt Vonnegut for the first time in book form. There are nine speeches, seven given at colleges, one to the Indiana Civil Liberties Union, one on the occasion of Vonnegut receiving the Carl Sandburg Award. In each of these talks Vonnegut takes pains to find the few things worth saying and a conversational voice to say them in that isn't heavy-handed or pretentious or glib, but funny and serious and joyful even if sometimes without seeming so.
Published:

31 March 2020

ISBN:

9781609806101

Imprint:

Seven Stories Press

Format:

Paperback

Pages:

208

RRP:

$32.99
Praise for If This Isn't Nice, What Is? (Even More) Expanded Third Edition
"If This Isn't Nice, What Is? is a spectacular read in its entirety, brimming with Vonnegut's unflinching convictions and timeless advice to the young."—Maria Popova, Brainpickings.org "Like [that of] his literary ancestor Mark Twain, Kurt Vonnegut's crankiness is good-humored and sharp-witted."—A.O. Scott, The New York Times Book Review "Like so much of Vonnegut's work, these speeches combine absurdist humor, pessimism and countercultural politics, with improbably and disarmingly charming results."—Troy Jollimore, Chicago Tribune's Printers Row Journal "If This Isn't Nice, What Is? is a blast of pure acid."—Entertainment Weekly "The material here offers us a slightly different lens, a different window, extending across a wide range of time and geography, from Fredonia College in Fredonia New York in 1978 to Eastern Washington University in Spokane in 2004, and framed by not just Vonnegut's sense of humor but also of humanity, his faith in our essential decency."—David Ulin, The Los Angeles Times "These delightful scattershot commencement speeches offer fresh clues to what lay behind Kurt Vonnegut's twinkly visage—clues that are well worth celebrating."—Peter Matthiessen