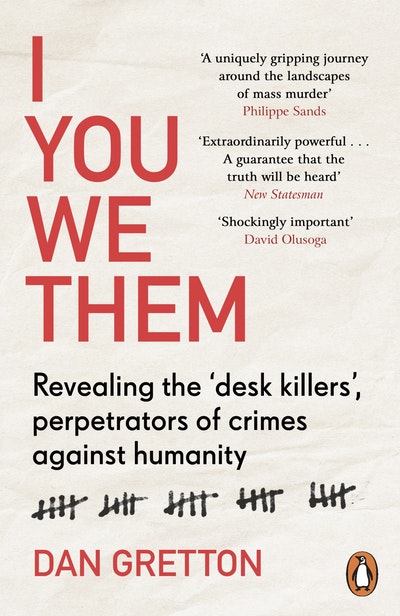 Published:

30 May 2019

ISBN:

9781473518001

Imprint:

Cornerstone Digital

Format:

EBook

Pages:

1120
I You We Them
Journeys Beyond Evil: The Desk Killer in History and Today
---
---
---
A landmark historical investigation into crimes against humanity and the nature of evil that is over two decades in the making.
A WASHINGTON POST NOTABLE WORK OF NON-FICTION
A SPECTATOR BOOK OF THE YEAR
'Meticulous, clinical and sobering, a shockingly important and incisive book' David Olusoga
Vast and revelatory, Dan Gretton's I You We Them is an unprecedented study of the perpetrators of crimes against humanity: the 'desk killers' who ordered and directed some of the worst atrocities of the modern era. From Albert Speer's complicity in Nazi barbarism to cases of ecocide and the deaths of activists, Gretton shines a light on the figures 'who, by giving orders, use paper or a phone or a computer to kill, instead of a gun.' Over the past twenty years, Gretton has interviewed survivors and perpetrators, and pored over archives and thousands of pages of testimony. His remarkable insight into the psychology of the desk killers is deepened by the intimate journey he travels with his readers.
Published:

30 May 2019

ISBN:

9781473518001

Imprint:

Cornerstone Digital

Format:

EBook

Pages:

1120
Great books never occur out of a desire for greatness, but often out of a possessed persistence in the face of a chosen and immensely difficult task. This is such a book. In it, through it, a century speaks to us - not with the thunderous voice of History, but in the intimate voice of a sequence of confessions.

John Berger
A book of extraordinary importance and urgency - we need this book now. For its determined, passionate, and vulnerable seeking; for its insistence on what matters. Climate catastrophe tells us the reach of the desk killer has never been greater. We must take the hope and political will in this book as our own: forged in darkness and therefore - inextinguishable.

Anne Michaels
Not since Gitta Sereny's vast script of Into That Darkness arrived on my desk have I read anything so disturbing as the early draft of Dan Gretton's book. I was shaken to the core by his brilliant treatment of the Wannsee meeting. The book seemed to be humming with life... much more alive than anything I've read for ages... I'm certainly grateful for having been given the chance to read this amazing work.

Diana Athill
A complex and exceptional book. Gretton's determination to bear witness so long after the events themselves does not diminish the power of his story. On the contrary his decision to make it personal intensifies the impact... The book highlights how society in general is susceptible to a form of collective amnesia, a wish not to confront the troubling details in its past. John Berger observed that "the role of capitalism is to destroy history... to orientate all effort and imagination to that which is about to occur". Dan Gretton's profound moral effort in this book is a massive bulwark against that possibility and a guarantee that the truth will be heard.

Mark Cocker, New Statesman
Gretton raises profoundly unsettling questions about the capacity for doing evil that exists within all of us, and the ways in which the distancing effect of technology allows perpetrators to avoid thinking about the consequences of their actions.

Hugh Linehan, Irish Times
Brilliant... the writing has the power at times to mesmerise... Gretton is a brave man to have stared so long and so intently at the subject.

Ian Thomson, Evening Standard
I You We Them is a uniquely gripping journey around the landscapes of mass murder.

Phillipe Sands, author of East West Street: On the Origins of Genocide and Crimes against Humanity
A testament both mighty and meticulous, a devastating case for the prosecution, against which there is no defence. This book should be compulsory reading.

Jay Griffiths, author of Wild: An Elemental Journey/Savage Grace.
Meticulous, clinical and sobering, a shockingly important and incisive book.

David Olusoga
It is much more than a history of bureaucratic crime. Rather, Gretton has written himself deeply and intimately into the work, which also serves as a poignant memoir; a travelogue that leads the reader through time and space, history and memory; and an extended exercise in observation and introspection.

Washington Post
This remarkably powerful book entails a dogged and worldwide pursuit of 'the desk-killer', the government functionary or business executive whose decisions so often cost human lives. The model of this remote-control assassin is Hitler's architect Albert Speer, but the German story is subsumed in a far more compelling and modern investigation of the collective amnesia which so often operates in the telling of national histories, including our own.

Mark Cocker, Spectator, Books of the Year