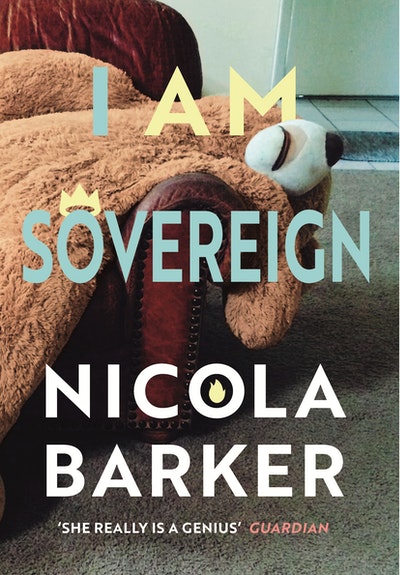 Published:

25 July 2019

ISBN:

9781473571099

Imprint:

Cornerstone Digital

Format:

EBook

Pages:

224
I Am Sovereign
---
---
---
A bold and hilarious hand grenade of a book that twists the novel into new shapes as the characters seemingly sabotage the fictional world they inhabit, I Am Sovereign sees Nicola Barker at her most joyful, provocative and riotous; it is the work of a novelist at the height of her powers.
__________________________________________
'One of the funniest, most finely achieved comic novels, even by her own standard . I think it's a masterpiece.' ALI SMITH
'I think Nicola Barker is incapable of a dull page. [Her work] is unified by its spirit of adventure.' KEVIN BARRY
How long does it take to change the world?
Could it happen in approximately twenty minutes?
Charles, a forty-year-old teddy bear maker, is trying to sell his late mother's house, helped by his estate agent Avigail (who thinks Charles is an imbecile). The prospective buyers: the fearsome Wang Shu - who has no desire to make idle chit-chat - and her downtrodden daughter, Ying Yue.
During the twenty-minute viewing a huge number of things happen, although it is also entirely possible that nothing happens at all. Which is it? Can the world really turn on its axis during a mundane discussion about cheese preservation? Has fiction the power to do that? Should it even want to?
__________________________________________
'She really is a genius.' GUARDIAN
'Life-affirming hilarity - Evelyn Waugh on ecstasy.' NELL ZINK
'A madly brilliant little book that asks who at any point is in control of what. I loved it.' DAILY MAIL
'Nicola Barker's wildness and capacity for the absurd often delight me.' SARAH MOSS
'What an audacious writer Nicola Barker is . In an era when plot is king, Barker has typically, joyously, dispensed with one . Barker's pleasure in the novella feels defiant.' EVENING STANDARD
'I Am Sovereign is bursting with energy, compassion and humour.' LITERARY REVIEW
'Barker is a writer in a class of her own . A work of coruscating intelligence, of deep humanity.' OBSERVER

'A riotous burst of a novel that scrutinises the nature of fiction with the lightest of touches.' MAIL ON SUNDAY
'A bracing, brilliantly bonkers comic novel . This is freewheeling fiction that delights in the visual.' SUNDAY TIMES

'Barker's writing is very, very funny, both ha ha and strange ... Fans of Ali Smith's "Seasonal Quartet" will enjoy a similarly arch, detached view on the banality of contemporary Britain ... A gloriously audacious blend of, well, the deep and the trite.' INDEPENDENT

Published:

25 July 2019

ISBN:

9781473571099

Imprint:

Cornerstone Digital

Format:

EBook

Pages:

224
Praise for I Am Sovereign
One of the funniest, most finely achieved comic novels, even by her own standard … I think it's a masterpiece.

Ali Smith
Life-affirming hilarity – Evelyn Waugh on ecstasy.

Nell Zink
Nicola Barker's wildness and capacity for the absurd often delight me.

Sarah Moss
Nicola Barker always makes me laugh, and her new one, I Am Sovereign, is one of her funniest yet, which is saying something. Of course the best comic stuff always has a dark, dark undertow, and so it is with Ms Barker.

Kevin Barry
Nicola Barker loves to break the conventions of fiction ... She has set herself the novelist's ultimate challenge - to turn the dullest situation imaginable into something fascinating and lifelike – and she (mostly) pulls it off ... Barker conveys the essence of these people with such skill that you feel you have met them.

The Times
A bracing, brilliantly bonkers comic novel … This is freewheeling fiction that delights in the visual.

Sunday Times
Nicola Barker is British fiction's brightest outlier ... a madly brilliant little book ... I loved it.

Daily Mail
What an audacious writer Nicola Barker is ... In an era when plot is king, Barker has typically, joyously, dispensed with one ... Barker's pleasure in the novella feels defiant.

Evening Standard
Nicola Barker is literary royalty ... Brave, funny and painfully timely.

Toby Litt, Guardian
A riotous burst of a novel that scrutinises the nature of fiction with the lightest of touches.

Mail on Sunday
The novel's 200 pages detail the protagonists' twining internal existences over the course of a farcical 20-minute house-viewing during which they feel they might each have come to experience some form of self-knowledge, or higher knowledge … There aren't many British writers who have Barker's sort of courage – to get started on ideas that might appear like trifles, handle them seriously, and produce works that are as close as literature gets to pure play.

Spectator
I Am Sovereign is bursting with energy, compassion and humour.

Literary Review
Barker is a writer in a class of her own ... A work of coruscating intelligence, of deep humanity.

Alex Preston, Observer
Barker's writing is very, very funny, both ha ha and strange ... Fans of Ali Smith's 'Seasonal Quartet' will enjoy a similarly arch, detached view on the banality of contemporary Britain ... A gloriously audacious blend of, well, the deep and the trite.

Independent
Nicola Barker has repeatedly challenged convention. And she is not stopping now.

Claire Lowdon, Sunday Times
Ingenious ... Barker spins a series of variations on the theme of selfhood ... Barker serves up a mixture of experiment and statement, part postmodern comedy, part spiritual credo. It takes as it's raw material the fear and panic, anxiety and suspicion, depression and despair experienced by a man who wants to sell his house, an estate agent trying to help him sell it, the child of the prospective buyer, and, via moments of authorial intrusion and a brilliant confessional finale, the novelist responsible for creating them. The book exhibits Barker's gifts as a psychologist ... I Am Sovereign places this agonised trio within an elaborate conceptual framework ... Barker isn't the first writer to use postmodern devices to explore questions about selfhood, but she diverges from most of her predecessors in rejecting the analogy of the self as "fiction" ... [I Am Sovereign] renders the next stage in this remarkable writer's journey a more than usually enticing prospect.

Leo Robson, New Statesman
The novel is not dead when we have writers as curious, daring and honest as Nicola Barker. Her latest is downright exquisite.

i Newspaper
A madly brilliant little book … I loved it.

Daily Mail
It marks a cautious pivot away from the involutions of H(A)PPY and The Cauliflower, back towards the highly distinctive take on literary realism that characterizes Barker's earlier work.

Keith Miller, Times Literary Supplement
Gobbled all of this down all of this 209 page gem on a single long-haul flight. Set in a single 20-minute house viewing in Llandudno with a bafflingly diverse cast of characters. It shouldn't work but I thought it was super.

Rick O'Shea's Best Books of 2019 in RTE.ie
Knocked me sideways … It's so masterful and meta. The narrative style is elegant and frenetic

Emma Jane Unsworth, Observer