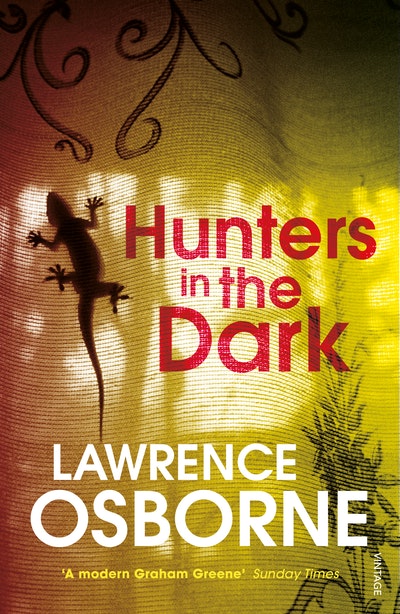 Published:

15 April 2016

ISBN:

9781784700362

Imprint:

Vintage

Format:

Paperback

Pages:

352

RRP:

$19.99
Hunters in the Dark
---
---
The brilliant new novel from Lawrence Osborne - "a modern Graham Greene" (Sunday Times) - author of The Forgiven and The Ballad of a Small Player
'A modern Graham Greene' Sunday Times
Robert Grieve - pushing thirty and eager to side-step a life of quiet desperation as a small-town teacher - decides to go missing.
As he crosses the border from Thailand to Cambodia, he tests the threshold of a new future. And on that first night, a small windfall precipitates a chain of events involving a bag of 'jinxed' money, a suave American, a corrupt policeman and a rich doctor's daughter, in which Robert's life is changed forever.
Alive with malice and grace, this is a taut tale reminiscent of the nightmares of Patricia Highsmith: a story of double identities, and innocence in the midst of evil, from a master of atmosphere and observation.
Published:

15 April 2016

ISBN:

9781784700362

Imprint:

Vintage

Format:

Paperback

Pages:

352

RRP:

$19.99
Praise for Hunters in the Dark
Fans of Lawrence Osborne's excellent, sour-tasting novels will recognize several ingredients in this latest. The novel's power lies in Osborne's needling descriptions of hedonism and decay in a country haunted by history, superstition and curdled dreams

Claire Allfree, 4 stars, Metro
Osborne is definitely still in the game

Paul Dunn, The Times
In Hunters in the Dark, Osborne has created a wonderful evocation of Cambodia, that most haunted, seductive country - haunted both by the spirits always believed by its people to have inhabited every part of the land and buy the dreadful crimes committed so recently by the Khmer Rouge, who killed a quarter of the population in three years. . Hunters in the Dark is itself pitilessly good. Those comparisons with Graham Greene aren't even flattering anymore

David Sexton, Evening Standard
Osborne's brilliance as a travel writer places his web of deceit, greed and need . in a world conjured up with dazzling immediacy . Sumptuous and sinister, languorous and tense, this is a novel that gives Osborne's remarkable talents haunting scope

Peter Kemp, Sunday Times
Edgy and gripping . Written with unfailing precision and beauty, Hunters in the Dark stakes out territory different to the many writers to whom Osborne has been compared.

Neel Mukherjee, Guardian
Steeped in the menacing, fatalistic atmosphere of a country with a bloody recent past, this is a terrific novel with an ending that is utterly gripping and satisfying

Mail on Sunday
The much-travelled Osborne delivers on a load of levels, not least his characters, who can ooze silky menace, or be totally soulless, desperate or lost. All are convincing in the setting of the exotic, once-deadly country. And with his easy and vivid descriptions, this masterpiece will give you prickly heat rash

5 stars, Sunday Sport
Dramatic and involving, an exhilarating adventure crafted in crisp, sharp prose. Osborne gives us rich swathes of local colour . Most of all, it is Robert and his precarious fate that keep us rapt. On the first page he is described as having ; "the aura of poverty about him"; roughly two hundred pages later his beloved Sophal tells him he is spooking people: "They say you have an aura of disaster about you." He does and it's powerful; once the novel's momentum kicks in, we're with him all the way until the bitter end

Literary Review
Mesmerising

Tatler
The man making writing dangerous again

Shortlist
Very fine...an excellent addition to the literature of personal displacement. Grappling with manifold questions about identity and the tragic futility of material aspirations in a ruthless, brittle world, this novel draws you into a sun-struck realm where the survival of the fittest is more predicated by chance and where violence is a sudden, opportunistic enterprise

Douglas Kennedy, New Statesman
The best writer you've never heard of, Osborne is hitting mean form as a writer of exotic literary thrillers. . Sensual, dream-like and gripping

Monocle
This is an elegantly told story that will keep you intrigued until you hit the back cover

Emerald Street
An atmospheric read

Robert Dex, UK Press Syndication
It's with expert control of the narrative here that [Osborne] captures a life adrift

Anita Sethi, Observer
Cambodia.comes splendidly to life in Osborne's prose. This is a tip-top thriller. Osborne knows how to keep the pages turning; he is a name to watch

Ian Thomson, Independent
Dark, teasing, elegantly written book

Harriet Fitch Little, Financial Times
Darkly sinister, threatening and compelling, this is one you'll come back to again and again

Chris Kirkman, Shortlist
Alive with malice and grace, this is a taut tale reminiscent of the nightmares of Patricia Highsmith

MrsD-Daily
Prey and predators circle in lush southeast Asian settings that gleam with Osborne's dazzling skill as a travel-writer

Peter Kemp, Sunday Times
Besides being a gripping thriller, it's a fine meditation on luck, fate and chance and a wonderful evocation of Cambodia, a country of ghosts, spirits and shadows

Sebastian Shakespeare, Daily Mail, Books of the Year
It shines with intrigue, with investigations into the nature of the non-rational, and evil, wrapped up in taught plotting

Arifa Akbar, Independent
If the purpose of a novel is to take you away from the everyday and show you something different, then Osborne is succeeding, and handsomely. Hunters in the Dark is a novel of immersion. shaped like a quiet dream. As such, it's an unqualified success, and I hope it enjoys a wide readership

Lee Child, New York Times
One of Britain's most accomplished novelists.

Ed Cumming, Observer
An ingenious and atmospheric novel.

Simon Shaw, Mail on Sunday
Lawrence Osborne is an experienced, competent author with an impressive knowledge of Asia. Comparisons with Graham Greene seem to be generously offered by other reviewers and I've already alluded to Conrad and a Patricia Highsmith yet my impression is that Mr. Osborne has a style all of his own.

Gill Chedgey, Nudge