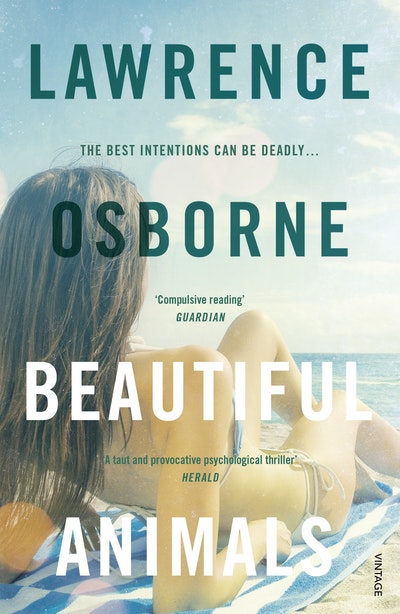 Published:

18 June 2018

ISBN:

9781784700379

Imprint:

Vintage

Format:

Paperback

Pages:

304

RRP:

$19.99
Beautiful Animals
---
---
Choose your holiday read as carefully as you choose your friends... a sinister and ravishing literary thriller
The best intentions can be deadly
During a white-hot summer on the idyllic Greek island of Hydra, two girls fall into one another's lives to devastating effect.
When Samantha, a young, impressionable American, meets Naomi, a Brit with a taste for danger, their relationship quickly takes on a special intensity. Amid the sun, sea and high society of island life, their imaginations are sparked when one day they find a young Arab man, Faoud, washed up on shore, a casualty of the crisis raging across the Aegean. But when their seemingly simple plan to help the stranger goes wrong, all must face the horrific consequences they have set in motion.
Published:

18 June 2018

ISBN:

9781784700379

Imprint:

Vintage

Format:

Paperback

Pages:

304

RRP:

$19.99
Praise for Beautiful Animals
Osborne is a startlingly good observer of privilege, noting the rites and rituals of the upper classes with unerring precision and an undercurrent of malice. The novel takes on the tone of an existential noir, evoking writers like Jean-Patrick Manchette and Georges Simenon... An heir to Graham Greene... he shares with Greene an interest in what might be called the moral thriller

Katie Kitamura, New York Times Book Review
A masterful and sophisticated psychological thriller that explores moral ambiguity from multiple perspectives

BBC.com
Tense, fateful

Patricia Nicol, Sunday Times
Often almost literally bristling with menace. his Hydra is rugged with physical immediacy. Silhouetted against it, emotions fluctuate, sexual frissons flicker back and forth, destinies tremble in the balance. It's the brilliance with which Osborne conjures all this up that leaves you eager to see where his nomadic imagination will take him next

Peter Kemp, Sunday Times
Beautiful Animals is terrifically well constructed, written with mean authority, brilliantly evocative about place . A masterpiece of disaffection

David Sexton, Evening Standard
A thriller that is full of dazzling sunshine

Robert Douglas-Fairhurst, The Times
Osborne crafts a rich, nourishing mood in his sun-drenched tale, while offering astute observations of privilege and obscene wealth ... a perfect read to devour in one go on a white-hot, breezeless day

Meadhbh McGrath, Irish Independent
Osborne is both a consummate stylist and an acute observer of moral ambivalence and this quietly simmering, intoxicatingly good book lingers uneasily in the air, like a hangover

Metro
Complex and thrilling, Beautiful Animals confirms Osborne as one of Britain's very best novelists

Anthony Gardner, Mail on Sunday
A taut and provocative psychological thriller with a topical twist. His enthralling Greek tragedy is a deft examination of unchecked greed, twisted loyalties and the corrupted mind

Malcolm Forbes, Herald Scotland
A stylish, slow-burn novel. Atmospheric and well observed, with Osborne's sinuous prose exerting its own fascination

Tatler
Beautiful Animals supplies two satisfying, but contradictory, feelings. On the one hand, you are immersed in the languid atmosphere of Hydra... But slipping through the charm with all the page-turning excitement of a beautifully written literary thriller is the nagging dread that something is about to go horribly wrong...

Emerald Street
Lawrence Osborne is an enigmatic, unpindownable writer

Alex Preston, Observer
Cracking Greek noir

Guardian
An astute, unsentimental critique of the contemporary world in crisis... Osborne handles surface and depth with immense skill, as only great writers can do. Beautiful Animals is his most accomplished book so far -- a big, clever, crazed beast of a novel

Deborah Levy, Financial Times
Osborne is interested in what his characters do when events are wrested out of their control, his narratives unfurling like a set of carefully lined-up dominoes. It's exciting for sure, but cuts closer to the bone than Osborne's previous novels and is all the more distressing and depressing for it

Lucy Scholes, Independent
Taut psychological thriller that's as sinister as it is thrilling. A real unputdownable effort that examines morality and privilege

Love It!
A cold-eyed look at bourgeois ennui and the parasitic nature of privilege. compulsive reading

Molly McCloskey, Guardian
Superlatively gripping. Osborne plunges his characters far from the luminescent surface and into the darkest depths

Anita Sethi
Spare, subtle. brilliantly achieved

Frances Wilson, Times Literary Supplement
An absorbing psychological study of greed, loyalty and cultural conflict

Malcolm Forbes, National
Smart, seductive. A sophisticated page-turner

Mackenzie Dawson, Angle News
The bastard child of Graham Greene and Patricia Highsmith

Metro
Osborne is a literary writer - and a brilliant one - and this sumptuously written superbly observed study of misplaced idealism and moral expediency reads a bit like a thriller penned by F Scott Fitzgerald

Metro
Malevolent, gripping. A compelling read, acutely observed and beautifully written. For all the character defects of the principal protagonists, the reader wants to find out what happens to them. It matters. And there can be no higher praise than that

Richard Hopton, Country & Town House
Both impossible to put down and beautifully written: a great combo

Lionel Shriver, Observer Books of the Year
This complex, thrilling novel focuses on Naomi Codrington, a young lawyer who befriends Samantha, a malleable American teenager, while summering with her father and stepmother on the Greek island of Hydra. When they find a Syrian refugee washed up on the shore, calamity comes rushes in.

The Mail on Sunday
Thrilling, chilling and contains the following subtext: best stay at home

Strong Words