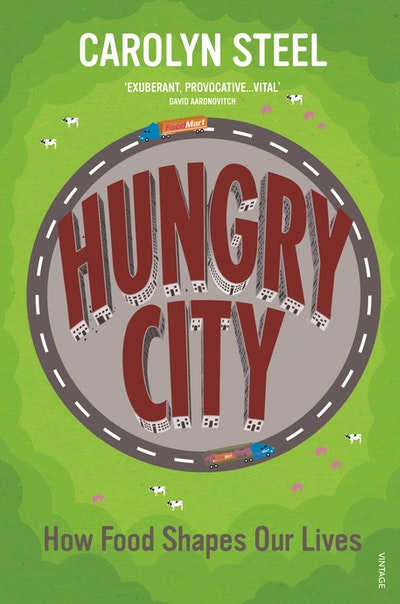 Published:

16 May 2013

ISBN:

9780099584476

Imprint:

Vintage

Format:

Trade Paperback

Pages:

400

RRP:

$29.99
Hungry City
How Food Shapes Our Lives
---
---
---
A passionate, important and visionary book about how our cities are fed, and how this affects our lives and our planet.
Cities cover just 2% of the world's surface, but consume 75% of the world's resources.
Global food production increased by 145% in the last 4 decades of the 20th century - yet an estimated 800 million people are still hungry.
In 2005 British supermarkets sent half a million tonnes of edible food to landfill - the whole food sector put together sent 17 million tonnes.
One quarter of the British population is obese - one in three meals we eat is a ready meal.
WHY?
The relationship between food and cities is fundamental to our every day lives. Food shapes cities, and through them, it moulds us - along with the countryside that feeds us. The gargantuan effort necessary to feed cities arguably has a greater social and physical impact on us and our planet than anything else we do. Yet few of us are conscious of the process and we rarely stop to wonder how food reaches our plates.

Hungry City examines the way in which modern food production has damaged the balance of human existence, and reveals that we have yet to resolve a centuries-old dilemma - one which holds the key to a host of current problems, from obesity, the inexorable rise of the supermarkets, to the destruction of the natural world. Carolyn Steel follows food on its journey - from the land (and sea) to market and supermarket,
kitchen to table, waste-dump and back again - exploring the historical roots and the contemporary issues at each stage of food's cycle. She shows how our lives and our environment are being manipulated but explains how we can change things for the better. Original, inspiring and written with infectious enthusiasm and belief, Hungry City illuminates an issue that is fundamental to us all.
WINNER OF THE RSL JERWOOD AWARD.
Published:

16 May 2013

ISBN:

9780099584476

Imprint:

Vintage

Format:

Trade Paperback

Pages:

400

RRP:

$29.99
Exuberant, provocative... her desire that we understand better and think more about our food, how much we waste, how much energy it consumes and how we dispose of it... It is - in the real sense of the word - vital

David Aaronovitch, The Times
Hungry City is a sinister real-life sequel to Animal Farm with the plot turned upside down by time in ways even George Orwell could not have foreseen

Observer
Lively, wide-ranging, endlessly inquisitive... Hungry City is a smorgasbord of a book: dip into it and you will emerge with something fascinating

Independent
Absolutely crammed with eye-opening facts and figures, a hugely readable account of the part we individually play in a global problem. Highly Recommended

Publishing News
She can précis her specialist sources briskly, and her own direct research (e.g. a mega kitchen for cooking ready meals) is lively

Vera Rule, Guardian
A superb account of the uneasy relationship between the city and its means of sustenance, charting the historical rise of urban areas and the monopolisation of the food chain by conglomerates

Ian Critchley, Sunday Telegraph
this is for the person who knows everything about food but nothing about its source

Sunday Tribune
dense with details, rippling with insight an easy to read... This is everything we need to know.

William Leith, Evening Standard
An intense, fluid, intelligent, highly absorbing text that provokes vital questions about sustainability

Food Magazine
It's one of those rare books dense with detail, rippling with insight, and easy to read...This is everything we need to know

Johanna Thomas-Corr, Scotsman
In bringing food more directly onto the 'plate' of those who think about buildings and cities, she has done us all a great service

Richard Wilk, Building and Research Information